Monday Runaround – Stolen Comics And The Mounties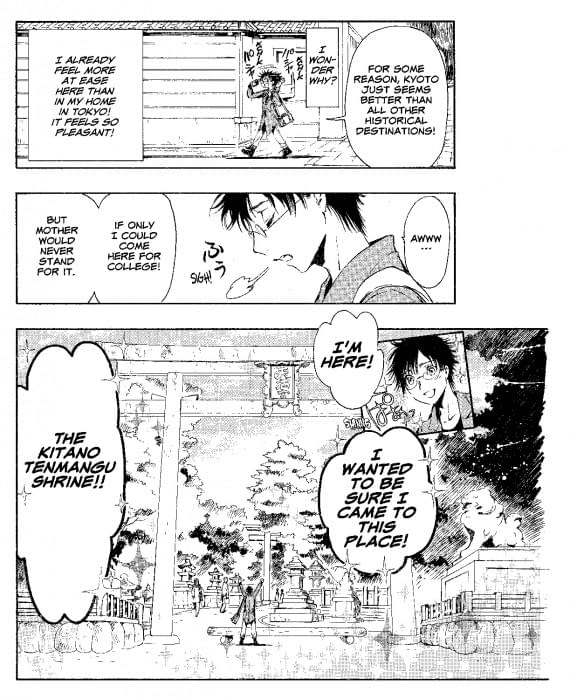 StolenComicsWatch: Colleen Doran reports on a customer's experience;
SO I called a friend of mine who's a constable with the Royal Canadian Mounted Police, told him what was going on & got him to call the store. he told the owner that because the book was stolen, the boy had no right to use it any business transaction. Since the owner now KNEW the book was stolen, any refusal to return it could result in him being charged with possession of stolen goods. And since he had put the book up for sale already, he could be charged with SELLING stolen goods. That was enough to get him to change his mind (though not his attitude) about giving back the comic. When I went back to pick it up this morning, he called me a Nazi at least twice for calling the cops on him.
HackWatch: Brooke Gladstone from NPR's On The Media writes her own comic book about journalism.
In panels drawn by Josh Neufeld, a cartoon version of Gladstone strides through an ever-shifting series of backdrops (the American Revolution, the Red Scare, Vietnam) used to illustrate this or that important point. In her trademark nerd specs and cloud of black hair, she appears among the damned in Dante's Inferno (illustrating the belief that journalistic neutrality is a moral cop-out), as the statue of Saddam Hussein being pulled down in al-Firdos Square (showing how journalists make events appear more dramatic than they really are) and as the Bride of Frankenstein with an "Intel Inside" sticker on her forehead (representing the future of communications technology in — gulp! — brain implants).
LocalWatch: Illustrator Jablow and standup comedian Goff, have created Philadephian comic Dugout Phunnies, that has smething to do with sports, available at Brave New Worlds in Old City and Locust Moon Comics in West Philadelphia.
"We started working on it in January," explained Jablow, who lives on Roxborough Avenue. "I've known Jon for years. He's a funny guy, and we've talked a couple times about meeting up and doing a comic or something. And the Phillies are a common interest–we're both big Phillies fans–so we decided that would be an appropriate subject for us."
StoreWatch: New comic shop opens in Elkton Shopping Center, Maryland.
SpiritWatch: Deepak Chopra tries to get press for his new superhero self help book.
In THE SEVEN SPIRITUAL LAWS OF SUPERHEROES, Chopra points out that great superhero stories are our own. They are metaphors for the challenges and conflicts we face in our lives and the powers-or inner wisdom-we must mine from within in order to overcome those challenges and continuously evolve.
Number Five is the first electronic manga released by Shogakukan for the Apple iPad in Japan, the US and Canada.

In the next room, an installation has been set up featuring an oceanic scene from Children of the Sea. The piece is about an encounter between a girl and two strange boys against the setting of the vast, unknown world of the sea.
PropagandaWatch: Ek Tha Budhiya: Kahani Ek Khushal Gaon Ki (The story of a prosperous village) is a comic from India's power station companies, aiming to dispel fears about nuclear power from villages near proposed sites for new plants.
This is Computo the Comic Link Conqueror speaking. I come for your women. But for now I merely collate comic-related bits and pieces online. One day I will rule. Until that day, read on.
They say I am a work in progress. The fools.
'Batman': Michael Keaton on 'The Dark Knight' — and a lost scene from 1989 film | Hero Complex – Los Angeles Times
"I wanted to see and to show that transition when he goes from Bruce Wayne to Batman, the time when he's about to don the suit and go out and wreak some havoc. That's not a casual thing, obviously, it's not putting on a jacket to go out for the evening. So what is that transition like? So there was a thing we did early on that showed him going into a sort of trance and it justified this shift in him. So we did that scene and it never made it into the film but I think helped me in a way.
The Escapist : News : Rumor: New Villains Confirmed for Batman: Arkham City
Can you guess who it is? No, not the Ostrich. Rocksteady's Dax Ginn reportedly confirms the appearance of the Penguin. Penguin was believed to appear somewhere in the game after the Iceberg Lounge, an establishment he owns, appeared in an Arkham City trailer.
Where did that Macho Man/Jesus/Rapture painting come from anyway? | The Beat
By now you have all seen the above image, which swept through social media yesterday with the tagline "Macho Man prevented the Rapture." In a world seemingly without order, connecting the senseless (and very sad) death of Randy Macho Man Savage, and the impending rapture predicting by Harold Camping (inexplicably still alive) would seem to give us some joy.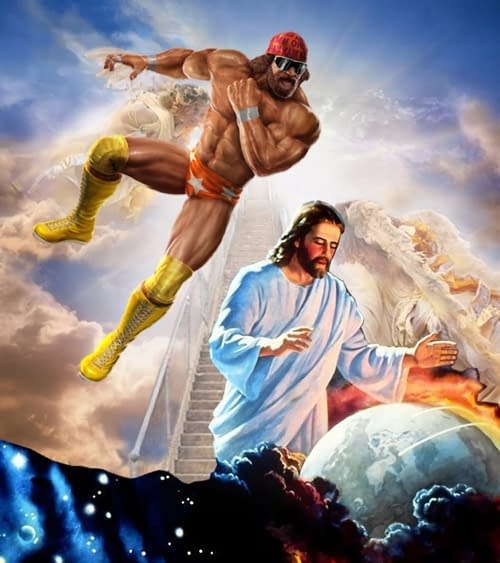 Archaia Entertainment Targets a July Launch for Conspiracy of the Planet of the Apes – Headlines – Broken Frontier
Archaia Entertainment has set July 25th for the release of Conspiracy of the Planet of the Apes, its first illustrated novel, through its new book trade distributor Publishers Group West (PGW).
The Pirates Plunder $346.4 Million Worldwide in Five Days – ComingSoon.net
Paramount Pictures and Marvel Studios' Thor fell two spots to third with $15.5 million and has reached $145.4 million domestically after three weeks. Internationally, the comic book adaptation added $9 million to bring its foreign total to $247 million after three weeks. That puts the combined worldwide total at $392.4 million so far.
Bristol Comic Expo 2011 Panel Report: "What's the point in small press superheroes?" | The Forbidden Planet International Blog Log
Paul Grist, on the other hand, was a bit more articulate with his answer, "There is a point in small press superhero comics – as long as they aren't just aping what is already available. The small press superhero comics tell a more personal – sometimes more realistic and regional – story than a mainstream publication would be able to."