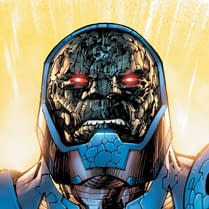 It was a fairly manic Monday here on BC, with all the corners of the comic and film world heard represented — from the DCU to Doctor Who and everything in between.
But getting back to Jim Lee's Darkseid (or as Rich might justifiably say, "Jim Lee's Darkseid. Jim Lee's Darkseid. Jim Lee's Darkseid.).  I like it. Updating a classic, long-lived character is no easy task, as we've seen time and time again in recent years.  You've got to walk that line between devotion to the original and the varied expectations of the modern audience — and increasingly, you have to keep one eye on how it's going to translate to merch and tv/film.  No matter what Lee's thought process was here, I think he got it right.
Most-Read Comic Stories Today:
Ch-Ch-Changes At The DCU For February
Rob Liefeld writing and drawing an issue of Hawk And Dove! With Batman in it! With big bat thighs that are wider than… Dove.
Jim Lee's Darkseid. Jim Lee's Darkseid. Jim Lee's Darkseid.
Comics Industry Issues Retort To Frank Miller. Including Batman.
Earlier today, Bleeding Cool ran Frank Miller's take on Occupy Wall Street, and noted some of the comments on his blog (now closing in on a thousand), and how they were mixed in response.
Most-Read TV/Film Stories Today:
Doctor Who Reboot Movie To Be Directed By Harry Potter's David Yates – "It Needs Quite A Radical Transformation"
Finally, the BBC are coming clean and revealing their plans for a Doctor Who movie. The big surprise is that it's going to be a complete reboot directed by Harry Potter's David Yates.
Pixar's Brave – LOTS Of New Images And Details (UPDATED)
Ahead of the new trailer for Pixar's Brave, which will be released tomorrow, there's a preview piece and new image online.
Video Of Michael J. Fox's Return To Johnny B. Goode
While I was sleeping, somebody uploaded video of Michael J. Fox playing Johnny B. Goode at his A Funny Thing Happened On The Way To Cure Parkinsons charity benefit.
Most-Clicked Pics Today: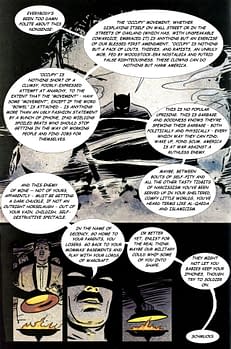 Enjoyed this article? Share it!