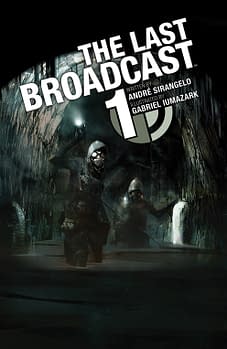 When BOOM! Studios acquired Archaia Entertainment last summer, many wondered how the larger publisher would impact their publishing line. One thing that was mentioned in the initial flurry of interviews was a desire to return Archaia to the single-issue format. Right now it's looking like that will be a regular part of Archaia's publishing program.
Bleeding Cool has learnedthat a new project, The Last Broadcast, launching in May, will be released as a 7 issue series rather than an original graphic novel. The book was published earlier in part in 2010, but this looks like it will be the Full Monty.
This makes sense given that Archaia's first single issue series in 2014, Hacktivist, has just sold through a 20% over print on its first issue through Diamond. Add in an over 40% increase at FOC on issue #2 orders and there's clearly some excitement at retail for Archaia single issues.
The Last Broadcast us by newcomers André Sirangelo and Gabriel Iumazark and is described as:
An urban spelunking group in San Francisco discovers a secret bunker belonging to the long-vanished 1930s stage magician Blackhall the Incredible at the same time as young, out-of-work magician Ivan receives a mysterious package that points him toward a possible conspiracy involving Blackhall's death in 1934. Both groups dive into the mystery, not yet realizing that it's about to change their lives forever."
Will The Last Broadcast follow a similar ordering pattern as Hacktivist?
Enjoyed this article? Share it!