On The Trail Of Fox Hunt With Dean Haspiel – 'A Semi-Noir, Psychedelic Superhero-On-Acid Comic Book'
In 2013 and 2014, Archie Comics brought us The Fox: 'Freak Magnet', by Mark Waid and Dean Haspiel, with both contributing to the writing on the series and Haspiel on art, as well as Allen Passalaqua on colors and John Workman on letters. Now with the "Red Circle" banner under which The Fox was originally launched at Archie morphing into the much wider array of Dark Circle comics, including The Black Hood and The Shield, The Fox is returning in Fox Hunt, taking quite a new direction. Whereas 'Freak Magnet' became widely known for its dreamy, trippy homage to Silver Age heroes and adventures, 'Fox Hunt' seems to take up the other side of the Silver Age–that wild exploration of the world of crime steeped in a flare for noir. It suits a change of pace for central character Paul Patton, Jr. as well. Just as in 'Freak Magnet' he was a reluctant hero but pulled into a kind of last hoorah, now in 'Fox Hunt', the darker aspects of hero-dom are coming home to roost and he's much more certain of giving up the role that only lands him in trouble and up-ends his family life. The result is a more stream-lined, lithe, and conflict-driven story reminding us to question the superhero role as something to aspire to at the same time as we admire the ingenuity of Patton as he faces down a team of villains chasing a bounty on his head. The entire original team of Haspiel, Waid, Passalaqua, and Workman return to the Fox with 'Fox Hunt' and as with 'Freak Magnet', there are a wide range of creative variant covers by Silver Age enthusiast artists.
Emmy Award-winning artist and multi-faceted comics creator Dean Haspiel talks with us here today about what makes Fox Hunt tick and his wide-ranging comics projects. Hannah Means-Shannon: The initial mini-series The Fox: 'Freak Magnet' really read like a love letter to Silver Age comics, but also the energy and versatility of hero comics and how weird they can be. Did you set out to include all those elements or were there surprises along the way?
Dean Haspiel: Thanks, Hannah. "Freak Magnet" paid homage to what I love about pulp heroes. When I reminisce about what comix mean to me, I'm reminded by the two sections of the comix shop I grew up gravitating towards:
1) Silver-Age superheroes that tell fantastic romance/science fiction/mysteries about impossible odds and great hope by the likes of Jack Kirby, Stan Lee, Steve Ditko, Will Eisner, Jim Starlin, Curt Swan, Jim Aparo, Nick Cardy, and C.C. Beck,
2) Distinct, alternative voices that tell real-life stories and/or push the boundaries of escapism like Harvey Pekar, Chester Brown, Katsuhiro Otomo, The Hernandez Brothers, Daniel Clowes, Bob Fingerman, Jason Lutes, Ed Brubaker, Dylan Horrocks, Warren Ellis, Brian K. Vaughan, and Jason Aaron.
Those two major differences – combined — drives me to tell the kinds of stories I try to express in The Fox and Billy Dogma, and most anything I tackle. [Haspiel's pencils on The Fantastic Four]
HMS: I always hoped we'd see a return of The Fox, but in between you had some time working on another Silver Age-related comic, The Fantastic Four. Was that Silver Age overload? Did you discover anything new from the experience?
DH: I was honored to be asked to draw some Fantastic Four canon. Working on FF is a dream come true and I would love to do more. I recently wrote a loose concept for an FF story that is akin to X-Men's "Days of Future Past," only, in my idea, Reed Richards discovers that he has to stop the Marvel Universe from happening to save planet Earth! It's actually a love letter to 1961 Marvel Comics. I also drew a fun Batman '66 story written by Gabe Soria, and a Golden-Age inspired Wonder Woman story written by Neil Kleid for Sensation Comics. I adore those early eras when the fear of an apocalypse wasn't a boring concept. [An inked teaser from Haspiel on Sensation Comics]
HMS: Fox Hunt promises, in some ways, to be "darker" than the initial mini-series, from what I've heard. The first story challenged Paul Patton's sanity on many levels and led to some pretty deep psychological truths. Is this story more about relationships vs. the internal side of the Fox?
DH: I'd hazard that "Fox Hunt" gets more psychological and emotional for the reluctant hero. The first issue starts with the very last Fox adventure. A surreal encounter with the past knocks the proverbial nail in the Fox's coffin and Paul finally quits to live a normal life with his wife and son. Little does he know that won't last but a minute when his world is turned upside down. This story threatens his family core and brings out a side of The Fox that pushes his own sense of heroism to an extent that scares even himself. HMS: Based on cover art, I'm wondering if fans are going to see some developments and changes in your art style in this new series vs. the first one. There's something even more elastic and aerial about the movement, and a fan-brush style. Is this new visual language for The Fox?

DH: I'm digitally inking my line art like in the first series but I'm using my brush for the covers. The editors encouraged me to draw "Fox Hunt" in my Billy Dogma style but I couldn't reconcile that in any successful way. I envision The Fox as a semi-noir, psychedelic superhero-on-acid comic book, and each project I do has it's own set of graphic resolve. I'm happy to admit that I cringe when I contrast my art on "Fox Hunt" with my previous art on "Freak Magnet." It means I'm growing, breaking new ground, and I have a lot more to learn and do. HMS: From the descriptions of issues 1 and 2 that have been released, it looks like the "hunt" of Fox Hunt may be conjuring up a Rogues Gallery for Patton to face. What's the appeal as a comics creator for delving into a wide cast of baddies? Can you tell us anything about your choices and influences there?
DH: My editors asked me to ramp up the rogues gallery and there were a plethora of bad guys to choose from. I threw a mental dart at a bunch of them, picking the ones who would be fun to draw, while exploring the personality of the antagonist in charge of the bounty hunt. I thought about how most villains don't believe they're bad and, hopefully, Mark Waid and I will successfully add an intriguing new wrinkle to what makes a master villain tick. HMS: I notice in Part 1: "The Situation" (Issue # 1), that there's a town being demolished by a "philanthropist" billionaire. Is this a chance to draw apocalypse porn of deserted, decaying vistas, and/or do you have a concern for the ways in which our cities and towns are changing and losing their historic elements?
HMS: I've been visiting the Catskill mountains, in particular Margaretville, Andes, Roxbury and the hamlets of Halcottsville and Arkville, ever since my mother lived there for a good 25 years (before she moved to Florida). Mom drove me a few times to a very long bridge over a huge reservoir called The Pepacton River between two mountain-sides, that no person was allowed to dip their toes in and I learned that a few towns across that stretch were demolished in the 1950s to create a watershed that would direct water to my kitchen sink pipes in Brooklyn; serving 90% of New York State's water needs.
I was fascinated by this science and history and the heartbreak it surely caused for the friends, families and businesses that were sacrificed so I could drink fresh water. I've been collecting books and information about the Pepacton watershed and always wanted to write and draw a semi-fictional graphic novel about it. When considering "Fox Hunt," I developed a story that would tickle some of my watershed interests and that's how Beaver Kill in "The Situation" was initially formed. HMS: In Part 2: "The Other Shoe", there's a plot element that Patton takes his son to the Museum of the Moving Image, and I can't help but think of what a film buff you seem to be (as well as a Film Major at college). Are there any elements of your love of film in Fox Hunt? I mean, it's Silver Age Mod, but it's also noir in some ways, right?
DH: Alas (spoiler alert), Paul never gets to take his son to the Museum of Moving Image and that's the last normal desire to be sideswiped before "Fox Hunt" slips out of control. I'm currently working on issue 4 and I'm looking at reference from The Cabinet of Dr. Caligari, M.C. Escher's "Relativity," Steve Ditko's Dr. Strange, and George Romero's Dawn Of The Dead, to give you insight into what's influencing some of the visuals. I think one of the first movie influences we discussed when developing Fox Hunt, was The Empire Strikes Back, specifically the scene when Darth Vader hires a bunch of bounty hunters, including Boba Fett, to track down Han Solo. HMS: Now, no doubt The Fox's worst fears include all his enemies coming home to roost, but deep down one of his very worst fears might be that he's failed as a person or in relationships. Is that why in Fox Hunt, he tries to be done with the whole hero gig for real?
DH: Bingo. Paul Patton Jr .was ready to give up the mask in Freak Magnet but got side-tracked into a galaxy-spanning adventure that also transcended time! He can't help but wear the costume for "just-in-case," but he knows The Fox is getting in the way of focusing on being a present husband and father. And, he feels that just because you're extraordinarily good at something doesn't mean you have to indulge it. Especially when it guarantees a black eye and a bloody lip and threatens your mortality.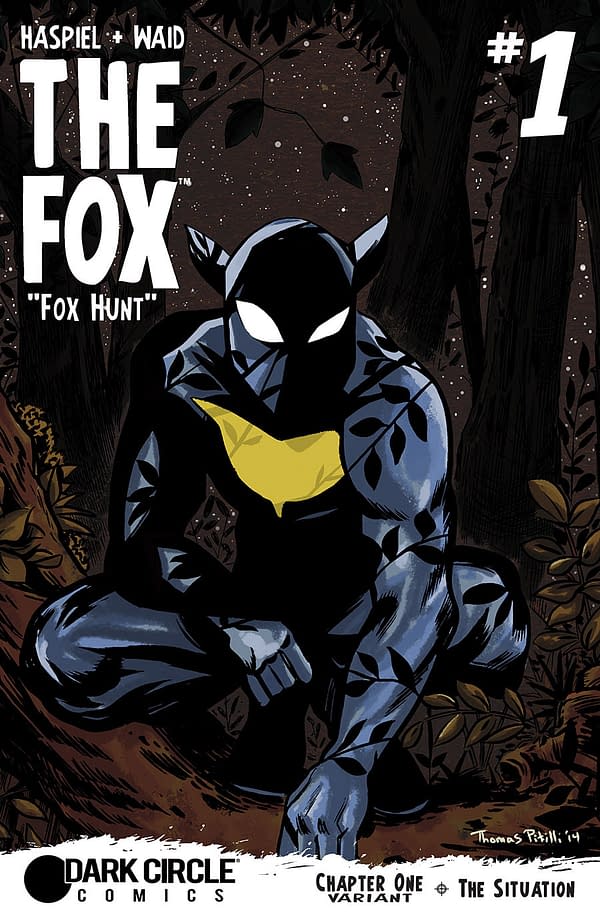 HMS: You have a huge explosion of excellent cover artists on the Fox Hunt variants. Did you have any involvement in what the covers would be, or was it more free-flow homage from each of their individual imaginations? Is it gratifying for you to see their interest in the character?
DH: I was hardly involved in recruiting this round of "Fox Hunt" variant cover artists. I yielded towards editorial choice, especially since they had a vision for what the Dark Circle imprint should look like. We got some amazing covers by a gaggle of great artists.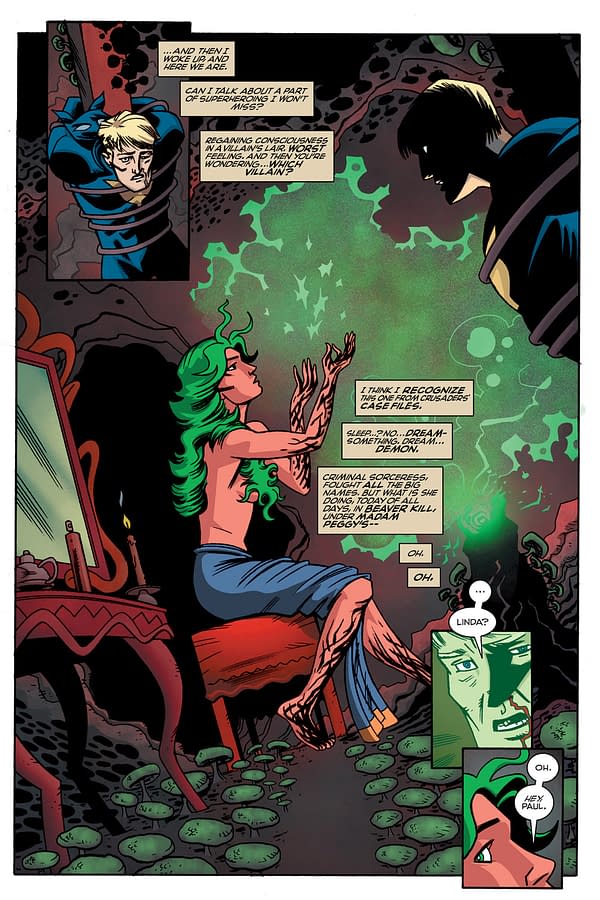 HMS: Your long-running romantic anti-hero Billy Dogma is coming back to print following a new graphic novel in 2014. What can you tell us about 2015 for Billy? Any other projects you'd like to mention?
DH: I just received fresh copies of my new comic, "Heart-Shaped Hole," from the printer. It's a magazine-sized Billy Dogma collection of short stories, some of which have appeared in older anthologies and magazines, published by Hang Dai Editions, my studio imprint. I will have a few advanced copies for sale at Wizard World Raleigh, March 13-15th (alongside my exclusive The Walking Dead cover), but the official debut will be at MoCCA in April.
I've also conceived a 5-issue mini-series that I'm shopping to publishers and I wish I could split my time between writing and drawing franchise comic books with creator-owned comix. I've yet to test the crowd-funding waters but I still prefer the concept of a healthy relationship between author and publisher and I continue to seek that kind of magical partnership. Meanwhile, I'm currently putting together "Beef With Tomato," a semi-autobio graphic novel collection, featuring most of my "Street Code" comix, to be published by Alternative Comics in September of 2015. The Fox: 'Fox Hunt' #1 arrives on April 8th, is currently listed in Previews World with item code: JAN150992 for its "regular" cover, and reaches FOC today, March 16th.