The Politics Of Death in Excalibur #6 and Marauders #6 (Spoilers)
Today's Amazing Spider-Man understands the clickbaity appeal of Krakoa to the Marvel audience right now. As well as Mephisto and Skrulls…
And after last week's Dawn Of X drought, we have Marauders and Excalibur, both tackling the issue of death in the new Krakoan reality where mutants can and will be resurrected as part of their resurrection protocols. But Sebastian Shaw of the Quiet Council is bargaining that the Red Queen and Marauders leader, Kate Pryde will not be resurrected on Krakoa for the same, unknown reason that she can't go through the Krakoan portals. A bit of a gamble, surely? And if he's wrong, one that could bite him on the arse.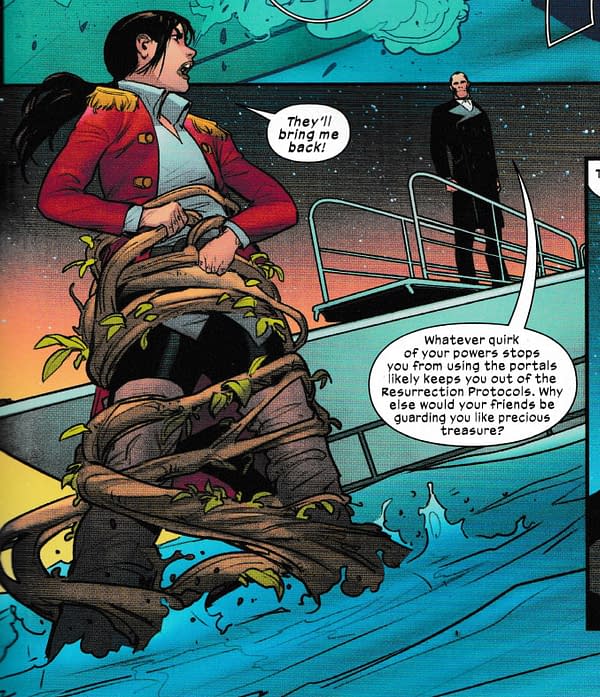 While over in Excalibur, the retuning-from-his-first-death Apocalypse reveals that those on the Quiet Council get to skip the queue of dead mutants lined up to be revived.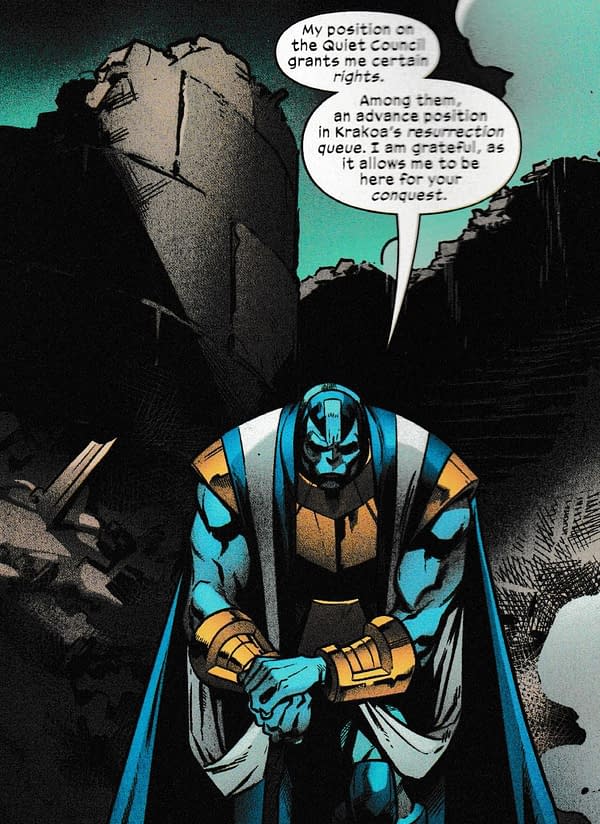 Which means that Kate Pryde would also go to the front of the queue if Shaw is wrong – and the resurrection protocols don't use portals, and is just something created by the Five and Professor Xavier. It doesn't rely on Krakoa, that's just where it happens. But might there be another way? Betsy Braddock stares down Jamie Braddock over the death of their brother – not a mutant and thereby not eligible for revival, Brian Braddock.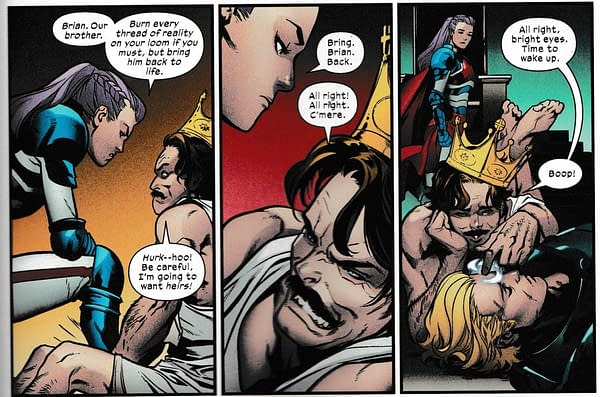 And Jamie brings him back from the dead like the Sir James Jaspers reality-warping character he was always based on. And revealing that Jamie Braddock could revive anyone from the dead, mutant or human. So what does the Professor need with the Five and all those Protocols when with a little… persuasion, Jamie could do it all? Is he really harder to control than Proteus? And maybe Betsy Braddock could also persuade Jamie to bring back Brigadier Alysande Stuart after he killed her all those years ago…
EXCALIBUR #6 DX
(W) Tini Howard (A) Marcus To (CA) Mahmud Asrar
The Secret of Rogue's Coffin!
Locked in her mysterious coffin, Rogue dreams. Meanwhile, Apocalypse performs a ritual, and the throne of power changes hands. The reign of mutantkind reaches the Otherworld at last. Rated T+In Shops: Jan 22, 2020 SRP: $3.99

MARAUDERS #6 DX
(W) Gerry Duggan (A) Matteo Lolli (CA) Russell Dauterman
THE BATTLE OF MADRIPOOR!
The Marauders are caught between the forces of Madripoor and the Black King's machinations! Thankfully, they have TWO Omega Level mutants onboard… Rated T+In Shops: Jan 22, 2020 SRP: $3.99
Excalibur #6 and Marauders #6 are out today from Marvel Comics… I bought mine from Piranha Comics in Kingston-Upon-Thames. Piranha Comics is a small south London comic store chain with a small south-east store in Kingston-Upon Thames's market centre, which runs Magic The Gathering nights on Fridays, and a larger south-west store in Bromley, which also runs Magic nights and has an extensive back issue collection and online store. If you are in the neighbourhood, check them out.