Pop Culture Hounding Steve Skroce On Doc Frankenstein And Coming Back To Comics
By Chris Thompson

[audio:http://popculturehound.net/podcast/PCHPodcastEpisode90.mp3]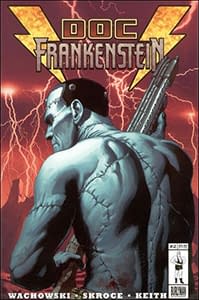 After last week's catch-up with Jeremy Holt & Tim Daniel (which you can still listen to here), this time around I'm very pleased to welcome aboard the amazing Steve Skroce, whose series Doc Frankenstein will see its long-awaited conclusion from Burlyman Entertainment this summer.
Steve and I discuss how it feels coming back to comics after an extended break, what he's been working on in the interim, why it's taken so long for Doc Frankenstein to return, and how his style has changed over time. It's a fascinating glimpse into to an artist I've admired for many years now!
To get in touch, send feedback or submit projects for consideration, please email reviews@popculturehound.com. And if you missed last week's episode (or any others) you can find them right here or subscribe via iTunes. You can also support the Pop Culture Hound podcast by clicking here to make a donation. Your contributions are greatly appreciated and will help us maintain the site, get new equipment, and encourage us to keep going on those cold lonely nights.

Chris Thompson Twitter: @popculturehound
Orbital Comics' website: www.orbitalcomics.com
Steve Skroce's IMDb profile: www.imdb.com/name/nm0804881
Burlyman Entertainment's website: www.burlymanentertainment.com