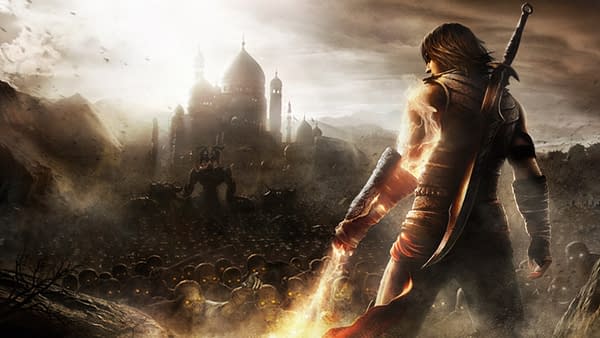 Ubisoft's original parkour-magic-and-swords franchise Prince of Persia hasn't had a new game in seven years since the release of Prince of Persia: The Forgotten Sands. After the movie with Jake Gyllenhaal and a failed attempt at rebooting the series, the games returned to the storyline started with Prince of Persia: The Sands of Time in 2003. However, The Forgotten Sands didn't do as well as Ubisoft hoped, and the franchise was put on the back-burner for the more successful Assassin's Creed franchise.
However, the series creator hasn't forgotten anything about those magic sands capable of creating alternate personalities and stable time loops, and he hopes fans haven't, either.
A few days back, Chrissy Teigen tweeted at Ubisoft asking if the Prince of Persia series was still around. Ubisoft's social media team responded with a quick photoshop job of Tiegen's head on the titular Prince's body.
Hey @chrissyteigen 👋 Unfortunately, the Prince of Persia franchise is still on pause at the moment but Chrissy of Persia sure is a character we wish we came up with earlier. pic.twitter.com/OSvEh6yjUv

— Ubisoft Montréal (@UbisoftMTL) January 10, 2018
Series creator Jordan Mechner then chimed in, saying he and a few others were "doing their best to make it happen."
Chrissy, I know a few other people who feel the same way. We're doing our best to make it happen! https://t.co/guYWh1n0E8

— Jordan Mechner (@jmechner) January 10, 2018
Mechner was involved in the Prince of Persia franchise in the mid-2000s, but he was the creator of the franchise from the very beginning. Mechner worked on the much lesser known Apple II title Prince of Persia back in 1989. The 2003 series may be the best known incarnation of the game, but the original was quite the platformer in its day and still has some pretty dedicated fans. So a new game would likely be a pretty successful venture.
While this is far from confirmation of a reboot, remake, or sequel, it is good news for fans of the franchise, myself included. Because it seems neither Mechner nor Ubisoft Montreal believe the series to be dead, but have rather just put the franchise "on pause." Because we live in the era of reboots, remakes, and decades-delayed sequels getting a new Prince of Persia is more likely now than ever before.
Enjoyed this article? Share it!