By Michele Brittany, a West Coast Bleeding Cool Correspondent for Bleeding Cool
I had the pleasure of meeting Daniel Corey last November at the Long Beach Comic Con when he was promoting his Moriarty series. Since I was (and am) interested in stories with ties to the spies/espionage genre, he mentioned that Moriarty: The Dark Chamber he includes the MI5, which would have been in its infancy at the time of Corey's story. Corey was kind enough to let me interview him for my Spyfi & Superspies blog at that time, so it was great to meet up with Corey again to discuss his new noir series, Red City scheduled for a June 11th release from Image Comics. Michele Brittany: I saw in the April issue of Previews your new series Red City from Image Comics was spotlighted with a two-page spread – congratulations! The cover and interiors look fantastic! What can you tell us about the series and the locale of Red City?
Daniel Corey: Thanks! I was very happy that Image procured that two-page spread for us in Previews. It looks fantastic. Folks need to get an early look at the work that Mark Dos Santos, Chris Fenoglio and Dave Lanphear are doing. The world we're building looks pretty spectacular.
Red City is the nickname for Mars Central City, which is basically Los Angeles in the distant future. On Mars.
The universe of Red City takes place so far in the future, all the planets of our Solar System are united as one country, called the NSS, or New Solar System. Every planet has its own indigenous residents: there are Martians on Mars, Neptunians on Neptune, etc.
As our story begins, the NSS is recovering from a recent civil war. Neptune and Venus attempted to secede from the NSS, and a system-wide conflagration ensued. Neptune and Venus lost the war, and the Amnesty was established. So the NSS is attempting to pick up the pieces and live at peace with itself. But the economy is down, and Mercury is forced to compromise its political values and deal with Venus.
Enter our hero, Federal Security Officer Cal Talmage. When the daughter of the Venusian ambassador goes missing in Red City just before trade talks are set to begin, Cal is sent down to the Big Red to find her. And all sorts of fun things happen.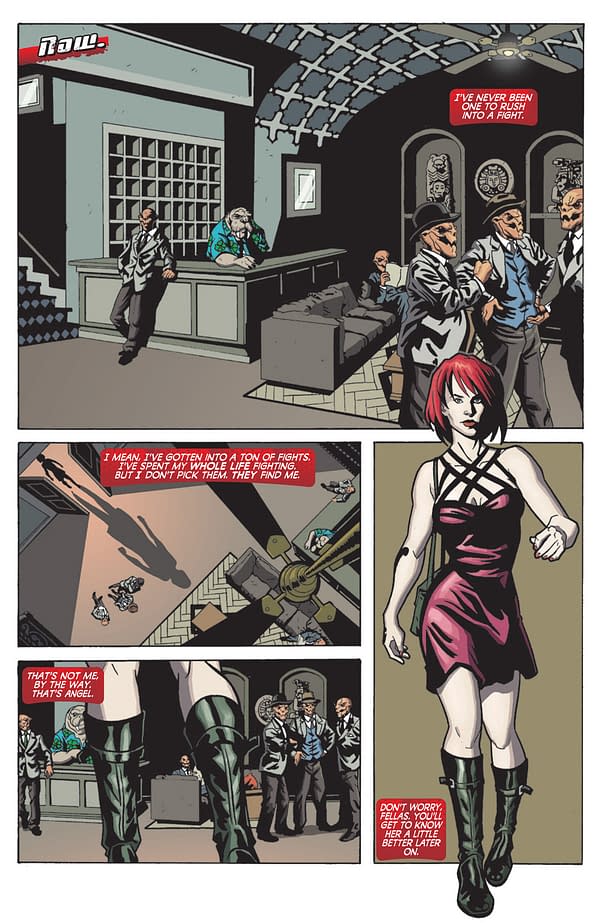 MB: How long did it take you to script Red City? Did you encounter any surprises while writing your story?
DC: I spent about six months writing the scripts for issues 1-4. The surprise was how organically the universe seemed to form itself for me. I try to stick to a golden rule, that the character is the story, and that everything that happens in a story happens for virtue of the lead character's existence.
Cal has some difficult demons he's dealing with, things that happened to him during the war. The mission that he is given complicates his personal struggle. Simply taking these elements into consideration helped me form the sort of history that I needed. The political structure and problems of the NSS almost opened up before me. It was great, great fun. And seeing Mark's early pages was a wonderful thing. It's going to look amazing.
MB: You mentioned in a recent interview that the question "What if L.A. Confidential took place on Mars?" was the catalyst for Red City. What's the back story of how the question came up?
DC: I am a fanatic for L.A. crime stories. I have always wanted to write one of my own. How to do something different, though? Something fresh?
The "what if" game is something that I have played since I was a kid. What if the ocean waves started at the shore and crashed out into the sea? What if I just started running around, waving my hands and shouting like a maniac in the middle of The English Patient? Would I be forcibly ejected, or would the audience applaud that I made more sense than the movie? What if?
I had previously tackled some other strange what-ifs at Image Comics, such as: What would Professor Moriarty do if Sherlock Holmes were out of the picture? What if Moriarty were good buddies with a female ninja assassin? What if Watson was a real jerk?
And what if, just what if L.A. Confidential took place on Mars? It was just a matter of time before I got to that question.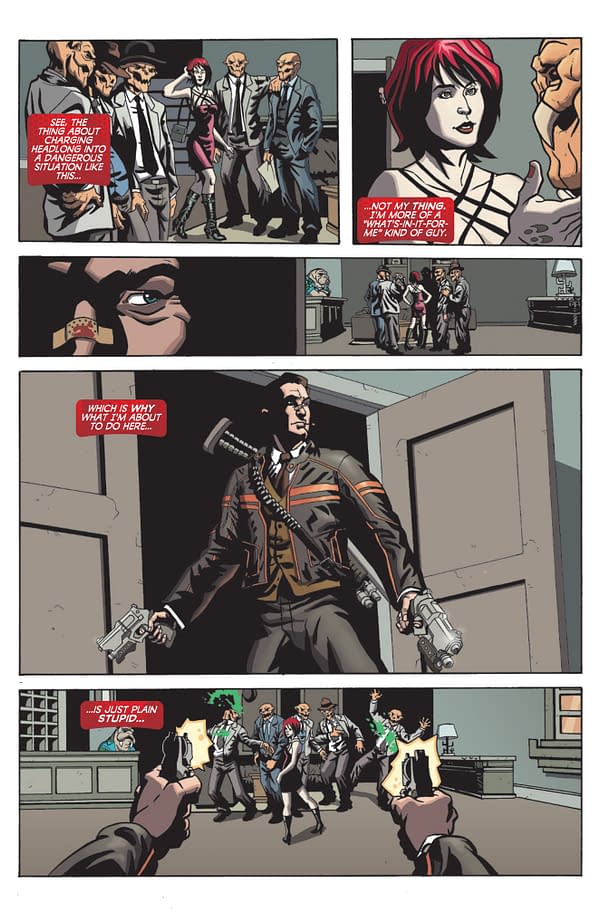 MB: You set your Moriarty series in a real location and time period that you could easily research. What were the challenges and decisions you faced in creating an entirely new world for Red City?
DC: It was pure joy. Really, I was just doing my own version of a post-war Los Angeles.
More what-ifs: What would L.A. look like on another planet? In the story, Cal makes reference to the fact that the Hollywood of Earth isn't at all what it once was, and that Red City has taken over as the new movie capital and tourist destination.
An interesting conflict that I came up with in forming the world – which goes back to what I previously said about the lead character forming the environment of the story – Cal is a human of Earth origin, but has never been to Earth. In fact, not only was he born on Mars, but he was an orphan, raised in the streets. So although Red City is a huge and bustling megalopolis, it can also be the loneliest place in the universe.
MB: Red City re-unites you with letterer/logo artist Dave Lanphear (the Moriarty series), but artist Mark Dos Santos (Gotham Evening Post, Eureka) and colorist Chris Fenoglio are new to your creative team. How was it working with Dos Santos and Fenoglio to create the visual world of Red City?
DC: Mark lives a few miles from me in the Valley in L.A. I had seen him around, mostly at House of Secrets in Burbank, the comic shop that we both frequent. Oddly, I ended up meeting him in Phoenix, at Jay Company's Amazing Arizona Con. I looked through his portfolio and realized that I had seen his work all over the place.
Tony Fleecs prompted me to ask Mark if he had interest in Red City, and it just took off from there. Mark liked the neo-noir concept. Mark has a naturally retro style, anyway. Check out his prints and art book at markdossantos.com, and you'll see what I'm talking about.
I met Chris Fenoglio at Image Expo 2012. That was a great show. Image was celebrating their 20th anniversary, and Moriarty artist Anthony Diecidue and I debuted Moriarty Vol II: The Lazarus Tree. Chris was showing his book Weird Kids around, and I liked his work immediately. It took a while for us to link up, but I'm glad to have him on Red City. He does great work.
MB: Did you already have visual concepts in mind when Dos Santos came on board?
DC: General ideas, for sure. I was thinking about Blade Runner, and how they took traditional noir styling and gave it a futuristic look. I also considered the out-of-time quality of the first Tim Burton Batman movie, with its fedoras and trench coats and its unspecified, near-future setting.
Mark really ran with it and brought his own flare to the basic ideas in the script. All of the elements in his pages conform to a brilliant, postmodern-meets-alternate-history-meets-past-vision-of-the-future aesthetic.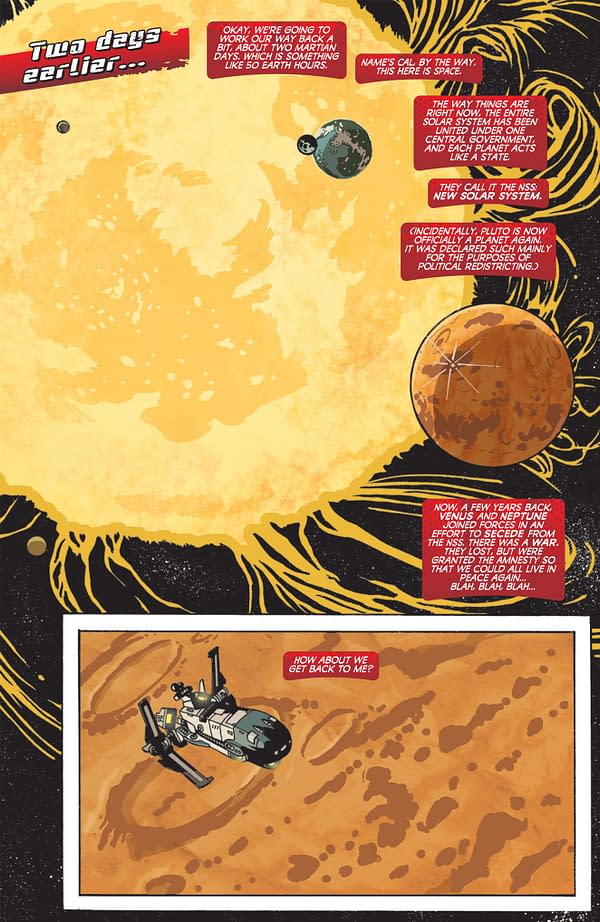 MB: Tell us how you developed Cal Talmage and our leading lady, Angel. And of course, are the names significant for you and/or to the story?
DC: Names are always an issue. So often, names in drama are throwaway. How many Bruce Willis character names can you remember? John McClane. That's it for me. John McClane is a good name. I can't recall any others. Hudson Hawk, I guess. It was the title of that movie, which I never actually saw.
I can't stand it when I come out of a two-hour movie not being able to remember the lead character's name.
I mean, think about it: We'll always remember Willy Loman. That name sticks. Hamlet. Luke Skywalker. Jack Reacher. Jack Ryan. Jack Kennedy. "Jack" is a good hero name, apparently. C.S. Lewis went by Jack. But I digress.
Cal Talmage just sounded like a rogue's name, a hero's name. It has those hard consonants. I like that name, and I'm gonna like any guy that has that name, hands down. It's my hope that through the course of the story, you see him earn that name. It's a cool name, and I think it embodies the cool guy that he really is inside.
With our leading lady, Angel, it's pretty simple: She is not very Angel-like. Yet she is the perfect Angel. She can be tough and mean, and she gets the job done. But man, she's just so sexy and likeable.
I love both of them. Those crazy kids.
MB: I noticed in Moriarty: The Dark Chamber and now with Red City a recurring theme of a society on the brink of world war. Is it serendipitous or is there a larger, overarching theme you are exploring through your writing?
DC: If you're going to take the time to read a story, it should really matter. You ever notice how many detective stories take place against the backdrop of a mayoral election? That shaped the first two seasons of The Killing, one of my all-time favorite shows. The actions of the detectives would affect the election, which would affect the balance of power in the city, potentially affecting the lives of millions.
In both volumes of Moriarty, I told Anthony I wanted to depict a city on the brink of apocalypse. War was coming, autocrats taking power, and Moriarty's actions would have world-shaking consequences.
I guess I still had this in my heart when forming the story of Red City. But instead of playing around with actual history, like I did in Moriarty, I wanted to form a new history. But the story of Cal is really an analogy for post-war L.A. So although the setting is fantastical, hopefully the story would resonate with the reader.
MB: Is Red City planed as an ongoing series?
DC: We're planning it as a four-issue miniseries for now.
MB: I was visiting your "Notes From the Professor" over at Tumblr and I noticed you posted several beautiful b/w photographs around Los Angeles, so I have to ask, how much as Los Angeles, rich in real and imagined history as well as some amazing architecture, impacted your writing?
DC: Thanks! I love photographing Downtown Los Angeles. The city feels like a friend to me. Red City is something of a love letter to Los Angeles, in a strange way. It's also a love letter to the writings of Chandler and films of Michael Mann. Heat is one of my favorite movies of all time.
Feel free to follow me at http://thedanielcorey.tumblr.com/.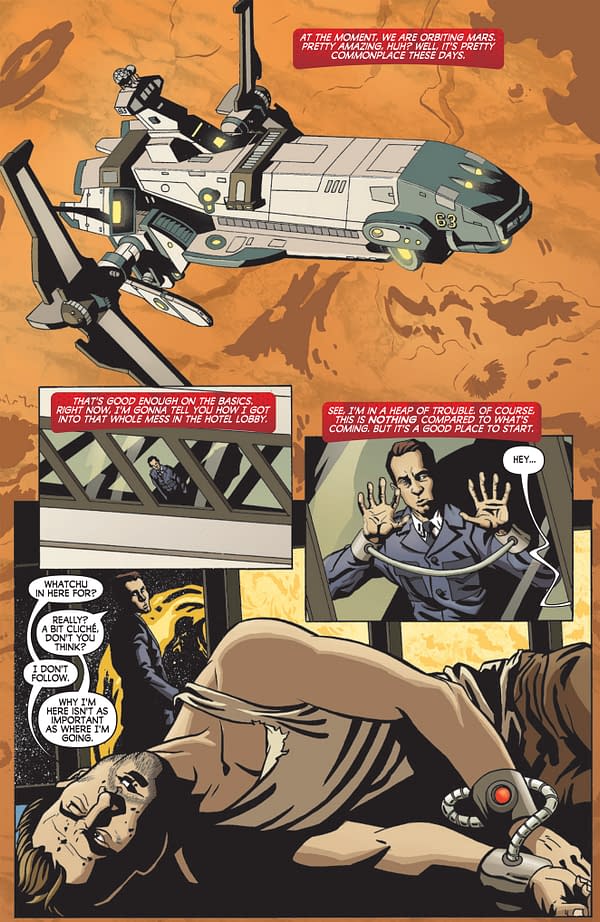 MB: You've explored the mystery thriller through a Victorian England lens and now science fiction, so what's next?
DC: I'm working on a new project that takes place in the American South, present day. It's another mystery, but dabbles more into the horror-fantasy realm. Don't know how it's going to get done yet, but hopefully you'll be seeing it sometime in the next year.
MB: I sincerely appreciate your time Daniel. Is there anything else you would like our Bleeding Cool readers to know as we bring this interview to a close?
DC: Please ask your local comic shop to order Red City #1, due out June 11th. I believe in Red City. I think that the guys and I are giving you a highly entertaining and thought-provoking read.
Also, my first book, DangerKatt's Prophet, hit ComiXology in April. DangerKatt's Prophet was a small project that Anthony Diecidue and I started back in 2007. We were just two guys sitting in a coffee shop in Studio City, wanting to make a comic. And you know what? We did it. We announced last summer at San Diego International Comic-Con that the film rights to DangerKatt's Prophet were optioned by James Cotten, E. Thompson, and Mark Morgan at Outlier (Twilight, Percy Jackson). And we distribution on the largest cloud-based comics platform in the world. This fills my heart with joy.
The story follows an unnamed gunslinger who walks a desert landscape in an unspecified time period, fighting demons, gangsters and corrupt politicians. I call it a supernatural Spaghetti Western. It's a must-read for fans of Clint Eastwood and Mad Max. Please check it out here.
And please check out my first Image series, Moriarty. Also an effort with Anthony Diecidue, and we added Mike Vosburg, Perry Freeze and Dave Lanphear to the team. This book landed us a home at Image Comics. As far as I know to this day, Anthony and I are the first creators to publish a comic book that features Professor Moriarty as the title character and leading man. It had been done in novels, but never in graphic form. I'm very proud of that.
I want to thank everyone who has read this piece to the end. You are now my friend. Follow me @dangerkatt, and say hi. I promise I'll say hi back.
Daniel Corey's new series Red City will be out June 11th. Check with your local comic book shop to get it added to your subscription pull list.
Michele Brittany is an independent popular culture scholar and semi-professional photographer currently editing an upcoming anthology on the influence of James Bond on popular culture. She regularly posts reviews and analysis on the spy/espionage genre on her blog, Spyfi & Superspies.
Enjoyed this article? Share it!