REVIEW: Superman Up In The Sky #6 – "A Primer For Anyone Who Needs To Understand How The Creation Of Siegel And Shuster Endures"
=(DC Comics, creative team: Tom King, Andy Kubert, Sandra Hope, Brad Anderson, Clayton Cowles)
There has been nothing wrong with the previous five issues in this series. Superman, at his core, has been doggedly doing his Superman thing, hell bent on saving a single child, abducted by some alien warlord. Here's the thing: writer Tom King has structured this script with a kind of call-and-response cadence to its story beats, an old writing gag called a litany that creates a refrain that increases in emotional resonance as it is repeated (even with mild alterations). The reason why it's an old gag is because it works so well. In the words of the campaign around the Richard Donner film, you will believe. Echoing the mythic undertones of the Morrison JLA run while evoking the genuine goodness of Tyler Hoechlin in the suit, this is a modern Superman that's relevant and timeless. This could be, all by itself without the need for the previous five issues, one of the best Superman stories in recent history. Extra kudos are due to the visual storytelling from Andy Kubert, Sandra Hope, Brad Anderson, and the death-and-taxes reliability of Clayton Cowles for giving this script so many effective moments: the last call of the Bat, the meal, the chains, among others. This issue should be a primer for anyone who needs to understand how the creation of Siegel and Shuster endures to this very day. RATING: BUY.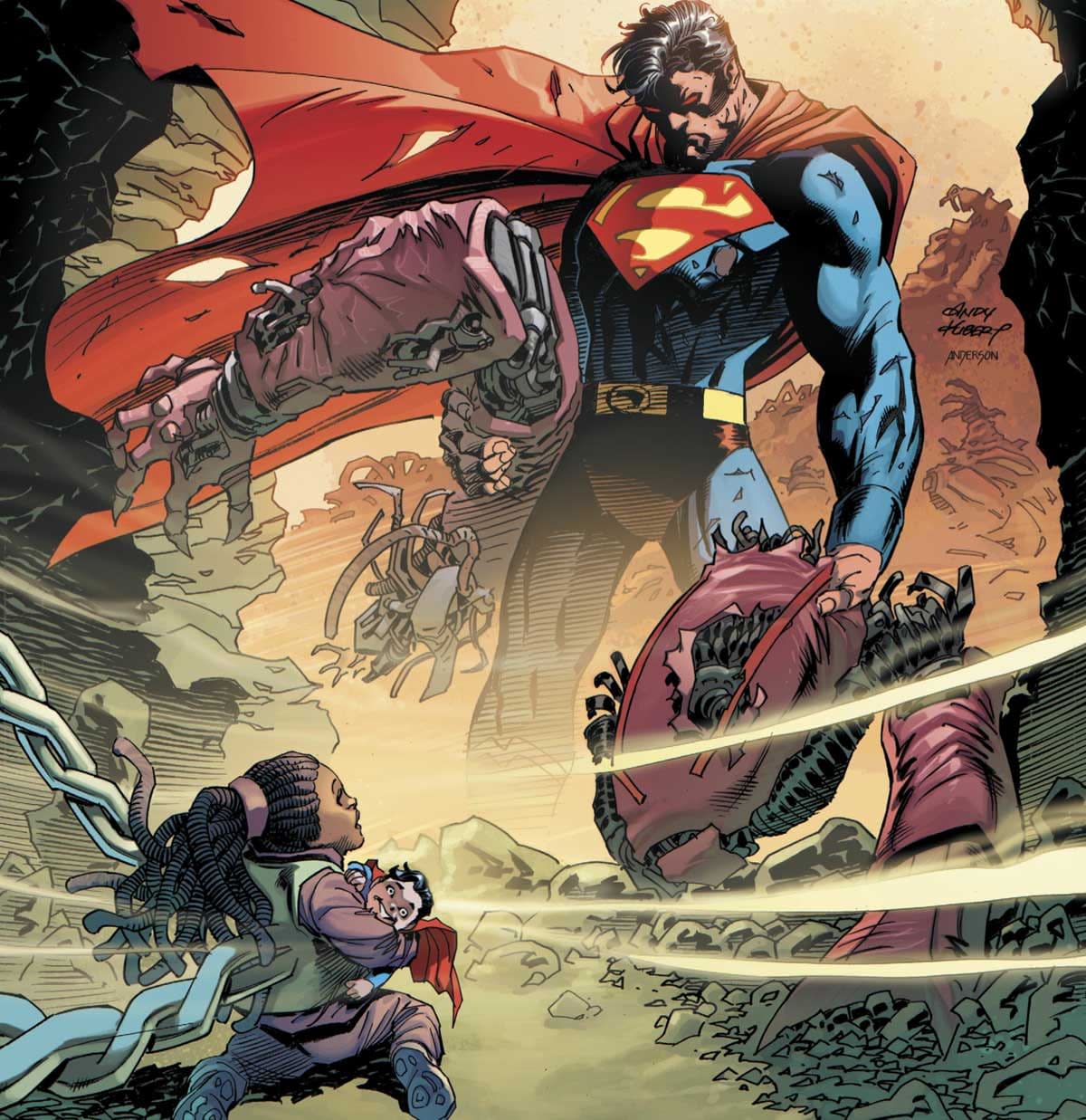 SUPERMAN UP IN THE SKY #6 (OF 6)
(W) Tom King (A) Sandra Hope (A/CA) Andy Kubert
Available to comics shops for the first time! It's the finale of Tom King and Andy Kubert's Man of Steel epic and Superman is captured off-planet, with Earth's remaining heroes left to fend off an alien robot invasion! If Superman can break his bonds and rise up against the diabolical mastermind who unleased the attack, he can save his adopted home, even from several galaxies away, and begin the long journey back with the little girl from Metropolis whose kidnapping initially sent him on this epic sojourn through the cosmos. Originally published in Superman Giant #15 and #16.In Shops: Dec 04, 2019
SRP: $4.99
Hannibal Tabu is an award-winning journalist and comic book writer, a published poet and novelist, a husband and father, aligned lawful evil and is a professional awful person. His professional efforts can be found on The Operative Network.