Rick and Morty Fans: Save Your Schmeckles For These New Funko Products
Rick and Morty collectors- I am sorry. Funko has announced a ton of new Rick and Morty products for release in the next couple months. Mystery Minis, plush, pens, action figures…just so much stuff. One plus-there is a ton of Scary Terry, so yay for that. Lets just dive right in.
First up is a line of Dorbz figures. Rick, Morty, Snowball, Summer, and Mr Meeseeks will see regular release, while Meeseeks gets a chase. A flocked Snowball will be released at Gamestop, while Mr. Tinkles will appear at Hot Topic. These release in May.
Galactic Plushies return, along with giant-size plush versions of Pickle Rick! Man is that cool! Regular plushies include Scary Terry and Snowball. Those will be out in May No month has been announced for Pickle Rick.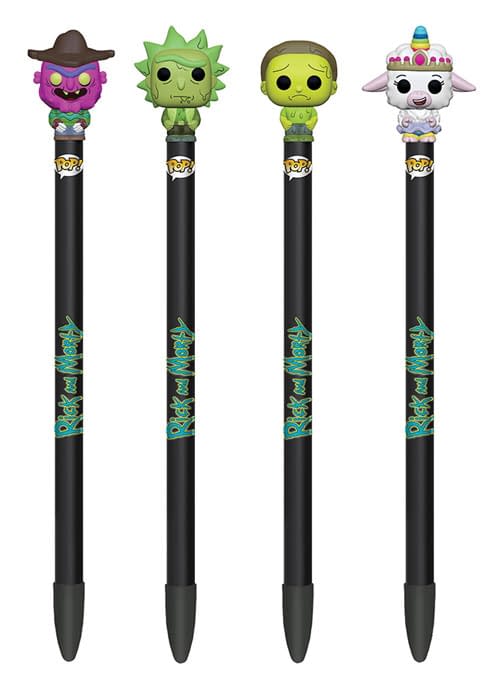 Four new Pop Pens will hit stores in 2018 as well.
Plush Mystery Mini Keychains are on their way. Hot Topic gets Beth, Summer, and Jerry exclusives. These will be out in April.
The new wave of Mystery Minis will be a pain in the butt to complete. Some deep cuts there, but the exclusives may be the best. Vance Maximus, Supernova and Million Ants can be found at Gamestop, Toxic Rick, Toxic Morty and Jaguar will be at Target, and Cornvelious Daniel, Crocubot and Alan Rails will be included at Hot Topic assortments. These hit stores in April.
Finally, we have the second wave of Rick and Morty action figures. Scary Terry, Purge versions of Rick and Morty, Summer, and Squanchy all need to be collected to build a figure of Krombopulos Michael. The first wave was a huge success for Funko. Hopefully they have made a few improvements since then. Even if they didn't Scary Terry is a must buy. These will be out sometime in 2018.
A lot of these products are up for preorder now. You can look for some here.