'The Romanoffs': Amazon Prime Releases New Images, Episode Listings for Matthew Weiner Anthology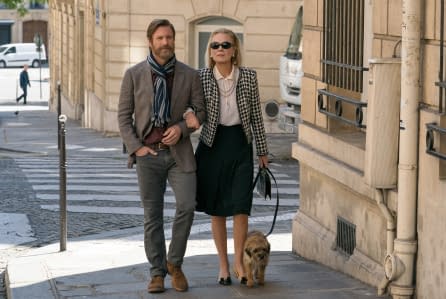 Now that we've gotten our first official look at Emmy award-winner Matthew Weiner's (Mad Men) contemporary anthology series The Romanoffs, Amazon Prime Video is giving us some additional images (above and below) from the frist two episodes as well as a breakdown of the season's episodes. Set to premiere on the streaming service on Friday, October 12th, the creative team behind The Romanoffs include executive producer-writer Semi Chellas; co-executive producers Kriss Turner Towner, Blake McCormick, and Kathy Ciric; and consulting producers-writers Andre Jacquemetton and Maria Jacquemetton.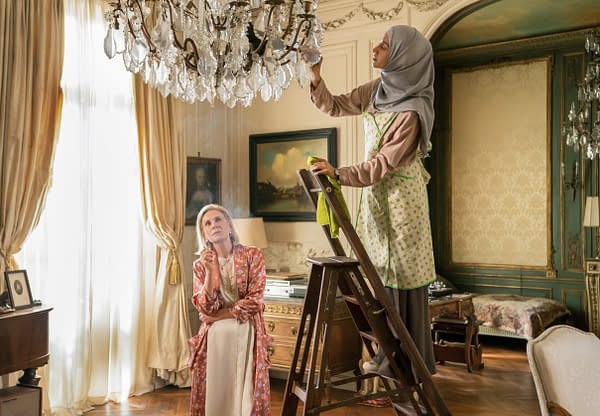 ● s01e01: "The Violet Hour" — Premieres on Friday, October 12
Set in Paris, an ancestral home holds the key to a family's future.
Starring Aaron Eckhart, Marthe Keller, Inès Melab and Louise Bourgoin
● s01e02: "The Royal We" — Premieres on Friday, October 12
With their marriage in a rut, a couple finds their own temptations.
Starring Corey Stoll, Kerry Bishé, Janet Montgomery and Noah Wyle
● s01e03: "House of Special Purpose" – Premieres on Friday, October 19
A movie star and a director go head to head in a battle over what is real.
Starring Christina Hendricks, Isabelle Huppert, Jack Huston, Mike Doyle and Paul Reiser
● s01e04: "Expectation" – Premieres on Friday, October 26
Over a single day in New York City a woman is confronted with every lie she ever told.
Starring Amanda Peet, John Slattery, Emily Rudd, Jon Tenney, Mary Kay Place and Michael O'Neill
● s01e05: "Bright and High Circle" – Premieres on Friday, November 2
A trusted friend under suspicion tests the loyalties of a tightly-knit community.
Starring Diane Lane, Ron Livingston, Andrew Rannells, Cara Buono and Nicole Ari Parker
● s01e06: "Panorama" – Premieres on Friday, November 9
In Mexico City, an idealistic reporter falls in love with his mysterious subject.
Starring Juan Pablo Castañeda, Radha Mitchell and Griffin Dunne
● s01e07: "End of the Line" – Premieres on Friday, November 16
On a trip abroad to pursue their legacy, a couple faces destruction.
Starring Kathryn Hahn, Jay R. Ferguson, Annet Mahendru and Clea Duvall
● s01e08: "The One That Holds Everything" – Premieres on Friday, November 23
In a story that circles the globe, a man tries to escape a family curse.
Starring Hugh Skinner, Adèle Anderson, Hera Hilmar, Ben Miles and JJ Feild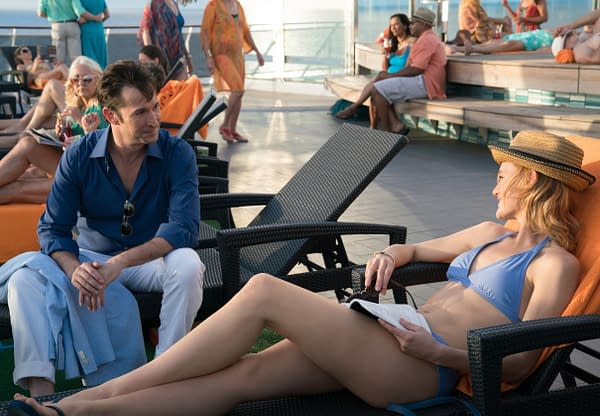 Featuring eight separate stories about people who believe themselves to be descendants of the Russian royal family, The Romanoffs stars Diane Lane, Aaron Eckhart, Isabelle Huppert, Marthe Keller, Christina Hendricks, John Slattery, Jack Huston, Amanda Peet, Corey Stoll, Andrew Rannells, Mike Doyle, JJ Feild, Janet Montgomery, and Paul Reiser.
Shot on location in three continents and set in seven countries around the globe, each story takes place in a new location with a new cast, here's a look at the official trailer for The Romanoffs: