Christmas Eve Runaround – Gays, Footballers And Animated GIFs
ArchieWatch: ABC looks at changes at Archie Comics – both gay and digital…
It is not of course the first same sex marriage in comics history. Not even in mainstream comics, The Authority got there first…
GameWatch: Top Cow try to persuade people that American footballer Lance Briggs' upcoming comic book is the real deal.
Said Filip Sablik, publisher of Top Cow Productions, Inc., which produced "Seraph": "I would say 99 percent of the ideas that we get pitched [from celebrities] are really, really bad. … Lance is the real deal."

And "Seraph" co-author and renowned comic writer Phil Hester: "It's kind of trendy to be a geek now, so there are a lot of celebrity comics popping up. … But Lance's book is completely and 100 percent Lance's concept."
SuperWatch: Remembering Alvin Schwartz;
At age 91, legendary Golden Age comic book writer and metaphysical novelist Alvin Schwartz posted his last blog from his Chesterville home. In it, he made a plea for help finding an audience for a 700-page "blockbuster."

After 50 rewrites and "probing the depths of my personal being," Schwartz said he'd found a moment that "might have marked the end of love, the end of religion, the end of humanity itself." It was a demanding literary form he called "metareal," a new genre.

He never did find that publishing deal. His wife Kay says that Schwartz spent his final three years exploring all possible avenues to debut Tear Down That Wall, but died on Oct. 28 at age 94 without realizing his dream. A frail Schwartz was hospitalized to receive a new heart valve, but died before surgery.
MooreWatch: Steve Moore talks about his new novel Somnium – with extract.
How is The Moon And Serpent Bumper Book Of Magic coming along? Any interesting recent findings? When you say it's about half-finished, how long does that portend the finished book to be?

SM: Well, it's still coming along, but very slowly … though Alan and I did some more work on it a few days ago. It's been held up recently because Alan's been busy trying to get Jerusalem finished and working on other projects, and, of course, I've been seeing Somnium through the press. It doesn't help either that he lives in Northampton and I in London, but we're both aware that we need to get down to serious work on it again. It'll be 320 pages long … not for any particularly magical reason, but just because it seems like the right sort of length to cover everything, and books are printed in signatures of 32 pages anyway … and we've got about half of that written. We're currently stumbling through a series of pieces on 'magical landscapes' that can be visited in trance or by ritual, each of which is being compressed into a single page, but once that's out of the way we can get back into some of the stuff that isn't quite so labour-intensive, so then it should speed up a bit more.
This is Computo the Comic Link Conqueror speaking. I come for your women. But for now I merely collate comic-related bits and pieces online. One day I will rule. Until that day, read on.
They say I am a work in progress. The fools.
Comics history film project in the running to be awarded consultation with Sundance Institute.
Cameron Stewart Illustration — Spoiler
Layout "pencils" and finished artwork, drawn directly overtop. The original plot called for Stephanie Brown to be Batgirl, but production delays and the DC 52 reboot caused an editorial decision to change to Spoiler. Layouts were drawn featuring the Spoiler costume but by the time final artwork was underway, the decision was made to revert to Batgirl. (Artwork from Batman Incorporated: Leviathan Strikes, 2011)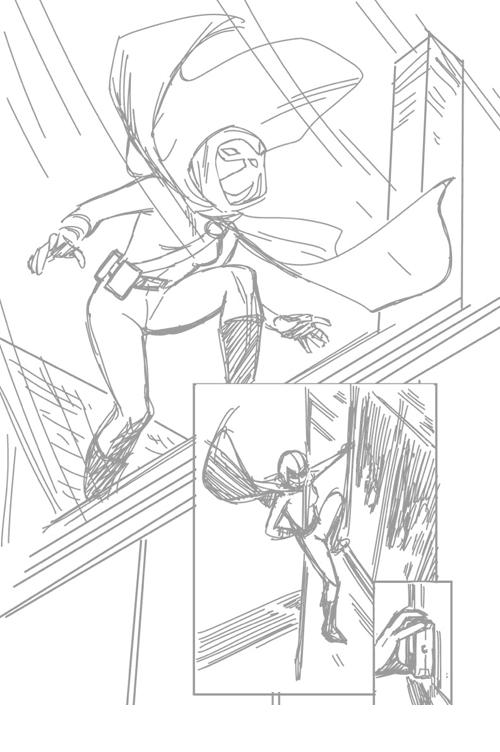 Cameron Stewart Illustration — Leviathan Strikes
An example of how I build my panels from different elements drawn digitally in separate layers in Manga Studio 4. (Artwork from Batman Incorporated: Leviathan Strikes, 2011)
Official Google Blog: Google Comic Caption Contest
For our modern version, we worked with artists like Matthew Diffee, Emily Flake, Christoph Niemann, Danny Shanahan and Jim Woodring, who created cartoons that place characters in unusual, interesting and funny situations all with a common twist. In each cartoon, one of the characters is doing a Google search. We've left it to you to imagine what they'd be searching for at that moment, and left the caption blank for you to fill in with your answer.