Sammie Reads: Teen Dog Does Prom And Bravest Warriors Do Summer Camp!
By Sammie Rice
Greetings, readers!
This week is full of the most fun comics ever and I really want to talk about them with you! Revisit your favorite high school memories with Teen Dog #7 as Teen Dog and the gang go on their raddest adventure yet; PROM! Break out your tuxes and sequined dresses and prepare for a night you won't soon forget.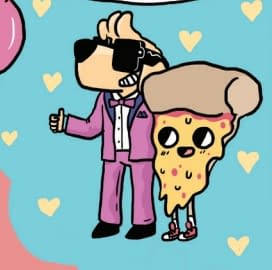 Teen Dog always finds a way to have the best time with his best buds with minimal mischief. So what happens when one of his pals may be crushing on him? With all the other publishers focusing on universe smashing and world restarting it's incredibly refreshing to read a comic that is consistently phenomenal. Jake Lawrence perfectly combines humor, positivity and fun with the second to last issue of this great series.
The biggest questions in the universe are finally answered: Who will Teen Dog take to the prom? Is Thug Pug a good dancer? Is there really anything more important than a good snack? My favorite part of Teen Dog is always the characters. Sure, maybe this book was intended for a younger audience initially, but the content and life lessons can easily be applied to readers of any age. This issue dives a little bit into the teen angst we can all remember having but shows the best way to deal with it is to talk to someone.
Published by BOOM!Box and written and illustrated by Jake Lawrence, you don't want to miss out on all the fun!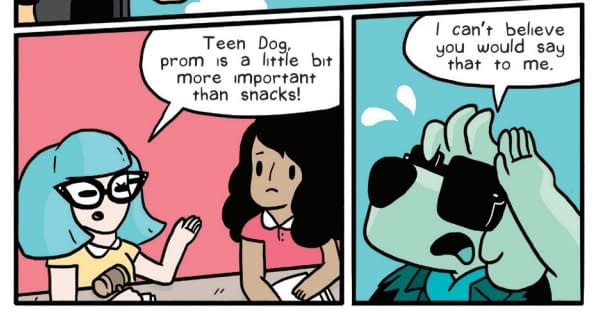 Let's continue down memory lane with a look at Bravest Warriors #30 written by the fabulous Kate Leth and drawn by the great Ian McGinty. Our favorite teen team is off to summer camp as counselors and they are pretty pumped about it. But this is no ordinary summer camp, of course. This is a summer camp specifically designed for training the younger members of the universe to be warriors! Each instructor has their own teaching style unique to their personality. Grab an axe, sword or chainsaw and get ready to learn some sick moves! Unfortunately, every camper is not too keen on being there. The gang must figure out a way to get one grouchy kid to focus more on being a fighter and less on his video games. But could there be a threat lurking beyond the safety of the campgrounds, or could the threat be closer than they think? This issue is colored by Lisa Moore and she does an extraordinary job of bringing the story to life. I loved the way this issue flows, very natural but never slow. Leth has an incredible talent for writing our favorite characters in a way that reveals the best parts of their personalities.
Seriously, though, how cute is Catbug? That's all for this week, friends, make sure to pick up Teen Dog #7 and Bravest Warriors #30 and connect with me to let me know your thoughts! Thanks for reading!
Sammie Reads is a somewhat normal Floridian who loves to take long strolls through the park in pterodactyl-free zones. She loves the comic book community, her cute fiancé and delicious nachos. You can find her raving about her favorite things on Twitter, Tumblr, Instagram (And now Youtube!) – @SammieReads