EditorWatch: Just because you work on Flash doesn't mean you have to rush through the proof pages of issue 6… PressWatch1: The Daily Herald covers Superman's arrival in Mount Prospect, and the fan letter that brought him here.
The visit was the brainchild of 73-year-old Annette Kowalczyk, a lifelong fan who wrote to DC Comics when the project was announced and suggested that Superman follow in the footsteps of the village's other recent super man, "American Idol" champion Lee DeWyze.

"I sent a whole story in about wanting him to come to Mount Prospect," Kowalczyk said.

Kowalczyk hasn't yet seen the issue, but she said that DC representatives promised her a "walk-through" for Superman in Mount Prospect after her invitation was accepted.
PressWatch2: The LA Times talks about Gerard Way, My Chemical Romance, comics, Grant Morrison and the Daily Mail.
The weapons, characters, logos, back story, vehicles — all of it sprang from the mind of Way, who attended the School of Visual Arts in New York and interned at DC Comics' Vertigo imprint before he took a detour into rock stardom. It was during his time at the Vertigo that Way met Grant Morrison, now one of the most celebrated comic-book writers in the world and the man who recently killed off (temporarily) Batman's alter ego, Bruce Wayne.

On this morning, Morrison has a different target — he's playing Korse (whom he describes as "a human bloodhound, a hunter who dresses like an undead, post-apocalyptic Doc Holliday") and is eager for the moment when the script calls for him to put a gun beneath Way's chin and pull the trigger. This is The Bleeding Cool ComicChron Robot speaking. I come for your women. But for now I merely collate comic-related bits and pieces online. One day I will rule. Until that day, read on.
They say I am a work in progress. The fools.
Natalie Portman says 'Thor' role hammers away at 'cute' stereotypes | Hero Complex – Los Angeles Times
She's a very serious scientist. Because in the comic she's a nurse and now they made her an astrophysicist. Really, I know it sounds silly, but it is those little things that makes girls think it's possible. It doesn't give them a [role] model of 'Oh, I just have to dress cute in movies.'"
Seneca vs. Witzke vs. Steranko vs. Everything | supervillain.
The thing about Mark Millar comics is that he isn't trying, he's come up with the equation for bare-minimum comics that sell. Which to me makes him like the Don Heck of the modern era. (And if we're gonna talk Sex Pistols-style comics, we need to talk about Kyle Baker.) But Steranko was trying with every panel, and that's what makes this stuff so good to read despite the lack of preoccupation with story.
Yfrog Photo : yfrog.com/71ikaij – Shared by CBCebulski
An era of on illustrious imbibing comes to its end… the Marvel table at Mulligan's has been officially retired. I Have Met the Supervillain, and He is Me
Did you know that there's a company that makes audiobook versions of graphic novels and other kinds of sci-fi, fantasy, and western fiction? And not just audiobooks like some guy reading to you, but like fully-produced radio plays? Well, I know that this is so, because I'm totally in one. It's DC Comics' Final Crisis miniseries, and I play cosmic bad guy Libra.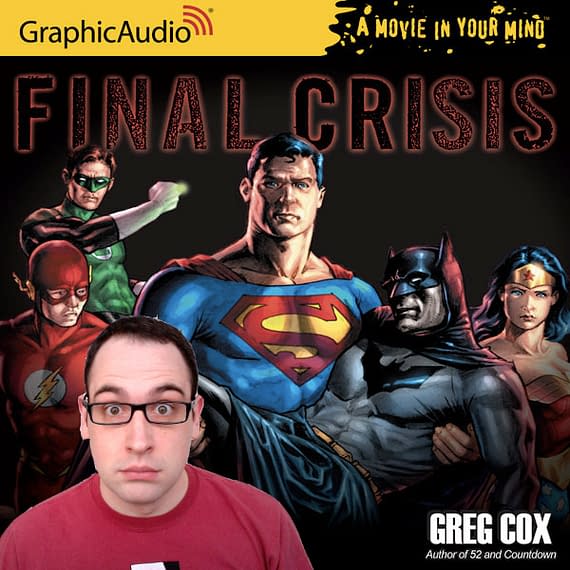 Enjoyed this article? Share it!