The massively popular History Channel born historical drama Vikings is going to be returning to San Diego Comic Con this year. Imagine some kind of shield-maiden battle-cry from me in approval. Last year, Vikings had a very strong presence at the convention and I could basically see some of their open-air set up from my hotel which inspired me to gird up my courage to face the con every day.
I've been a fan of the show since the first episode, and at the convention in 2014, I had a blast exploring their show-set like encampment, reading their tie-in comic by Zenescope, attending their really powerfully engaging panel with full cast, and I even spoke with the actors and show-runner in a round-table. All of those experiences made me an even bigger fan of the show rather than dispelling any of the magic for me. The hard work, vision, and dedication behind the show is evident, whether from the writers, actors, or from the set and costume designers.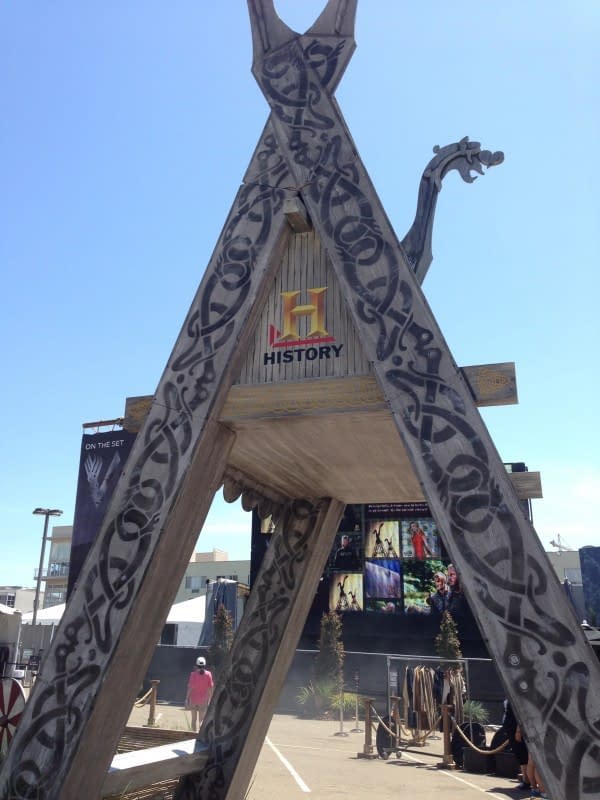 This year, I am very pleased to see they are tuning things up rather than down. I received a package today, delivered by a messenger who had run away by the time I got to the door. With no idea what was in it, but also as someone who gets packages without much warning, I was still massively surprised by what I found. Inside was a full rota and description of Vikings' presence at SDCC, an all-new issue of their show tie-in comic, and glory of glories a black and red drinking horn complete with stand.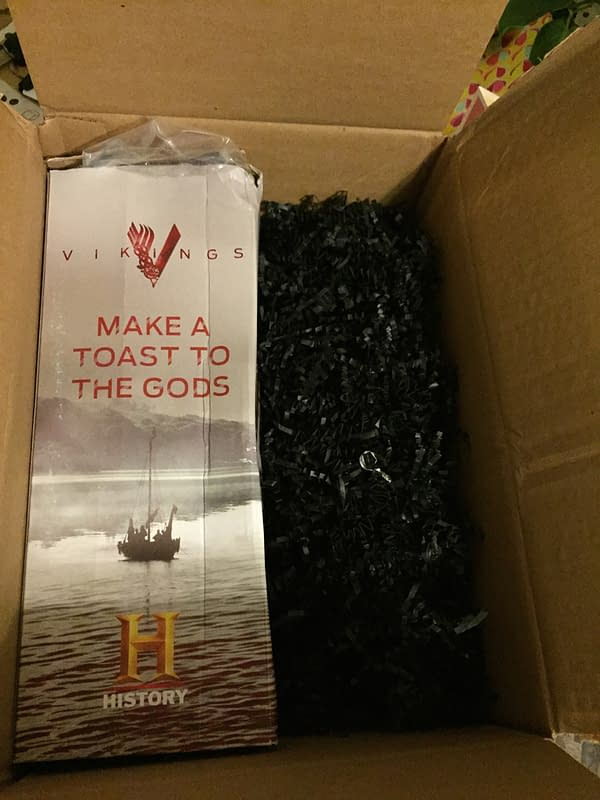 Now, I am in possession of a white Vikings drinking horn from last year, but I ended up having to walk a mile or two to get it since horns had run out in one location but I was determined to claim mine. It was hard-won and even harder to get through baggage check, let me tell you. Getting one in the mail perfectly packed was particularly exciting for me.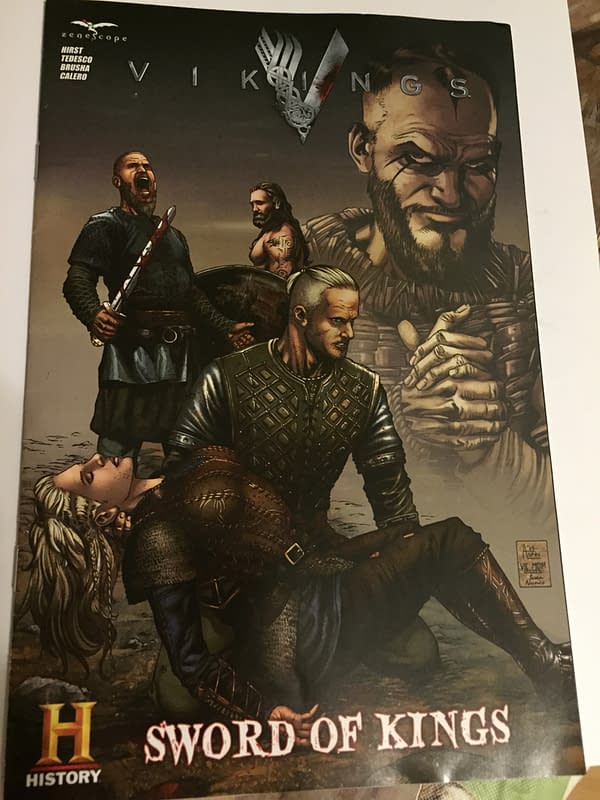 But I'm just as excited, actually, for the things the show is doing at the convention.
Here's a preview of those activities:
The Vikings Panel will be Friday, July 10th from 3:30 to 4:30 in Room 6A, with Travis Fimmel, Katheryn Winnick, Clive Standen, Alexander Ludwig, Michael Hirst, and Dirk Hoogstra to discuss the series and give a peek at the new season.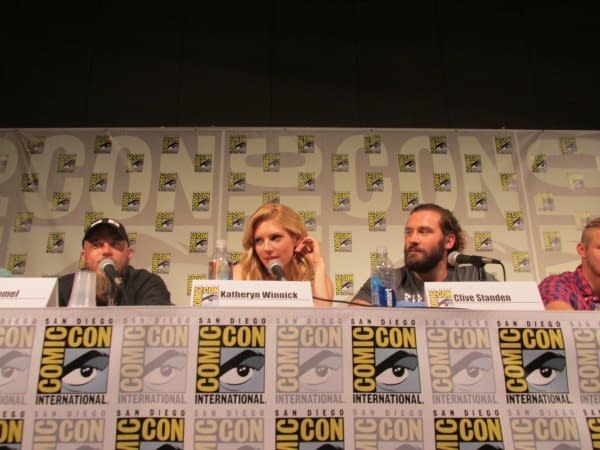 The Vikings Bludgeon Booth will appear on the show floor, #437, and they promise to have a special Instagram booth to create a Viking battle, the ability to dress up in costume, and slow motion cameras will integrate participants into a battle scene for the show which they can share on Instagram in 15 second increments.
The Vikings Horns in the Gaslamp District will consist of a promotion giving out drinking horns to folks and select local bars will be giving out drinking horn-holders. If you follow Vikings on social media you can find a full list of participating bars. Look out for Vikings "ambassadors" distributing horns in the Gaslamp District.
The Vikings Longship in Downtown and the Gaslamp District will allow fans to board a vehicle driving through the Downtown and Gaslamp District and also "sailing the harbor" in the evening on Friday thr 10th and Saturday the 11th. San Diego's "Seal Boats" will be transformed into Longships by custom wraps and will offer free transport to certain stops. Fans who ride will receive drinking horns at the conclusion of the ride. Riders will also have a chance to win a sunset cruise aboard the Longship with the cast of the show. Follow @HistoryVikings for details on riding the Longship and entering the contest. All of these events and more will be discussed using #Vikings on Twitter as well.
If you're wondering what's happening for the show right now, Season Four is currently being filmed in Ireland, and is set to return to us in 2016 on the History Channel. Until then we wait to learn the fate of Ragnar!
Enjoyed this article? Share it!