Today's Secrets Of The Battleworld (SPOILERS) – And Is That A Star Wars Crossover? I don't really know where Greg Land got this facial reference from, for today's Future Imperfect, but I don't think it was from a fifties bodybuilding magazine.
So what have we learned from today's Secret Wars crossover issues ahead of next week's Secret Wars #5? And for Infinity Gauntlet – if there are no stars or planets in this Battleworld reality, what would "Mad Titan" refer to? Thanos is no longer from Titan…. The last days of Ms Marvel – and Captain Marvel, all still very pre-Secret Wars. Why not go out on a lie? She does better there than in Spider-Island at least, where every character is getting genetically bugged up to some degree. With Carol sucking the lifeblood out of every other character in the Marvel Universe. This had better not be an allegory for poor sales…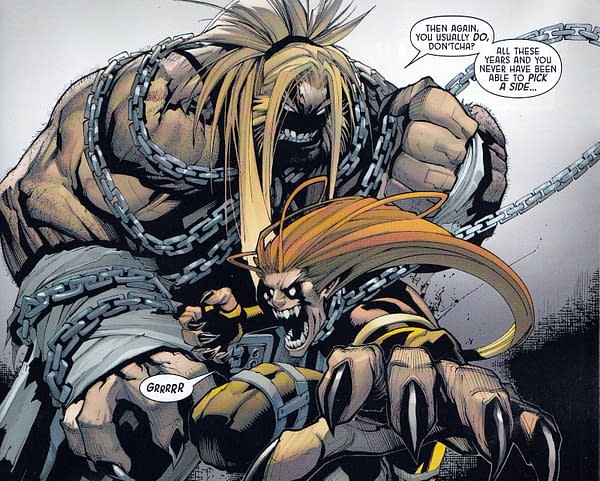 Age Of Apocalypse gives us probably the most nineties panel possible. X-Men '92 just has nothing on this… you just have to have characters with hands bigger than their heads. The final page of Siege #3 does something that not even the recent Secret Avengers would dare, giving us Nick The Fury, a combination of Nick Fury and The Fury into a superhero killing monstrosity with one eye… this is just the best thing. If Gillen is leaving the Marvel Universe, he is making sure he gets to play with Alan Moore and Alan Davis' The Fury first… straight from Alice In Wonderland. There are limits to the domains , the twins in Giant Size Li'l Marvel Avengers Vs X-Men discover, the sky only goes up so far… looks like this domain has barriers, that others lack. Such as Dystopia to Nornheim in Future Imperfect. They even have a signed tunnel. While Ultimate End seizes the Secret Warsiness full speed with Doom getting consulted on the latest goings on with the Ultimate universe sharing space with something that is not the 616 Universe. But one character from the Ultimate universe has been missing and, since he was scattered across the Battleworld by Sherrif Strange, is about to make his debut here….
So that's two of them down. Say, I wonder if Yotat The Destroyer in Guardians Of Knowhere is a 616 or Ultimate survivor in disguise? Ultimate Mister Fantastic, maybe?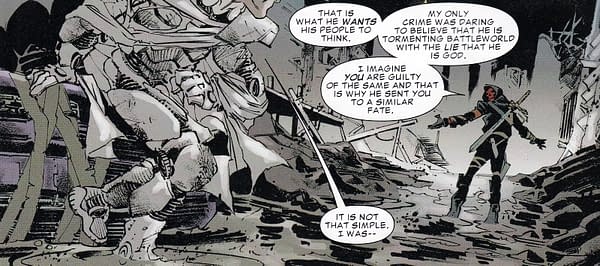 It's never a good idea when Magneto finds himself teaming up with Red Skull. Even when they are both against the god Doom. There are some principles that breaking will only bring down the edifice…

In whatever world he lives in, in whatever domain, whatever reality, even in Civil War, Tony Stark is obsessed with drawing out timelines. Oh look who else has got an Infinity Gem, sorry, Infinity Stone, in the Infinity Gauntlet…. And Guardians Of Knowhere gives us our first Star Wars/Secret Wars crossover with these landspeeders…. I might have to revisit the Inferno HQ looking like the inside of Deep Space Nine sometime.
Comics courtesy of Orbital Comics, London. Who will be launching cartoonist Julian Hanshaw's new graphic novel from Top Shelf: Tim Ginger, on Friday.