Seth Kushner Publishes Free Superhero Photocomix From His Hospital Bed While Fighting Cancer
I was privy to seeing some print versions of Seth Kushner's excellent "Costumed Characters" photocomix last Spring at MoCCA Fest when he produced some print copies of a collection called Forcefield Photocomix. Seth Kushner's award-winning photography in comics, including his massive tribute to comics creators with Chris Irving, Leaping Tall Buildings, is well known in the industry, but Seth also branched out massively into using the photocomix format to tell stories of true and fictional lives through his CulturePOP photo essays and also through Costumed Characters. Written in tandem with Emmy Award-winning cartoonist Dean Haspiel (The Fox, Cuba: My Revolution), Kushner hopes that their Costumed Characters series might see regular installments and distribution at some point, but in the meantime, he offers readers a digital read of "Heyday", the story of an aging superhero and his granddaughter, told through imaginative photos. You can read the complete photocomic on the Hang Dai Studios website, a studio of which Kushner is a member.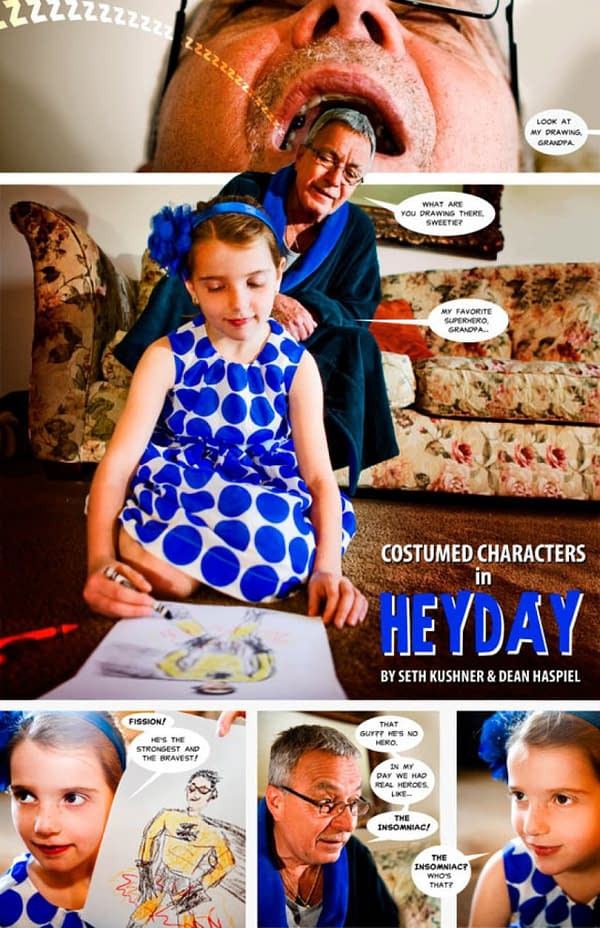 Now, as many people in the comics industry are aware, Seth Kushner has been fighting a rapid and debilitating onslaught of Leukemia since last Spring. Having spent many months in the hospital, including an unsuccessful bone-marrow transplant, Kushner has endured a prolonged and epic struggle to get home and spend time with his wife and young son again, not to mention continue with his comics-making and photographic work. Following up on his successfully Kickstarted comics anthology Schmuck, Kushner has continued to make comics from his hospital room, including several projects in the works. But it's particularly giving of him to post his photocomix for his fans and friends so we can experience the particular magic of his comics made through his combined obsessions of photography and comics.
Seth Kushner and his family are also very much in need of any support you might be able to give in helping fund his lengthy medical treatment, which as a comics creator and freelancer, is quite daunting. You can find ways to support Kushner's struggle here. In fact, the funding campaign is nearer to its goal than ever before because of the generous support of the comics community Kushner has been so much a part of. It would be amazing if they could reach that goal by Christmas and ensure he receives the care he needs to recover.