By Jeremy Konrad This Saturday October 11th is the global event Star Wars Reads Day. From a press release:
Celebrating a love of literacy and all-things Star Wars, Disney Lucasfilm Press, along with its publishing partners: Abrams, Chronicle Books, Dark Horse, Del Rey, DK, Klutz, Quirk Books, Random House Audio, Scholastic, and Workman Publishing, will join forces with fans, authors, and artists to celebrate the third annual Star Wars Reads Day. Last year, authors and costumed volunteers participated in over 2,000 Star Wars Reads Day events across North America, but, for the first time, this year's festivities will include Star Wars Rebels!

With the debut of the animated series Star Wars Rebels launching on Disney XD October 3rd, this third Star Wars Reads Day comes at an exciting time! Book signings and panels featuring Star Wars Rebels have already been scheduled for October 11th during New York Comic Con, and the robust list of talent confirmed to participate in official Star Wars Reads Day events around the country include: Chris Alexander (Star Wars Origami), Tom Angleberger (Origami Yoda series), Jeffrey Brown (Goodnight Darth Vader, Star Wars: Jedi Academy), Troy Denning (Star Wars: Crucible), Tony DiTerlizzi (The Adventures of Luke Skywalker: Jedi Knight), Ian Doescher (William Shakespeare's Star Wars, William Shakespeare's Empire Striketh Back, William Shakespeare's The Jedi Doth Return), Pablo Hidalgo (Star Wars Rebels: A New Hero), Michael Kogge (Star Wars Rebels: The Rebellion Begins), Daniel Lipkowitz (LEGO Star Wars: The Yoda Chronicles), John Jackson Miller (Star Wars: A New Dawn), Chris Reiff and Chris Trevas (Star Wars: Death Star Owner's Technical Manual), Daniel Wallace (The Bounty Hunter Code, The Jedi Path), and Ryder Windham (Star Wars: The Ultimate Visual Guide, Star Wars Rebels Junior Novel).

An official Star Wars event kit (free of charge), including reproducible activity sheets and trivia, is available as a printable PDF in color and black and white, and for event updates and more information, follow Star Wars Reads Day on Facebook and the #starwarsreadsday on Twitter.
Exciting stuff, and Disney Publishing has been putting out some great Rebels books to get you ready for not only Star Wars Reads Day, but Rebels in general. Books are available for readers of all ages, but I want to focus here on early readers and young adults. Obviously, Rebels is a cartoon aimed at Star Wars fans of all ages, but the focus is the kids. As the first big toe Disney is dipping into the Star Wars pool, Rebels needs to come out swinging (and they have; Rebels aired a kickoff special this past Friday), and needs to introduce these new characters in a big, splashy kind of way. Happily, they succeed. For beginning readers, they have picture books and level readers that introduce children to some of our heroes from Rebels. Adults will notice that these are literary adaptations of the Rebels shorts produced by Lucasfilm that take place before the events of the Rebels TV show. Chopper Saves the Day, adapted by Elizabeth Schaefer, is a fun picture book that introduces the little ones to the plucky astromech droid Chopper, who is caught in the crossfire of an argument aboard the Ghost (our Rebels ship) between Kanan Jarrus and the ships pilot Hera Syndulla. The story has all kinds of funny bits for all of the characters as they are attacked by TIE fighters, and the images are lifted straight from the short. Everything is very colorful and vibrant, matching the tone of the story.
Ezra and Zeb are given the early readers Level book treatment. Zeb to the Rescue, adapted by Michael Siglain, is a Level 1 book, meant for kids Pre K-Grade 1. This one shows the events from the Zeb short, where he is supposed to meet Kanan in an alley and ends up fighting Stormtroopers instead. Ezra and the Pilot, adapted by Jennifer Heddle, is a Level 2 book, meant for kids in Kindergarten-Grade 2. Obviously, Ezra is the focus here, showing the confrontation from his short with a downed TIE fighter pilot. Both of these use excellent vocabulary and simple text that make them perfect books for little padawans who are just starting to enter the reading galaxy. Big, colorful pictures are on each page, again taken right from the shorts themselves, and presented in simple, compound sentences and simple storylines to be enjoyable for the kiddos.
The next step is hooking the young adults, and that is where they have really knocked it out of the park. A pair of chapter books, one combining all four short films into one chapter-based book, and an original novel (co-starring a familiar face to Star Wars fans) really wowed me. Rise of the Rebels is written by Michael Kogge, and is a novel-style retelling of the four Rebels short films. He does an excellent job creating a visual for each story that is easy to imagine even if you have not seen the shorts themselves. Luckily, unlike the Level readers, all members of our crew get the spotlight here, with Sabine getting in on the action as well.
The real standout here is Ezra's Gamble by Ryder Windham. An original story that takes place before any events on the show or the shorts, it shows Ezra teaming up with fan-favorite (and my own personal favorite) Bossk, which also serves as a nice bridge to Clone Wars. Bossk becomes a bit of a mentor to Ezra (even though he does not want to), and Ezra has to decide if he will trust our beloved Trandoshan or just walk away from the deal they strike (hence the "gamble"). Ryder Windham is no stranger to Junior Star Wars novels, having written many in the past, and it is no surprise he is one of the first authors they would ask to write some of the first stories for these new characters. Quick-paced and thrilling, he really has a firm grasp on what makes Star Wars, well, Star Wars. Without giving too much away, there is a lot to take away from this novel, from what we learn about Ezra, to the planet Lothal itself; which is where most of the series will take place. It feels like a new Tatooine actually, and the OTC elements will thrill old and new readers alike. I can't recommend this one enough.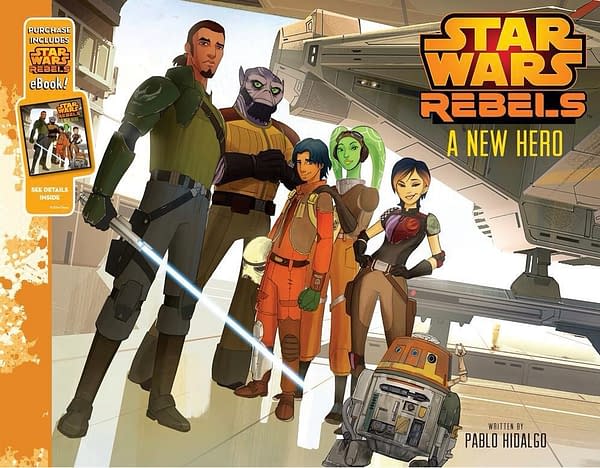 Finally, Pablo Hidalgo's Star Wars Rebels: A New Hero takes everything great about the other books and rolls them all into one perfect introduction to the world of Star Wars Rebels. Featuring illustrations by the Lucasfilm Animation Art Department, A New Hero is told from the prospective of Ezra, and shows the reader everything from how survives on his own before and after meeting the Rebels crew, to what life is like during the Empire's rule of his home planet of Lothal, as well as the villains they will face together. Hidalgo really knocks it out of the park here, and my favorite part of this book is how it is not dumbed down in any way. It does not shy away from using bigger vocabulary or sentence structure that will challenge children in the best way possible. Adults and kids alike will enjoy all of the concept art as well, but I really think it is a book to be read as a group. Themes of believing in yourself and trusting others are presented in a very uplifting manner, and you feel a great sense of hope when the book is finished and you close its cover, or use the free digital copy that comes with purchase and turn off your e-reader.
So be on the lookout—not only for these books, but all Star Wars literature this weekend. Events are taking place everywhere, and most places make it fun, with cosplayers, book readings and signings, giveaways, really anything you cold want from a Star Wars event.
May the Force be with you.
Always.
For a list of events and news for Star Wars Reads Day, check out the Star Wars Reads Facebook page here.
Also check out the StarWars.com page for other details.
Jeremy Konrad is the Senior Star Wars Correspondent for Bleeding Cool. He loves to talk about, collect, and think about everything Star Wars just about every minute of every day. When not busy training his little padawan in the ways of the Force, you can talk Star Wars or anything else really with him on Twitter @jeremyohio
Enjoyed this article? Share it!