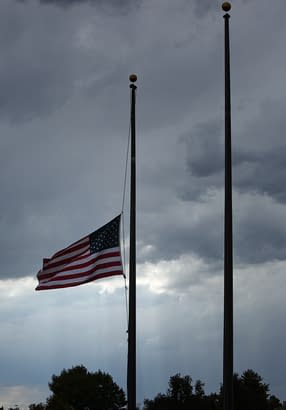 From the Aurora vigil.
Reaction across the comic book industry and media to the Denver shootings has been widespread, as you might expect. The Denver Comic Con put out this ribbon image, and called for blood donations.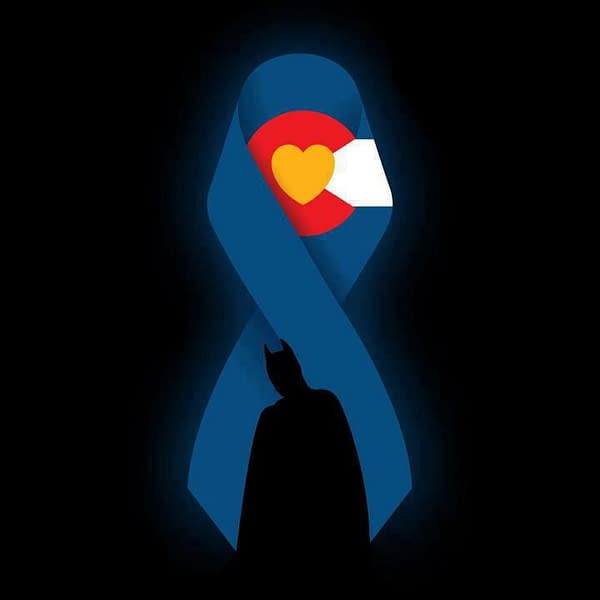 Blame on the Batman has been a common thread,with the Washington Examiner's connection to a scene in the Dark Knight Returns comics spreading around the place, though it seems the Bleeding Cool piece helped rein that in a little, and Fox News went in the opposite direction to much of the media. We were quoted in The Times and, though called by Sky News for comment, they didn't call back after it seems realising that I didn't subscribe to the view that Batman was to blame.
However recent discoveries of Batman paraphenalia in the suspected killer's apatment only look to bring more attention to his choice of film in which to carry out this atrocity, as well as his reported activity in jail, acting as The Joker. His first appearance in court is today.
Takings on the movie are down as a results of the shootings, causing some to not want to see the show, or at least postpone it. AMC cinemas also decided to ban cosplayers attending the show for fear, it seems, of what they may be hiding or what their intent may be. The Academy of Motion Pictures held a silence for the victims before their showing of the movie.
DC Comics sent out a letter to their freelance creators asking not to comment on the story aside from offering condolences. I understand the Bat offices have been considering looking again at their planned massive Joker storyline set to crossover across the line for many months, intended to be very dark indeed. Personally, I think it would be a bad idea, but I can understand why people may make that decision. Making changes because of the actions of extremists only rewards them, and time does dull sensitivity – the books are planned for later in the year.
Neil Gaiman asked, in such circumstances as these, the names of the killers could not be mentioned, indeed, stripped from history books, so as not to encourage or reward those who look for publicity.
Weirdly, an Italian newspaper decided to name Neil Gaiman as the father of Batman, and somehow possibly responsible for the killings.
The media, eh? Can't live with them and… I forget the rest.
Enjoyed this article? Share it!