The Conjuring 3 Details: Less About an Artifact, More About the Case
James Wan is doing the press rounds for Aquaman right now, and of course he is being asked about tons of projects NOT Aquaman. One of them is the next film in The Conjuring series, The Conjuring 3. This installment will be directed by Michael Chaves, whose debut film The Curse of La Llorona hits theaters April 19, 2019. Series stars Patrick Wilson and Vera Farmiga will return as The Warrens, and it looks like this film will have to do with something from their cases files instead of focusing on an artifact. Here is what Wan had to say to Bloody Disgusting on the matter: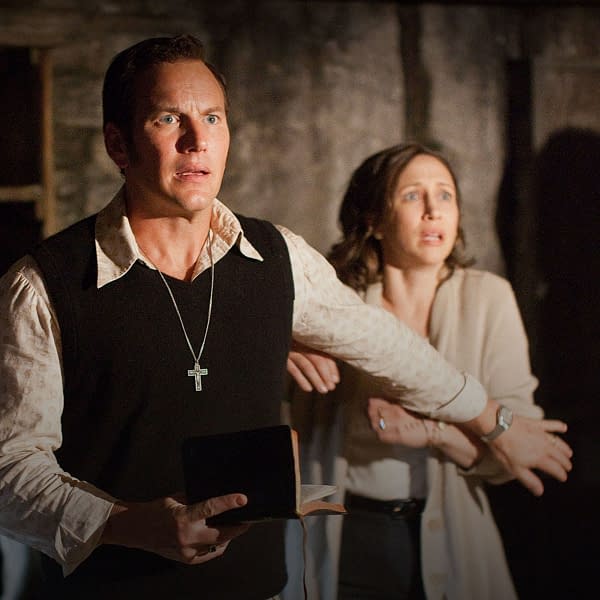 "All the Conjuring films are based on the case files, so they're more based on the true story aspect of the real life Warrens. I think that's important. It's important that the mothership stays true to the inspiration of the real people. The spinoffs are where we get to have more fun and do weird and wonderful crazy things. The mothership of it being the Conjuring films, we want it to come back to the real stuff.

It's this guy who was on trial for committing a murder," Wan said. "I think it's the first time in America's history where the defendant used possessions as a reason, as an excuse."
With so many films making up this universe now: The Nun, the two Annabelle films (soon to be three), and two previous Conjuring films, this universe is already one of the most successful franchises of all-time, let alone one of the most successful horror franchises. It shows no signs of slowing down, and at this point it wouldn't surprise anyone if every single artifact in their cases gets a film.
As more details for The Conjuring 3 are revealed, we will bring them to you.
First seen on Bloody Disgusting