The Flash is still a major character inside DC Comics. From his roles in the Justice League to his Rogues and even to his trials of racing against the Speed Force beings. Barry has always played a major role in the majority of DC Comic events also. Sideshow Collectibles shows off their love for the Flash with their newest statue. The 17" tall statue shows off the Flash in a sprinting motion. The detail of Barry and the suit are artistic and beautifully crafted. There is an Exclusive Sideshow version of the Flash statue too. This one isn't much different than the standard but showcases Flash with Captain Colds cold gun in his hand. This minor detail can add just enough extra speed to your collection. 
The Flash standard statue is priced at $560 and the exclusive is $575. With Sideshow Collectibles payment plans are available. Preorders are live and located here the release date is scheduled between July 2020 – September 2020. 
Check out the Fastest Man Alive below: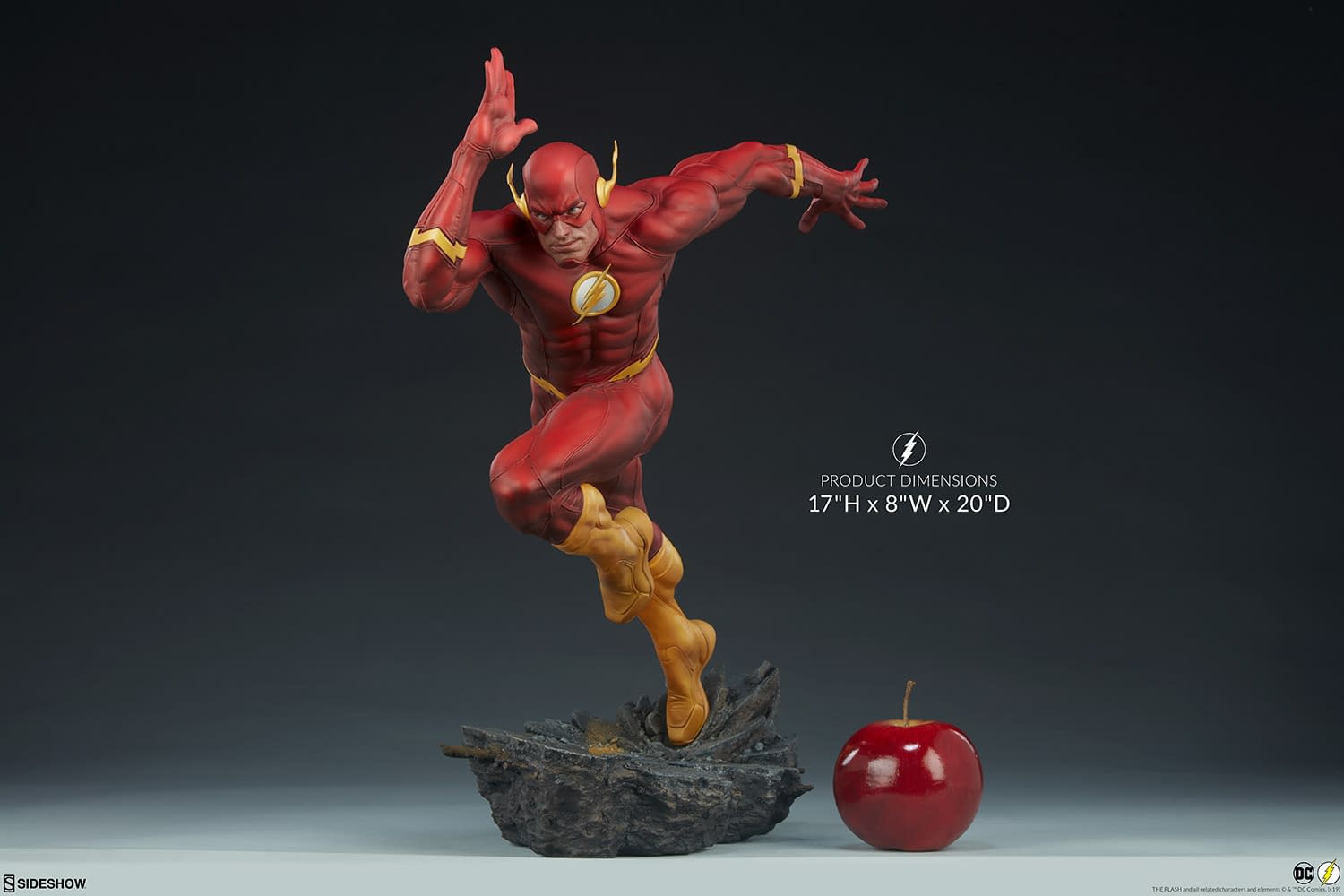 The Flash Premium Format Figure
"Life is locomotion… if you're not moving, you're not living."
Sideshow presents The Flash Premium Format™ Figure, racing into your universe of DC Comics collectibles.
The Flash Premium Format™ Figure measures 17" tall and 20" deep as the Scarlet Speedster races down a roadway, kicking up rubble beneath his yellow boots. This hyper-dynamic statue catches Barry Allen in a moment of bullet time, freezing him before our eyes before he speeds off to save the day.
The Flash Premium Format™ Figure is rendered in polyresin and features an entirely sculpted suit that captures the detailed musculature of Barry Allen's athletic physique. The crimson costume has sculpted piping and stitches designed to mimic the appearance of fabric as the fastest man alive sprints towards his next foe. The Flash's costume also has yellow accents featuring his lightning bolt motif on the arms, chest, belt, and boots of the statue, as well as the yellow wings on Barry's red cowl.
The Exclusive Edition of The Flash Premium Format™ Figure includes a swap-out left hand holding Captain Cold's cold gun as Barry Allen gives his infamous rogue the runaround.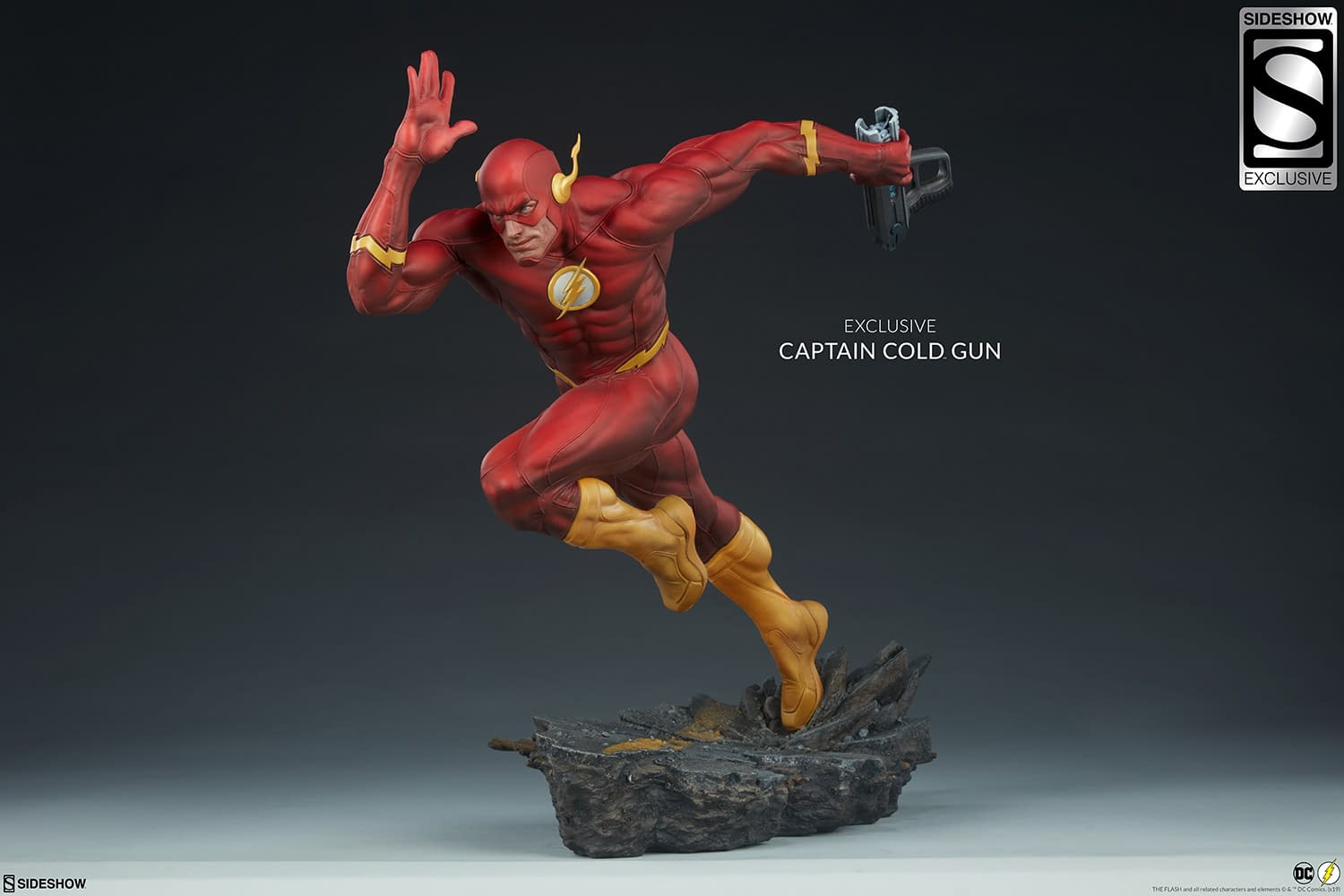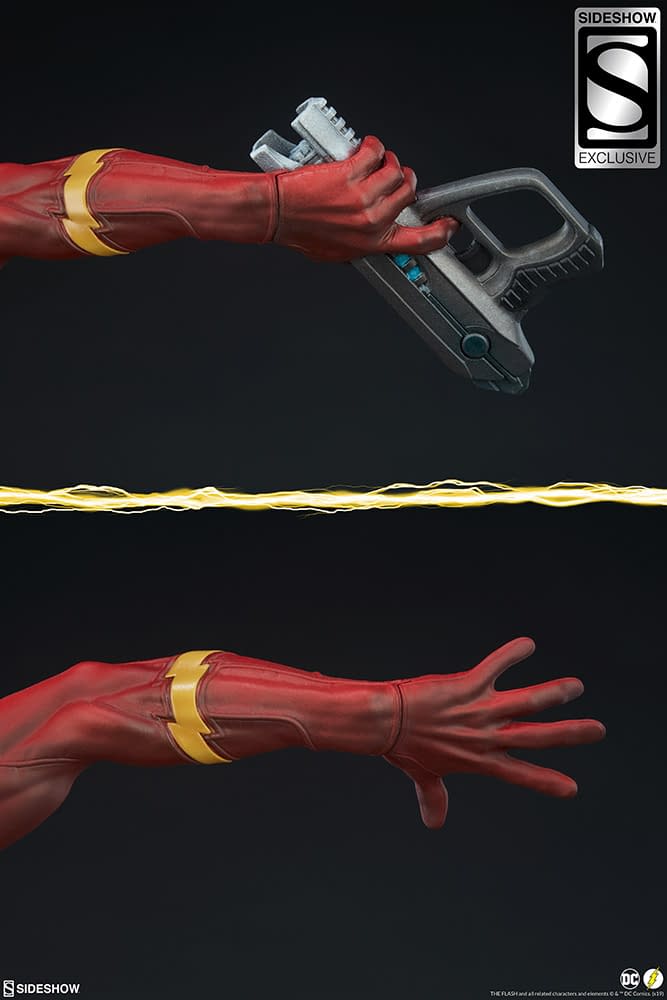 Feel the Speed Force in your collection and bring home The Flash Premium Format™ Figure today!
Artists
– Daniel Bel (Sculpt) (Design)
– Bernardo Esquivel (Paint)
– The Sideshow Design and Development Team (Development)
– Richard Luong (Design)
– Andrew Huerta (Design)
– Rob DeMaio (Mold and Cast)
– Walter O'Neal (Design)
Additional Details & Dimensions
– Materials – Polyresin
– Product Size – Height: 17″ (431.8 mm) | Width: 8″ (203.2 mm) | Depth: 20″ (508 mm) | Weight: 11 lbs (4.99 kg)