"The Way Dan DiDio was Fired… Brutal and Unnecessary" Says DC Comics Founder's Granddaughter Nicky Wheeler-Nicholson
Nicky Wheeler-Nicholson is a writer, historian, and the granddaughter of DC Comics founder Malcolm Wheeler-Nicholson. She is the author of the recent DC Comics before Superman book from Hermes Press, and was instrumental in the efforts behind DC Comics' upcoming hardcover release of New Fun #1, the very first comic book published by her grandfather's company. As an historian who has been researching DC Comics history and her grandfathers founding role in that history for over 20 years, Wheeler-Nicholson has an important perspective on the trajectory of the comics publishing company that her grandfather founded. And about the recent firing of DC Comics Publisher Dan DiDio.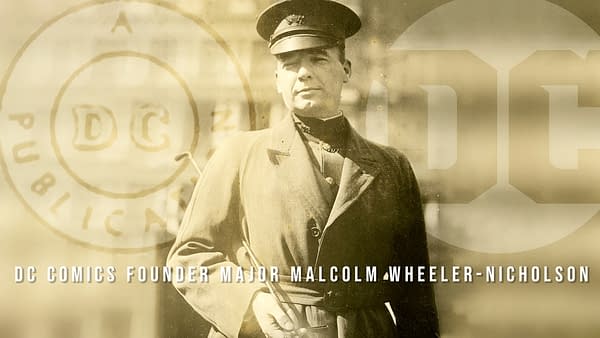 Today on the Major Malcolm Wheeler-Nicholson Facebook Group, Nicky posted the following in regards to Dan DiDio and other matters (posted here with her permission):
So here's the deal with me. First I'm posting from Bleeding Cool because Rich will go there and will straight up admit it. Second, I never met Dan but I do know he was one of the people who helped insure that New Fun #1 ended up where it belonged in the archives at DC. For that alone I am grateful. Third, I find the way he was fired brutal and unnecessary for someone who clearly loved comics and contributed to the company for a long time.

Even if you disagree with his contributions letting someone go in this manner makes the company look very bad and they don't need that in my opinion. This is exactly the kind of thing I have feared from the ATT takeover and something I voiced to some of the higher ups a year ago, March.

Why should I care what happens when I do not own even a dust bunny at DC and most people in the industry have no idea who I am or who the Major was and of those who do, there are people who have no stake in trashing the Major but who apparently are still hanging on to the old tropes of "he wasn't really there, and if he was there, he didn't do anything, and if he did do anything, he was an idiot or a charlatan or whatever." Really, really beyond sick of that! DC Comics was the Major's idea and vision and that is why I care what happens to it and how it is being taken care of by WB and now ATT.

If ATT destroys it, it will break my heart.
New Fun #1 has an estimated release date of April 8, 2020.