Things To Do in New York This Week If You Like Comics
Monday, April 14th The Society of Illustrators at 128 E. 63rd Street in New York City is hosting a series of educational classes with R. Sikoryak and Kriota Willberg on Anatomy for Cartoonists that starts Monday night from 6:30-9:00PM. The instructors are R. Sikoryak and Kriota Willberg and the class operates with live models in each session. Once a week over several weeks ending May 5th, students will learn anatomy drawing for cartoons from two seasoned professionals and experts. Tuition is: $280 / $240 SI members. Email RSVP@societyillustrators.org or call 212.838.2560 to reserve a spot!

Course Description: "The basis of all comics—regardless of style—is visualizing and drawing consistent and credible characters. Through drawing exercises with live models and slide presentations with anatomical and cartoon imagery, this class will help you apply real-life inspiration and principles into your pictures".

Tuesday, April 15th The eighty-second meeting of the NY Comics & Picture-story Symposium will be held on Tuesday, April 15, 2014 at 7:00 PM at Parsons The New School, 2 West 13th Street, in the Bark Room (off the lobby). The event is free and open to the public.
The Presentation will be by Jeffrey Greene on The Artist in Prison. The presentation will feature hundreds of images of narrative artworks produced in prison, bodies of work by individual artists assembled over years of incarceration, special projects, publications and exhibition installations illustrating over two decades of fascinating endeavors inside Connecticut's prisons.
Wednesday, April 15th Forbidden Planet at 823 Broadway in New York is hosting a signing from 7-9PM with writer Frank Barbiere (Five Ghosts, The White Suits) to celebrate the release of Solar: Man of the Atom #1 from Dynamite this week, a re-launch of the historic gold key character in new form.
Wednesday, April 16th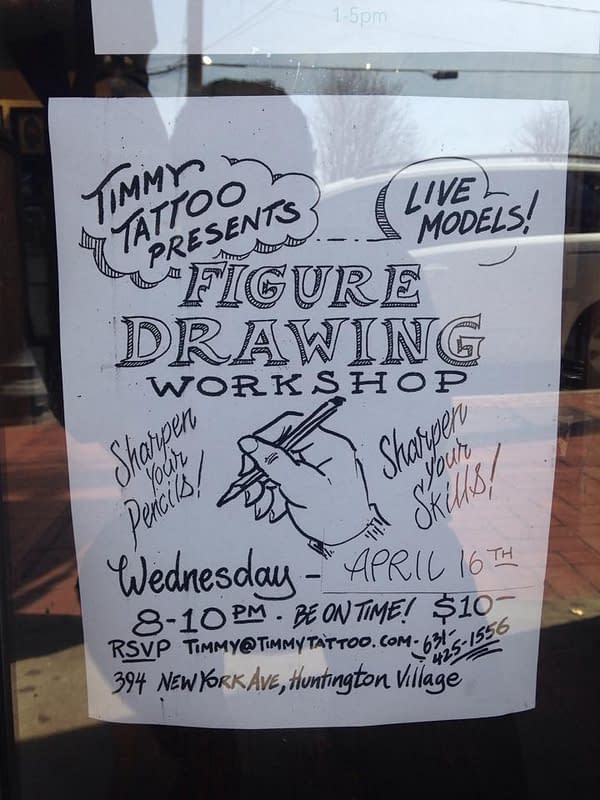 Timmy's Drawing Club will be meeting from 8-10PM at Timmy's Tattoos at 394 New York Avenue in Huntington, Long Island. They say: "Join us for another evening of heavy sketching at Timmy Tattoo! Drawing nights are on the third Wednesday of the month. We only have models for two hours so we will be starting at 8 on the dot! We recommend to get here a little early so you have some time to set up your drawing supplies and get settled in. Bring your own art supplies. We will only be providing models, chairs and lighting.Tim will be leading the drawing session and giving some instruction. Open to ALL, not just tattooers!" PLEASE RSVP on Facebook or via email: timmy@timmytattoo.com
Wednesday, April 16th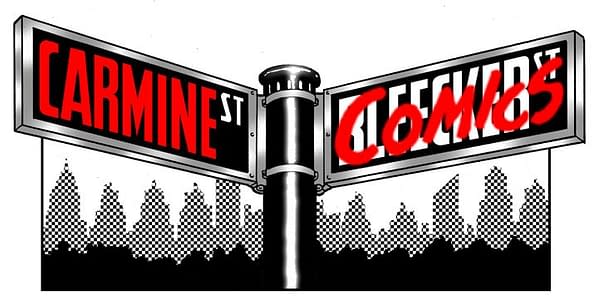 Carmine Street Comics at 34 Carmine Street in New York will be hosting a signing for A Piggy's Tale from 5-8PM, a comic that Bleeding Cool Magazine named one of the Best Upcoming Comics of 2014 in the all-ages category. Writer Tod Emko will be there, as well as the original disabled "rescue dog" Piggy who inspired the comic. You can meet him, but here's a preview: Thursday, April 17th
Desert Island at 540 Metropolitan Avenue in Brooklyn and So What? Press are hosting the Staycation Book Tour Release Party from 7-10PM with Dave Kelly, Lara Antal, Molly Ostertag, and Jess Ruliffson. They say:
Come celebrate the release of So What? Press' spring line of books at Desert Island on Thursday, April 17th, 7:00 pm! This includes: "Invisible Wounds" by Jess Ruliffson, "Tales of the Night Watchman Presents: It Came from the Gowanus Canal" by Dave Kelly & Molly Knox Ostertag, and "Tales of the Night Watchman: Staycation – A Prologue" by Dave Kelly & Lara Antal. All four creators will be present as will free beer!
Saturday, April 19th The Jim Jones Revue/Escapo Launch Party will be held at the Marlin Room at Webster Hall at 125 East 11th Street in New York starting at 7PM to celebrate the release of Paul Pope's graphic novel Escapo from Z2 Comics.
They say: "Everyone, the event of a lifetime or at least of the week is upon us. The Jim Jones Revue concert for the launch of Paul Pope's new graphic novel Escapo! Aside from the rocking tunes of the band Paul will be doing a DJ set! Lastly there will be exclusive merchandise and maybe a go go dancer or two. So come on and buy a ticket. Also invite your friends lets make this the best comic/music bash since… well can't think of the last time this was done. Buy your tickets here at 20 bucks a pop! Hurry, we don't know when they will sell out."