Things To Do On Free Comic Book Day In New York, New Jersey, Philadelphia, And Pittsburgh (UPDATE)
Free Comic Book Day is taking over the mid-Atlantic region this Saturday with plenty of sales, signing, and of course, up to 60 Free Comics on offer. Here's your guide to New York, New Jersey, Philadelphia, and Pittsburgh:
In New York City They say:
We have an insane Free Comic Book Day lined up for you guys! Every hour on the hour we are jam packed with Comic Book Creator Talent!
11am- 12pm-
Dennis Knight of Cross Comic Book
Tod Emko and Piggy writer of A Piggy's Tale
12pm- 1pm-
More Tod Emko and Piggy!
Plus artist Geoff Mosher
1pm- 4pm- Hang Dai Editions
Dean Haspiel artist extraordinaire!
Gregory Benton (Creator of B+F)
Christa Cassano (Creator of the Giant Effect)
Jon Allen (Creator of Vacationland)
Jonathan Lang (Creator of Feeding Ground)
Josh Neufeld (Creator of The Influencing Machine)
4pm-5pm
Brandon Montclare and Amy Reeder (Creators of Rocket Girl)
Mindy indy (Colorist of Deadpool Max)
5pm- 6pm
Nicolas Dedual (Writer of Torchbearer)
Ashton Posey (Creator of Benthic)
6pm- 7pm
Joe Corallo (Writer of Electronic)
7pm- 8pm
Patrick J. Reilly and Tom Gambino (Creators of Comically Absurd Comics)
Chris Brimacombe (Artist of Nap_boy_comic)
8pm- 9pm
Kristen Gudsnuk (Creator of Henchgirl)
Jason Quinones (Creator of Beer and Cookies: The Cartoons and Comics of Jason Quinones)
9pm-10pm
Mike Novo (Creator of Zeke the Ghost)
Matt Chic (Creator of Night Light Comics)
At 10pm we will be holding the Comic Book Creator Talent Show! Some of the fabulous creators will show their talent, some will sing, some will tell jokes, maybe someone knows magic! Come and find out! They say: "Forbidden Planet NYC (832 Broadway bet. 12th & 13th St. 212-473-1576) will be celebrating in style.
NOT ONLY will we be giving thousands and thousands of comics away (absolutely, positively FREE of charge) starting at 9am, NOT ONLY will all comics, graphic novels and manga be on sale at 15% off the entire day, but we'll also be hosting two signings with superstar creators!

Fred Van Lente has two free books coming out that day- Project Black Sky & Defend Comics– and Joe Mulvey has got the FCBD edition of Scam from Comixtribe to sign for you.
As with every Free Comic Book Day, we distribute bags of free books on a first come, first served basis. Get here early, boys and girls!" They say: "Free comics for everyone who attends, while they last! There is a specific assortment to choose from and we'll also have our anniversary sale still going on, with Buy 2 get 1 Free on all graphic novels and back issues (bagged and boarded) for all JHU Members, which is free to join if you haven't already!
On top of that, we will be having some guests there to sign for us!
10am – Brandon Montclare and Amy Reeder (Rocket Girl, Halloween Eve)
11 am – Reilly Brown (Deadpool: The Gauntlet, Incredible Hercules, DHP: St. George)
12pm – Dan Slott (Amazing Spider-Man, Superior Spider-Man, Silver Surfer)
3pm – Vivek J. Tiwary (The Fifth Beatle)
So come on out, bring your family, your friends, your enemies, people you don't know, imaginary friends… it doesn't matter, you'll all have a great time!" They say:
"Midtown Comics is excited to celebrate Free Comic Book Day with two days this year – in-store on Saturday, May 3rd, and online on Monday, May 5th. This is one of the largest events in the comic book industry, and Midtown is gearing up for eager fans!
Saturday, May 3rd in-store:
Midtown Comics celebrates Free Comic Book Day in-store on Saturday, May 3rd, by offering free new comics including every title from every publisher participating in this event. Some of the hottest titles from Marvel Comics, DC Comics, Dark Horse and Image Comics will be available with no purchase required, while supplies last. Over two million comic books for readers of all ages will be given away by participating stores nationwide, introducing as many people as possible to the excitement of comic books! Please note: some titles will be in very limited quantities and are not expected to last all day, and we recommend that you arrive early.
Store hours:
FCBD starts at 8:00AM at Midtown Times Square, and 11:00AM at Grand Central and Downtown.
Monday, May 5th online:
All FCBD titles will be posted online at approximately 11:00AM EST on Monday, May 05th and will be offered while supplies last. We recommend that you order early.
2014 Midtown Exclusives:
What's special only at Midtown: This year we are thrilled to present our very own versions of the Free Comic Book Day book Future's End from DC Comics and the Armor Hunters Special from Valiant Entertainment! Both feature the Midtown Comics logo and are ONLY available through Midtown Comics!
Future's End is the place to jump on board DC Comics' epic weekly series featuring tomorrow's Dark Knight, Batman Beyond (making his first appearance in The New 52), battling an army of cyborgs to avert an Apocalypse in the future which could destroy the DC Universe of the present!
Armor Hunters features a group of the universe's fiercest warriors, that have come to destroy the X-O Manowar for the good of all. What horrible secrets does the armor hold? And how many armors have they destroyed before this one? These answers and more are revealed in the Valiant Universe event of 2014 – and it all starts right here with exclusive previews, character designs, and interviews from the biggest guns the Valiant Universe has to offer!
Store hours on Free Comic Book Day:
Times Square: 8:00AM to 12Midnight
Grand Central: 11:00AM to 9:00PM
Downtown: 11:00AM to 9:00PM
Please note: All are welcome to one copy of each FCBD title while supplies last. Some titles will be in very limited quantities and are not expected to last all day, and we recommend that you arrive/order online early. FCBD books are not bagged and boarded, condition (grade) is not guaranteed, replacements will not be available. All FCBD titles from our website will be shipped on Wednesday, May 8th. Due to new industry-wide policies, FCBD books cannot be offered online until the Monday after FCBD. Please be aware that while the books are free, there is a handling fee per book.
Escape Pod Comics in Huntington, Long Island, New York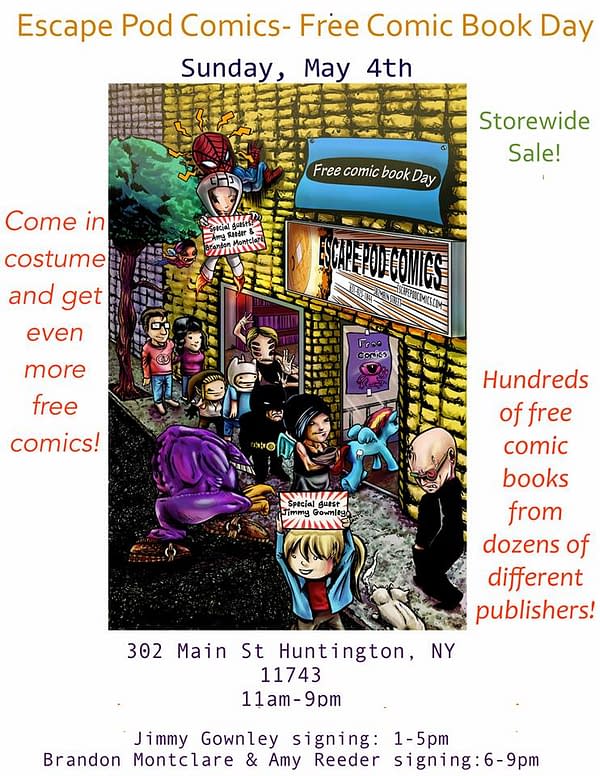 Free Comic Book (SUN)day will be held on Sunday May 4th at Escape Pod Comics. They say: "The only Free Comic Book Day on SUNDAY- thousands of free comics, the entire store on sale, our monthly Cosplayers, an exclusive print for sale and SPECIAL GUESTS Jimmy Gownley (1-5PM), Brandon Montclare and Amy Reeder (6-9PM)!".

In New Jersey
Conquest Comics, in Bayville, NJ They say:
"Come to Conquest Comics on Saturday May 3rd , and choose from over 60 FREE COMIC BOOKS to choose from !
We will also be having a HUGE STORE WIDE SALE ! Get money off our AMAZING Selection !
25% off Trade paperbacks and Graphic Novels ! 25% off Action Figures ! 25% off Back issues ! 15% off Back issues on the wall ! 25% off all statues and busts ! 25% off all t-shirts and apparel !
We will also have costumed heroes, so bring your cameras for pictures !
The Comic Book Store, in Glassboro, NJ On Saturday, May 3rd, from 12pm – 6pm, the Comic Book Store, on North Main Street, in Glassboro, NJ, will be celebrating.
They say: "In addition to FREE comics, we will be having a store-wide sale: 40% off: All Comics (New & Back issues) 40% off: All Graphic Novels, TPB & Hard covers 40% off: All RPG books and Dice 25% off: All Comic & Gaming Supplies 25% off: All Magic Singles 3 for $10: Standard Magic Booster Packs $95: Standard Magic Booster Boxes 25% off: Warhammer & Board Games".
Zapp! Comics, Cards, and Toys, in Wayne, NJ They say:
"We are OPEN 8:00am – 8:00pm!
FREE COMICS
ONE DAY ONLY SALE
ALL BIN BACK ISSUES will 50% OFF
ALL YELLOW TAGGED WALL BACK ISSUES will be 50% OFF
ALL TRADE PAPERBACKS will be 50% OFF
ALL HARDCOVERS will be 50% OFF
ALL Kids comics will be $1.00
ALL Comic Book Sets will be 50% OFF

This year's SPECIAL GUEST at Zapp Comics for Free Comic Book Day is none other than the Legendary TOM PALMER! Tom will be signing and sketching starting at 10:00am!
Jared Barel of Loaded Barrel Studios will be signing at Zapp Comics!
Chris Campana of The First World will be signing from 9:00am – 2:00pm".

The Record Store, in Howell, NJ: They say: "Join us on Saturday, May 3rd, from 10AM-8:30PM, for this year's Free Comic Book Day We'll be giving away thousands of free comics!
Each person will be able to choose up to 5 free comics from the specially-marked areas. This year, in addition, you can get up to 5 additional free comics by making a donation of non-perishable food items, which will benefit local food charities working to eliminate hunger. For each non-perishable food item you donate, you can get another free comic, up to 5 additional free books.
The list of available free books will include the following:
FCBD 2014 ARCHIE DIGEST #1
FCBD 2014 BONGO FREE-FOR-ALL
FCBD 2014 KABOOM SUMMER BLAST
FCBD 2014 DH AVATAR HELLBOY JUICE SQUEEZERS
FCBD 2014 DC THE NEW 52 FUTURES END SPEC ED
FCBD 2014 WALT DISNEY SCROOGE DONALD DUCK GRAVITY
FCBD 2014 TRANSFORMERS VS GI JOE
FCBD 2014 RISE OF THE MAGI
FCBD 2014 GUARDIANS OF GALAXY
FCBD 2014 MIGHTY MORPHIN POWER RANGERS
FCBD 2014 SPONGEBOB FREESTYLE FUNNIES
FCBD 2014 HELLO KITTY SURPRISE
FCBD 2014 SKYWARD & MIDNIGHT TIGER
FCBD 2014 WORLDS OF ASPEN
FCBD 2014 SONIC THE HEDGEHOG MEGA MAN FLIPBOOK #1
FCBD 2014 UBER THE FIRST CYCLE (MR)
FCBD 2014 MOUSE GUARD LABYRINTH RUST HC
FCBD 2014 DH PROJECT BLACK SKY (MR)
FCBD 2014 TEEN TITANS GO #1 SPEC ED
FCBD 2014 V-WARS (MR)
FCBD 2014 ALL ROCKET RACCOON
FCBD 2014 THE TICK
FCBD 2014 COURTNEY CRUMRIN #1
FCBD 2014 THE SMURFS
FCBD 2014 GIANT-SIZE 4-COMIC BUNDLE
FCBD 2014 FINDING GOSSAMYR WAY O/T BLADESLINGER
FCBD 2014 TOP SHELF KIDS CLUB
FCBD 2014 SHERWOOD TX BOONDOCK SAINTS DOUBLE FEAT
FCBD 2014 STREET FIGHTER #0
FCBD 2014 ARMOR HUNTERS SPECIAL #1
FCBD 2014 VALIANT UNIVERSE HANDBOOK
FCBD 2014 ALL YOU NEED IS KILL TERRA FORMARS
FCBD 2014 GRIMM FAIRY TALES #0
And, we'll be having a storewide sale!
20% OFF ALL COMIC BACK ISSUES!
20% OFF ALL GRAPHIC NOVELS & TRADE PAPERBACKS!
10% OFF EVERYTHING ELSE IN THE STORE!
(Cannot be combined with any other coupon, offer, or
discount, including the comic subscription discount)".
Dewey's Comic City in Madison, NJ They say: "Our FCBD 2014 celebration will include appearances by two creators, Keith Giffen and Fernando Ruiz, whose work will be appearing among this year's FCBD offerings, as well as an appearance by fan favorite artist Charles Paul Wilson III.
The full ARTIST ALLEY lineup includes:
Veteran comic creator Keith Giffen (FCBD 2014 New 52 Futures End)
Archie Comics artist and writer Fernando Ruiz (FCBD 2014 Archie Digest)
Charles Paul Wilson III (Wraith, Stuff of Legend)
Artist and editor Anthony Marques (DC Assistant Editor)
Andre Szymanowicz (Hell Yeah, Image Comics)
Artist Nick Justice (Jesus E Lee)
Kubert School alums and freelance artists Fabio Redivo, Max Fuchs and Mike Morrocco
Writer Adam McGovern (Magic Bullet, Dr. Id, the forthcoming Image series Nightworld)
Artist Ellen Stedfeld (Magic Bullet).
And as we do every year, we'll be hosting a number of graduating 3rd year students from The Kubert School.
We'll also be offering bonus goodie bags for the first 100 or so folks in line, free face painting for kids, free sketches in artist alley, a visit from members of the 501st Legion of Star Wars costuming organization, the only place in New Jersey to get the Washington DC based independent comic newspaper MAGIC BULLET on FCBD, entry into a drawing to WIN two tickets to his year New York Comic Con for everyone who comes in costume, and what we believe to be the world's LARGEST bowl of OREO cookies! And lots of free comics of course!"
In Philadelphia
Locust Moon Comics, in Philadelphia, PA They say: "It's comics national holiday. Come celebrate with us. Little Baby's Ice Cream will be here dishing out their delicious delectables and Dave Proch , Lindsey Wəvrek , and Robert Woods will be on hand sketching for kids under 12 and anyone who spends $30 or more. Viva comics!
Brave New Worlds, in Philadelphia, Pennsylvania and Willow Grove, Pennsylvania They say:
"All the Free Comic Book Day awesomess/madness begins at 11am on Saturday morning May 3rd and will be running all day until both shops close at their regularly scheduled closing times. (For those of you who aren't familiar that would be: 8pm in Old City and 7pm in Willow Grove)
Yes!!! There will be FREE COMICS for everyone!
Now don't go thinking that any and all the comics will be free…because they wont be but fret not friends! There will be tons of comics specifically for FCBD! The titles run the full spectrum of awesome and have been made available by the comics gods (aka the Publishers!)… Also, there will be a prize drawing and costumes: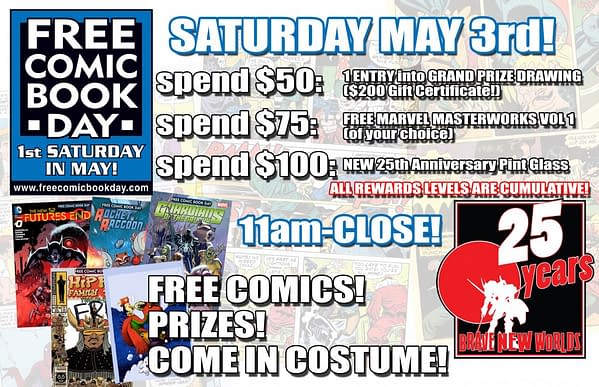 In Pittsburgh
Phantom of the Attic (Oakland) in Pittsburgh, Pennsylvania: They say:
"This year's guests include:
Dave Wachter – Local artist of Breath of Bones, That Hellbound Train, and coming soon, his creator-owned, Eisner nominated Guns of Shadow Valley. Dave will be doing sketches and signing autographs.
Marcel Walker – Local artist of Smoking Guns and Hero Corps. Marcel will also be doing sketches and signing autographs.
John Henry Doran – A ten year old cartoonist who will be here doing sketches to benefit the Cystic Fibrosis Foundation. http://www.cff.org/
The Real Pittsburgh Ghostbusters – An open roleplay group that welcomes anyone and everyone to join. https://www.facebook.com/groups/161996987283085/
The Maid of Hearts Café – Dancing, games, fun, and cute maids! https://www.facebook.com/MaidofHeartsCafe
Every year this event gets bigger. Starting at 10 am when we open our doors it's a non-stop party. We encourage our customers to wear costumes.
Our Warehouse Liquidation sale comics will be 50 Cents each for FCBD only.
Phantom of the Attic is located at 411 South Craig Street on the second floor. Our hours are 10 AM till 7 PM (though most of the free stuff will be gone before close).
For more information contact Phantom at 412-621-1210 or email us at pota-comics@verizon.net. Visit our Facebook page at http://www.facebook.com/pages/Phantom-of-the-Attic-Comics-Oakland/270567764926 and follow us on Twitter @phantomoakland. For more info on Free Comic Book Day check out their website at http://www.freecomicbookday.com/Home/1/1/27/992".