Gowanus, Brooklyn, is the home to a thriving art community, and there's a particular block of warehouse space where comic artists, in particular, have been making their living for some time. Included in that is my haunt, Hang Dai Studios, featuring Dean Haspiel, Gregory Benton, Christa Cassano, Joe Infurnari, Swifty Lang, Jonathan Allen, and more, but other studios in the building are also full of cartoonists like Drawbridge with the great Simon Fraser and Ellen Lindner and the same building is home to indie publisher So What? Press, too.
Gowanus, on a wider scale, is opening up its arts scene this weekend, on October 17th and 18th, from 12 to 6PM in an open house. It would be an excellent opportunity to see what the arts are all about in Brooklyn and seem some creation in process.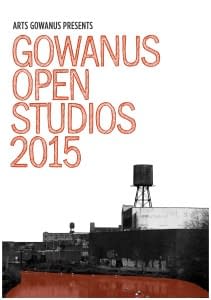 The Gowanus Open Studios Event says:
Gowanus Open Studios 2015 will take place October 16-18, 2015. Mark your calendars and save the weekend! You won't want to miss it!

Sign up at the right for our mailing list to be sure to receive announcements about Gowanus Open Studios and other events we are planning (and be sure to "edit your preferences" so you don't miss any emails that are important to you).

About Gowanus Open Studios

Gowanus Open Studios 2015: October 16-18, 2015.

300+ Artist Studios will be open 12:00noon – 6:00pm on Sat + Sun.
Preview the participating artists on the GOS 2015 Directory of Artists.

Preview our download-able print map of GOS 2015.

Special Events and evening parties are scheduled Thursday through Sunday.

Curator-Led Art Tours take place on both days. Join one to get a professional art curator's perspective on what is happening in Gowanus.

Check out our Tips for Visitors to make the most of your GOS 2015 experience.
Dean Haspiel (Billy Dogma, The Fox) has also posted the following information on his blog about his participation in the Open House: I'm participating in Gowanus Open Studios this weekend from Noon – 6pm, Saturday & Sunday. Despite chronic back pain, I was planning on working anyway. So, I figured I'd keep the Hang Dai Studios door open for people to ogle cartoonists in their natural habitat like a petting zoo. I'll have prints and copies of some of my books for sale, including a brand new Billy Dogma SLAM print. And, I'm available for quick commissions. The warehouse I work in will feature over twenty other artists, including painter Jen Ferguson. Hang Dai is also hosting artist Krista Dragomer.

Hang Dai Studios is located at 112 2nd avenue at the corner of 10th street in Gowanus, Brooklyn. We're on the 2nd floor in Room #30.

GOS: http://artsgowanus.org/gowanus-open-studios-2015

My Artsicle profile: https://www.artsicle.com/Dean-Haspiel

I will also be reading/performing Friday night. Here is the info:

ADDICTED: Music Video Launch & Salon
hosted by Salina Sias & Matt Mailer
Friday, October 16, 7pm
Halyards, 406 3rd Ave, Brooklyn, New York 11215
Enjoyed this article? Share it!