It's the month of May when the world finally starts to look alive again, and, for fans of the Doctor, it will be exciting come July dates with multiple covers for two series.
Even if, because this is Titan and they solicit in advance of most other publishers,their July books will mostly be out in August and September.
Then there's sci-fi, Tank Girl, and even Wallace and Gromit. Beach reading? Here are our full solicits from Titan for July, currently appearing in May Previews.
1. DOCTOR WHO: THE TENTH DOCTOR #2
Writer: Nick Abadzis, Artist: Elena Casagrande, Colorist: Arianna Florean
Letterer: Comicraft
Marketing Description: All Gabriella Gonzalez wanted was to skip her shift at the Laundromat and hang out with her friends. It's Halloween, and Sunset Park is hosting its first-ever Day of the Dead festival! But her father wouldn't listen – again – and now Gabby is stuck with a store full of empty washing machines while the rest of the neighborhood goes wild. But this graveyard shift is living up to its name! Vortexes explode out of the machines, shadowy creatures stalk on the edge of sight, and Gabby finds herself pursued by unearthly forces. Finally, on the longest night of her life, Gabby is trapped in a powerless subway car – and the only thing standing between her and horrific death-by-monster is some skinny guy in a suit – who's waving a blue flashlight around!
If Gabby survives this – she's going to kill him!
 2. DOCTOR WHO: THE ELEVENTH DOCTOR #2
Writers: Al Ewing, Artist: Simon Fraser, Colorists: Gary Caldwell, Letterer: Comicraft
Marketing Description: When the Doctor last visited Rokhandi, it was a planet of such stunning natural beauty that an entire solar system had sworn to preserve it. What better place to take new companion Alice Obiefune on her first off-world adventure? And it would have been a magical vacation… if the TARDIS hadn't overshot by fifty years. Now the austerity-hit pleasure planet has become a 'theme safari' corporate hell, overrun by eerie, giant-headed mascots and a trillion tramping tourist feet! But there's something more sinister at play than rampant commercialism and ecological devastation… and the Doctor and Alice need to uncover all of Rokhandi's long-buried secrets if they're to escape with their lives!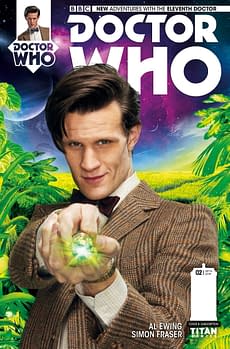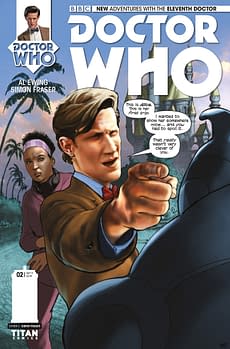 3. THE EVIL WITHIN #1
Writer: Ian Edginton, Artists: Alex Sanchez, Cover Artist: Ben Templesmith
Marketing Description: Spun from the new survival horror game The Evil Within™ from Bethesda Softworks this all-new prequel invites readers to experience the deranged world created by Shinji Mikami. Writer Ian Edginton (Scarlet Traces, Victorian Undead) and artist Alex Sanchez (Katana) present the story of a young student, Dana, whose search for a missing friend leads straight into a world fraught with tension and unimaginable horrors. 4. LENORE #10
Writer(s): Roman Dirge, Artist Name(s): Roman Dirge, Cover Artist(s): Roman Dirge
Marketing Description: It's the beginning of the end for some unlucky inhabitant of the world of Lenore! The fight that's been building for over a year is finally here and the sleepy town of Nevermore will never more be the same! (Did you see what we did there?) Yes, Round One of what's being billed as the battle of the century, well at least in this office anyway, is about to kick off and it's going to get pretty ugly, pretty darn quickly! From the glorious, ghastly, gothic and grotesque mind of Roman Dirge comes the latest chapter in the story of Lenore: The Cute Little Dead Girl, a chapter that heralds the doom of a fan-favorite and much-loved character – but who you ask? Well, you'll just have to buy Lenore #10 to find out!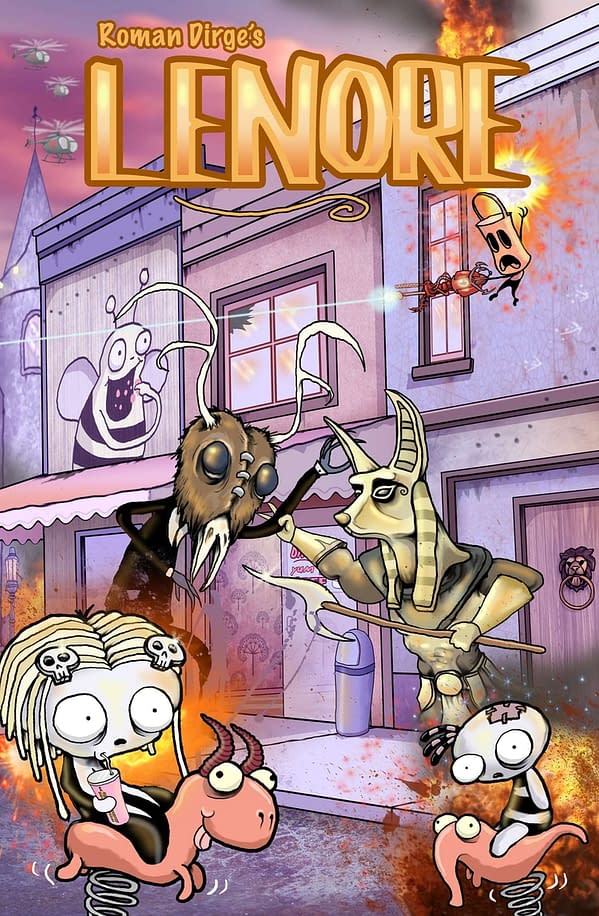 5. SALLY OF THE WASTELAND #2
Writer: Victor Gischler, Artists: Tazio Bettin
Marketing Description: The hellspawn of Victor Gischler (X-Men, Angel & Faith, Noir) and newcomer Tazio Bettin, Sally is as sexy as she is psychotic. She and the crew of the Mississippi Duchess have found their trip down the mutant-infested bayous of post-apocalyptic Louisiana, interrupted by giant killer crawgators! Their ship sunk, the crew scattered, Sally is keen to find out what became of her dumb blonde himbo, Tommy. However, she has drawn the unwelcome attention of a boatload of unsavory cannibal types…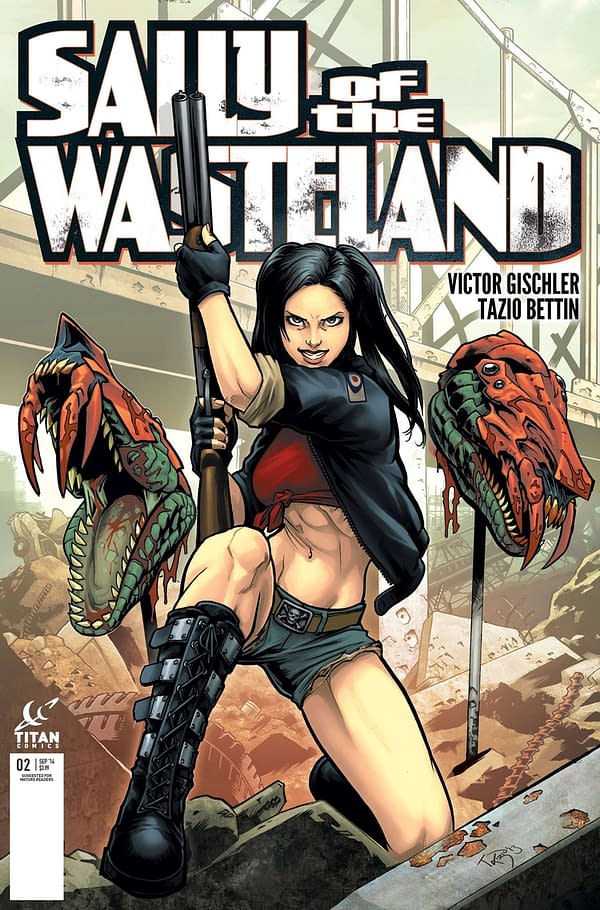 6. ALIEN LEGION: UNCIVIL WAR #3
Writer: Chuck Dixon, Artists: Larry Stroman, Carl Potts & Tom Mason
Marketing Description: Chuck Dixon (Punisher War Journal, Savage Sword of Conan), Larry Stroman and Carl Potts are back drilling Alien Legion into shape after a 15-year absence. The slime of the cosmos has been heat-tempered into the diamond-sharp tip of the Galactic Union's armed forces. But the battle-hardened veterans of the Legion's toughest unit, Force Nomad, will need all their experience to blast their way out of a peacekeeping mission turned rammin' red hot!
Writer: Julien Blondel, Artists: Didier Poli, Robin Recht
Marketing Description: The ancient island of Melniboné has been ruled by Elric, the albino emperor, for millennia. Reliant on magic and herbs for his strength and prolonged life, Elric's grip on Melniboné is crumbling, as his people slide into decadence. Now his envious cousin Yyrkoon, Prince of Melniboné, plots to overthrow him and claim the Ruby Throne for himself! Lavishly illustrated, this new comic adaptation has been produced with the full and enthusiastic endorsement of Moorcock himself, who has written an original introduction for this edition.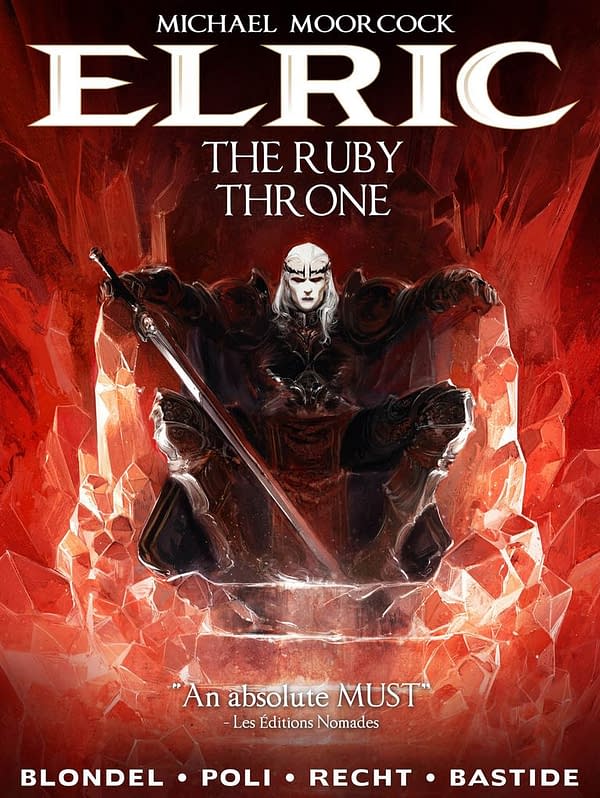 8. VOID
Writer: Herik Hanna, Artists: Sean Phillips, Letterer: Gabriela Houston
Marketing Description: The crew and inmates of Goliath 01 have been massacred by the twisted Coloner Mercer. Now this prison ship in space drifts, powerless and empty – but for the dead. John, sole survivor of the massacre, must find a way to escape this floating, oppressive tomb –without falling prey to Mercer's murderous attentions…!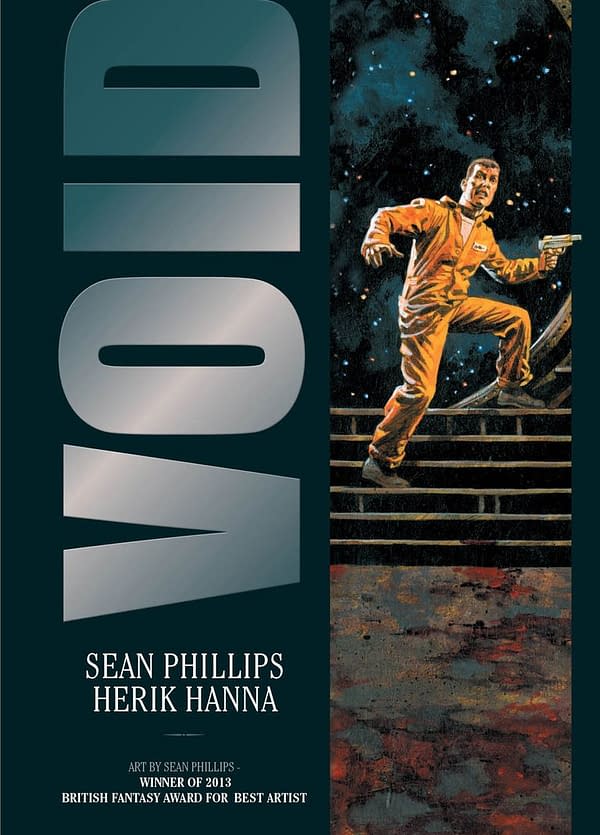 9. THE POWER OF TANK GIRL
Writer: Alan Martin, Artist: Ashley Wood, Rufus Dayglo
Marketing Description: Tank Girl's back with a bang in this Booga's-pouched-sized collection of three epically insane, depleted-plutonium adventures: The Gifting, Visions of Booga and The Royal Escape. Joining Tank Girl creator Alan Martin are artists Ashley Wood (Metal Gear Solid, Zombies Vs Robots) and Rufus Dayglo (Judge Dredd, Tank Girl: Bad Wind Rising)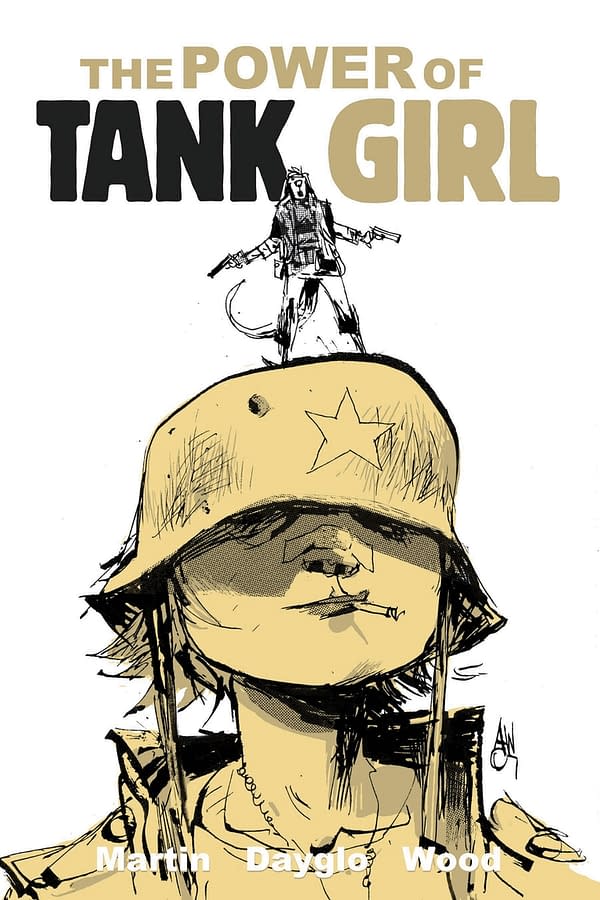 10. BLACK DRAGON
Writer: Chris Claremont, Artist: John Bolton, Letterer: Tom Orzechowski
Marketing Description: From the acclaimed creators of Marada the She–Wolf, Chris Claremont (Spider Woman, Fantastic Four, Excalibur, Wolverine) and John Bolton (Books of Magic, Evil Dead: Army of Darkness), comes another stunning collection! This thrilling mix of swordplay and mythological terror finds exiled knight James Dunrith – the Black Dragon – banished for nercromancy and heresy. He returns home to find England in turmoil and is recruited by the beautiful Eleanor of Aquitaine to rally the powers of Nature against a ghastly tide of evil!
Marketing Description: New London of 2921 is a crowded, filthy slime-pit awash with Death-Juice junkies, Latin-spouting armored fascists, exploding nuns and a religious cult who worship Bing Crosby's left testicle. It's also home to ultra-violent, foul-mouthed private eye Johnny Nemo – a streetwise PI who deals in death… and simple solutions to complex problems! This classic, remastered collection features never-before-seen art and is the crowning glory of award-winning writer, Peter Milligan (All-New Doop, Hellblazer, Shadowman) and artist Brett Ewins (Bad Company, Skreemer).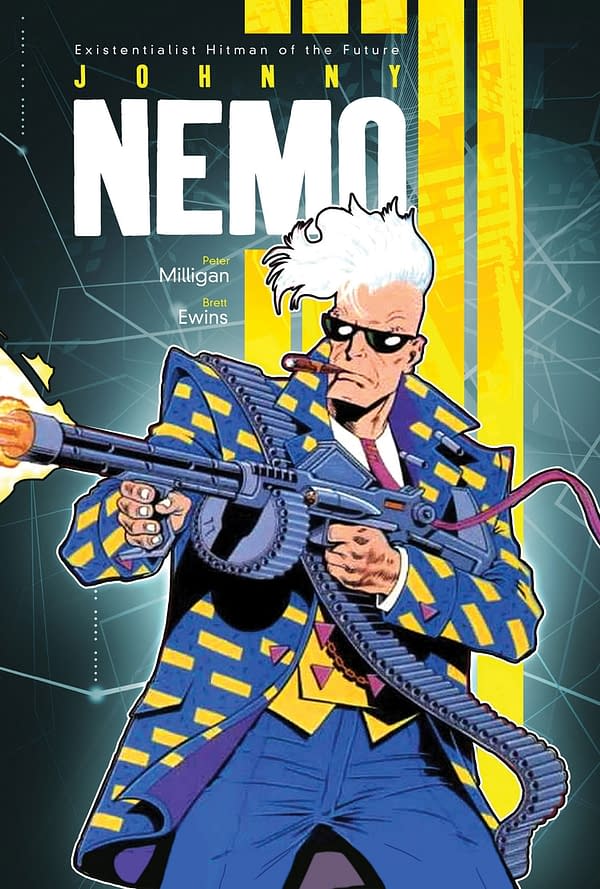 12. FIRST KINGDOM VOL. 5 – THE SPACE EXPLORERS CLUB
Writer/Artist Name(s): Jack Katz, Cover Artist(s): Jack Katz
Marketing Description: With the conclusion of The First Kingdom, human champion, Tundran, and his children, fulfil their ultimate destiny and bring down the pantheon of the gods, heralding a new epic! From a far-flung future of space-faring humans to races of strange new gods, The Space Explorers Club is published here EXCLUSIVELY for the FIRST time by Titan Comics, expanding what is considered by many to be the first true graphic novel! Exclusive all-new interviews and special features!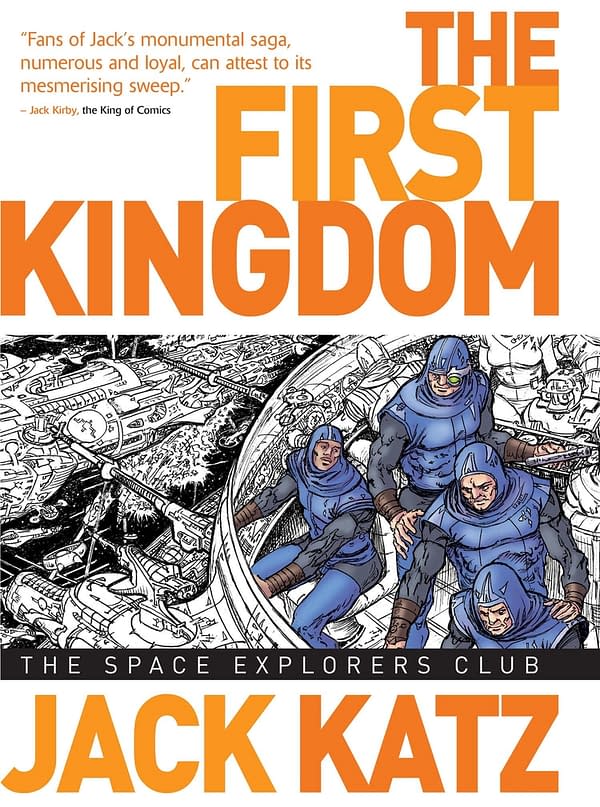 13. THE COMPLETE CHOLLY & FLYTRAP
Writer/Artist: Arthur Suydam
Marketing Description: Spawned by legendary artist and writer Arthur Suydam – blockbuster cover illustrator on Marvel Zombies – Cholly & Flytrap are survivors on a distant planet, barely held together with catgut and scar tissue, Cholly's always there with a snappy one-liner and quick-draw machine-gun fire. Flytrap is silent as the grave, built like a brick privy and graceful as a charging rhino. Collected for the first time EVER, this volume contains ALL of Cholly & Flytrap's tales of derring-do, grievous bodily harm and giant bat riding!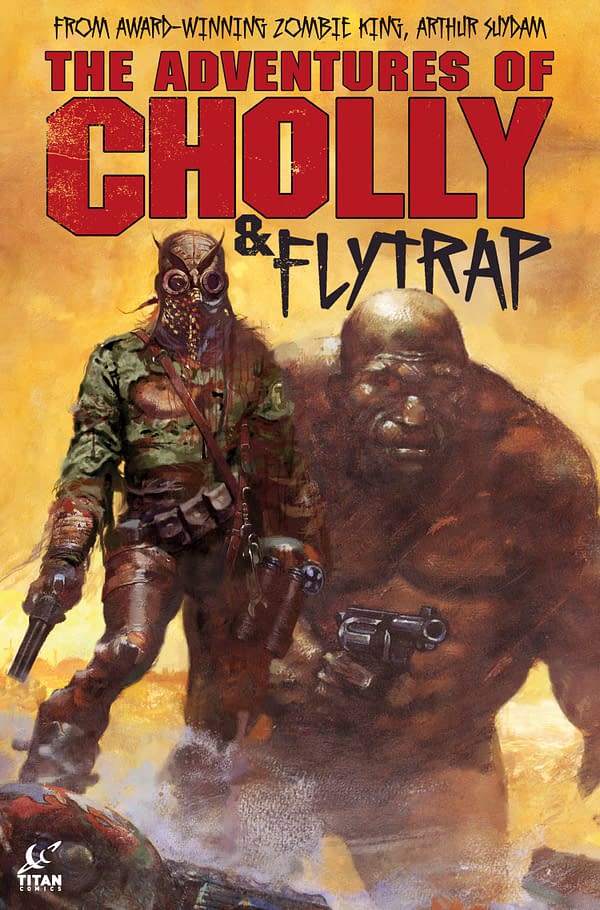 14. WALLACE AND GROMIT NEWSPAPER STRIPS VOL.2
Writer(s): Richy K. Chandler, David Leach, Steve White and more, Artist Name(s): Mychalio Kazybird, John Burns
Marketing Description: This second volume of the complete newspaper comic strip collection continues the daily comic-strip adventures of Wallace, the world's most famous inventor, and Gromit his ever faithful and resourceful canine companion as they frantically struggle from one harebrained scheme and outlandish invention to the next all in the pursuit of an honest buck. Packed with jokes, gags, gadgets, and punishingly phunny puns this collection contains all 318 strips from 2011 – 2012 when W&G set off on a cheese tour of Europe, battled out-of-control Halloween teddybear robots, went treasure hunting off the coast and made their own blockbuster movie!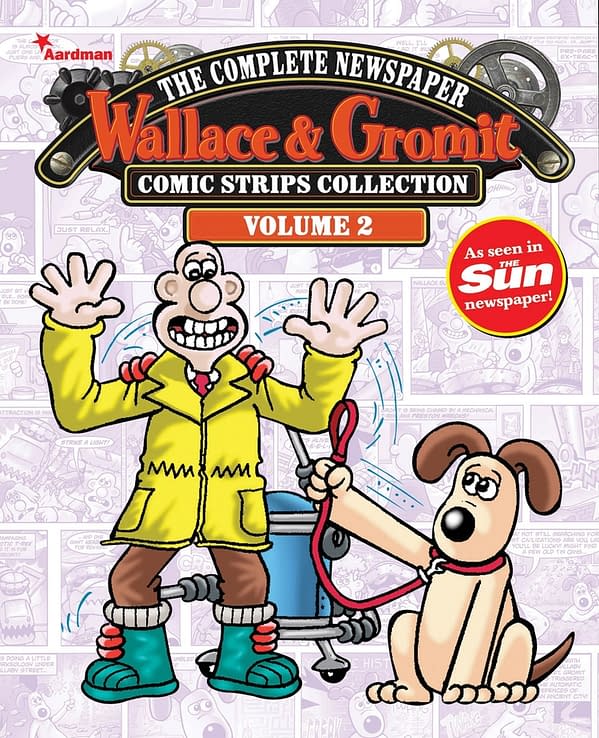 Enjoyed this article? Share it!