Tuesday Runaround – No Longer The Master Of Your Domain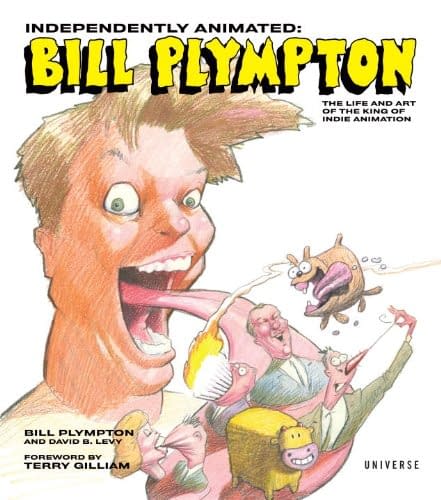 ToonWatch: Cartoonist and animator Bill Plympton is having a free book party tomorrow at the 3rd Floor Ampitheatre, the School of Visual Arts in New York from 6-9pm, showing off his new films, projects, artwork and the book Independently Animated, Bill Plympton.
XWatch: Chris Claremont is attending the Science Fiction Writers of America Nebula Awards weekend in Washington, DC and signing at the Washington Hilton, this Friday 5:30 to 7pm along with over 40 other sci-fi authors.
MetalWatch: Heavy Metal magazine will be releasing a soundtrack to its webcomic Gates this summer, and will donate all net proceeds to the Ronnie James Dio "Stand Up And Shout Cancer Fund". A brand new song from the soundtrack, Is This Over Now? by Inside The Black, is previewed here. But they are also looking for artists to submit songs to be considered for the soundtrack.
KickstarterWatch: Help The Carriers become a graphic novel, here. And it has a great top donation offer…
For a donation of $2000 dollars I will collaborate with you on a 24 page comic of your creation. I will provide 24 pages of print ready color interior comic pages. I'm open to drawing pretty much whatever but I do reserve the right to not draw things that I find offensive. Also your name printed in The Collected Edition of the Carriers.
DomainWatch: Has Fantagraphics let the domain TCJ.COM expire? This is Computo the Comic Link Conqueror speaking. I come for your women. But for now I merely collate comic-related bits and pieces online. One day I will rule. Until that day, read on.
They say I am a work in progress. The fools.
For 10 years, I was just doing the most ridiculous stuff. I did a magazine ad for Toyota. You know those toddler toys where it has a big arrow and you point to a cow and pull the string? They came up with different people who would want to buy the new Toyota minivan for things like shopping, groceries, camping. It was the same thing, "pull the string to find out why you should buy the new Toyota family van." For just stupid money. Man, I wish those days would come back."
An Interview with the Couple That Tied the Knot on Free Comic Book Day
It turns out that Free Comic Book Day was not only a very special day for people all over to celebrate their favorite heroes and villains while getting free stuff, but also a very special day for couple Stephen and Lacy Niesz. This May 7th, Lacy walked down an aisle lined with comic books to marry the love of her life Stephen, a ceremony presided over by friends, family, Star Wars characters, and the occasional Free Comic Book Day fan.
Gamasutra – News – Marvel Games VP Jefferson: 'We Want To Be The Strongest IP In Gaming'
Yes, it is. This is the core gamers' MMO. This has a lot of eyes on it. Like I said before, Joe Quesada is working on this. Axel Alonso is working on it. [SVP of publishing] Tom Brevoort is working on it. [Publisher and COO] Dan Buckley is involved in it. Brian Bendis obviously is involved in it. We're trying to give Gazillion all of our tools and resources to make a great game, but that's something that we do for all of our projects. For Thor, we got [writer] Matt Fraction to the table. For Captain America, for Sega, we got Chris Gage as a writer. Like I said before, we're trying to do more as a license holder than we've ever done before.
Who The Hell Let Disney Trademark "SEAL Team 6"?!? | The Daily Feed | Minyanville.com
The applications were filed two days after Osama bin Laden was killed, and the question now is, is it really possible that the Walt Disney Co. will now own the rights to the name of a unit "owned," in fact, by the American people?
Is there still hope for 'Locke & Key'? | Inside TV | EW.com
The producers of Locke & Key aren't giving up without a fight. Though Fox passed on the buzzworthy pilot that's based on a comic book by Joe Hill, sources say 20th Century Fox TV is talking to Syfy and The CW about picking up the project.
Gotham City Imposters – DC Comics-inspired FPS announced — PlayStation Universe
Gotham City Impostors is billed as a multiplayer game, offering customization, a range of weapons and gadgets, and the ability to create your own crazy weapons. Players will either take the side of the vigilantes or villains, The Bats or The Jokerz, in a battle to the death. Game modes have yet to be confirmed.
Where is Our Culture's Racial Subconscious? In Comic Books – COLORLINES
Morales says that there was push-back from fans who thought Truth made Cap a party to racial atrocity. But he rejected that criticism. "It's a book where every single person is complicit, one way or another," he says.
The Atari Games That Became Comic Book Heroes – Kotaku
In the early 1980's, Warner Communications owned both Atari and comics powerhouse DC Comics. With both mediums a hit with the kids, it was decided that some cross-promotion was in order, and along with Atari games based on DC properties like Superman, it was decided to create a line of comics based on Atari titles.
Comico production artwork up for auction | Robot 6 @ Comic Book Resources – Covering Comic Book News and Entertainment
Looking through the images they've posted is like looking back in time at Comico's publishing history, with artwork from Grendel, Rocketeer, Elementals, Evangeline, Robotech and many more. Giovinco posted his correspondence with Collector Haven owner Rick Funk, where he asked Funk to return the artwork to its creators. "Regardless of how Coyote came into possession of the material, the right thing would be for at least the original art to be returned to the creators. I know I would like mine returned," Giovinco said in his letter.
Synergy assemble! Tom Brevoort explains how Marvel's movies and publishing work together | Robot 6 @ Comic Book Resources – Covering Comic Book News and Entertainment
Which leads to one of my favorite comic-book conspiracy theories: Marvel deliberately pushed the Avengers in order to boost their future movie projects, while relegating the X-Men and Spider-Man to the back seat since their movie money goes to Fox or Sony rather than the House of Ideas.
A Footnote to an Obit | The Comics Journal
And Beerbohm's question hangs in the air: Why did no one know that Blackbeard had died? The man whose passion for collecting comic strips had launched hundreds of reprint projects slipped away without anyone knowing? "Why is that?"
Marvel/ABC announce 'CASTLE' graphic novel – Comic Riffs – The Washington Post
Says first-year Marvel EiC Axel Alonso: "It's the kind of book that reaffirms Marvel's commitment to creating new fans of comic books."
Borders lacks bidder for chain, sources say | Detroit Free Press | freep.com
Barnes & Noble, Borders' larger rival, offered to buy about 10 stores, said two of the people, who declined to be identified because the process isn't public. Other parties also bid for parts of the business, the people said.