The Umbrella Academy: Bad Samaritan's Robert Sheehan Offers Updates on Netflix Series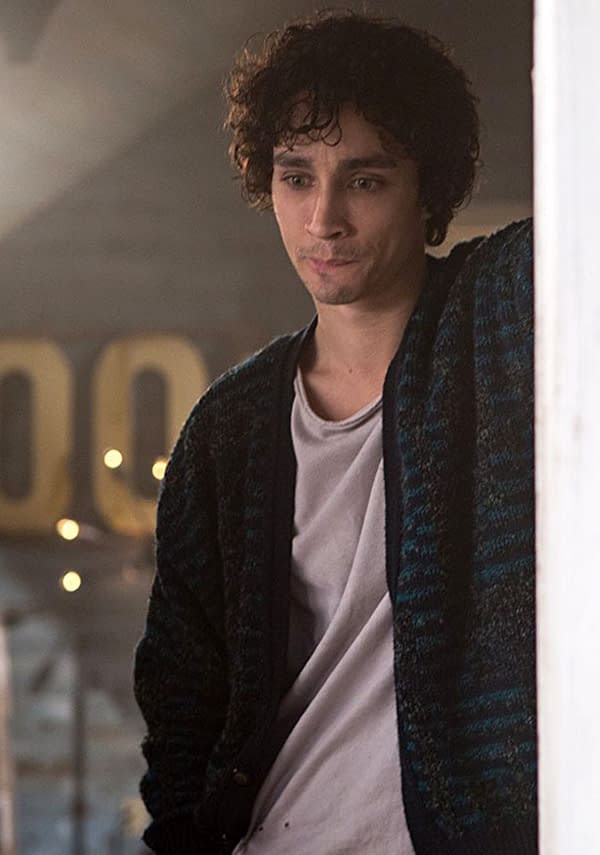 During the media day for Brandon Boyce (Apt Pupil) and Dean Devlin's (The Librarians) upcoming thriller Bad Samaritan, actor Robert Sheehan (Mortal Engines, Mute) treated fans of Gerard Way and Gabriel Bá's The Umbrella Academy to some interesting status updates for Netflix's upcoming series adaptation. Cast as shoeless speaker-with-the-dead Klaus Hargreeves/The Séance, Sheehan discussed a number of issues – from what inspired him about the role and the book to how the episodes are being filmed/structured – during his sit-down with Collider:
● For Sheehan, knowing that he made the right decision with The Umbrella Academy came down to two things – and we have Fargo to thank for one of them:
"For me, for that, it was the character and the team of writers. When I signed on, I only had the first episode script, so really you have to put your faith in the writers' ability to create 10 hours. I'd seen their work before, predominantly on Fargo, the series. I was a huge fan of Fargo. I binge-watched the first two seasons, in a couple of weeks. I loved that series. I thought it was one of the best series I've seen in a long while, so that was a big plus. The creator of Fargo was Noah Hawley, and he's not involved in The Umbrella Academy, but Steve Blackman was his right hand guy, and it's him and all the same writers, so that was a big plus. And also, the character that I'm playing is somewhat flaky and messy and chaotic, and it's really fun, tapping into that energy. We had long chats – me and Steve Blackman, the executive producer and showrunner – about collaboration and he was like, "We welcome improvisation, with open arms." You don't always get that, especially in television projects, because schedules are so tight and they're scared of it. But thankfully, they had enough trust and faith in me to be able to play around and mess around. It's such a creatively fruitful place to go to work. It really is."
● While he hasn't seen any footage yet, Sheehan has hopes that the tone of the show matches the writing:
"That's a good question! I haven't seen anything, so it's really, really hard to know where the tone is. Hopefully, the tone will be somewhere that it's never been before. I think that's what you hope. It's really funny and really desperately tragic, and it's a really hard one to pull off. So hopefully, the tone will be unique, but the truth is that I don't know, at the moment. I'll know when I see something."
● Based on Sheehan's description of the project's shooting schedule, the first and tenth episodes are being filmed as stand-alones; while Episodes 2-9 will be filmed in pairs. He's currently finishing work on Episodes 4 and 5, referred to as "block three;" with six filming blocks in total. ● While conveniently "name dropping" The Umbrella Academy: Dallas (a move sure to further poke the interest of TUA fans), Sheehan isn't shy in stating which characters he's already a big fan of:
"Hazel and Cha-Cha, who are these two lunatic assassins, come into it, and those two characters feature in our series. Mary J. Blige is one of them, and Cameron Britton is the other. There's just such great casting. They're such an odd couple to put together, the pair of them. It's very interesting casting. Very brave casting, I think."
● Sheehan had the opportunity to meet with Way and discuss the project througout the creative process; and received some high praise from Way after a read-through:
"Yeah. He was with us. There was about a week of rehearsals, before we started filming. Then, we went home for Christmas, and then there was another week, where we did read-throughs and stuff. So Gerard and Gabriel Ba, who also created graphic novels, were there. They were around to answer questions, and I had loads of questions about the character. You're always looking for fuel. You're always looking for the meat and potatoes of the stuff that drives the character forward, or is the reason why he is the way he is. Gerard was great for all that. He was also not precious, at all, about the characters developing into something else, off the page, which of course they have to do. He was very respectful of that whole process and he was really sweet. After the read-through, he came up with boyish enthusiasm going, 'Great Klaus! It's really good,! I'm so happy!'"
● Though admitting that it's something that gets said about every new project that comes out, Sheehan has high hopes that the The Umbrella Academy will bring a uniquely different take on the super-hero genre:
"It's high intensity. Everybody says this about this stuff, all the time, but this stuff is an incredibly new take on superhero-ness because all of the manifest sci-fi stuff of the show is dealt with through this dysfunctional family filter. It makes for very emotional and very real character building. I have high hopes for it." The Umbrella Academy is a 10-episode series based on the graphic novels of the same name created and written by Way, illustrated by Bá, and published by Dark Horse Comics. Netflix's adaptation follows the estranged members of a dysfunctional family of superheroes (The Umbrella Academy) — The Monocle, Spaceboy, The Kraken, The Rumor, The Séance, Number Five, The Horror and The White Violin — as they work together to solve their father's mysterious death while coming apart at the seams due to their divergent personalities and abilities. Joining Sheehan in Netflix's version of The Hargreeves Family are: Ellen Page (X-Men: Days of Future Past) as sister Vanya, who appears to manifest no super powers but has an amazingly strong interest in music; Tom Hopper (Game of Thrones) as Luther/Spaceboy, leader of The Umbrella Academy; Emmy Raver-Lampman (Wicked) as Allison/The Rumor, who can alter reality with her lies; David Castañeda (Blindspot) as Diego/The Kraken, the reckless and rebellious member of the family; and Aidan Gallagher (Nicky, Ricky, Dicky & Dawn) as Number Five/The Boy, the family's time-travelling, perpetually young brain.
The Umbrella Academy also stars award-winning singer/actress Mary J. Blige (Mudbound) as ruthless, time-travelling hitwoman Cha-Cha; Cameron Britton (Mindhunter) as her deadly efficient partner Hazel; Colm Feore (House of Cards) as world-renowned billionaire industrialist and eccentric inventor Sir Reginald Hargreeves; Adam Godley (Breaking Bad) as Pogo, a genetically engineered, tweed jacket-wearing, talking chimpanzee and family advisor/mentor; Ashley Madekwe (Revenge) as Detective Patch, a driven, fast riser within the police department investigating a series of murders – and The Academy; and John Magaro (The Big Short) as Leonard Peabody, who begins to take music lessons from Vanya and sees something special in this constantly dismissed wallflower. Universal Cable Productions is set to produce the series, with Steve Blackman (Legion) serving as executive producer and showrunner. Way, Bluegrass Television and Dark Horse's Mike Richardson and Keith Goldberg are set to executive produce the pilot, directed by Peter Hoar from a script by Jeremy Slater.