BC Grindhouse Presents… The Walking Dead/Preacher Live-Blog Double Feature!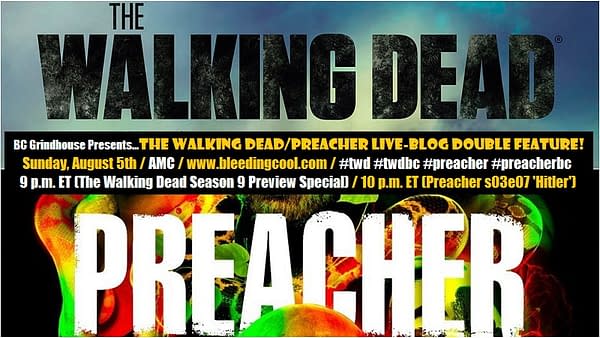 So the worlds of AMC's The Walking Dead and Preacher are colliding Sunday night…which left us with a dilemma, since each show has their own righteously sweet title for their respective live-blog. Call it "Bring Out Your Confessions"? Maybe "Taking Your Dead"? Nah, just didn't seem right.
So intead, we're going with BC Grindhouse Presents… The Walking Dead/Preacher Live-Blog Double Feature!, as we live-blog both The Walking Dead's season 9 preview special (hosted by Yvette Nicole Brown) and the seventh episode of Preacher's third season, 'Hitler.'
Preacher s03e07 'Hitler': Jesse, Tulip, Gran'ma and Starr form an uneasy partnership to avert the apocalypse; Cassidy learns to love Eccarius, but at a cost.

● Reminder: If you're on social media and want to be part of Bleeding Cool's live-blog coverage, use hashtags: #twdbc and #preacherbc .
● This page should update…but to be on the safe side, refresh occasionally just to be certain because I've been known to ramble every now and then.
● While you're waiting (or if you just need a breather from my raw, uncut cult-of-personality), check out some cool The Walking Dead and Preacher extras we have lined up for you below.

https://youtu.be/eBaKVC1wIW4
Based on the comic book series written by Robert Kirkman and published by Image Comics, "The Walking Dead" reigns as television's most watched drama for adults 18-49 for a record-breaking six consecutive years. "The Walking Dead" tells the story of the months and years that follow after a zombie apocalypse, and follows a group of survivors, led by police officer Rick Grimes, who travel in search of a safe and secure home. The series is executive produced by chief content officer Scott M. Gimple, showrunner Angela Kang, Robert Kirkman, Gale Anne Hurd, David Alpert, Greg Nicotero, Tom Luse and Denise Huth.
In an essential scene from last week's episode of Preacher, Herr Starr (Pip Torrens) learns very quickly that Allfather (Jonny Coyne) has a very "nuclear" vision of a new world order:
Here are some clues to what's still to come as AMC's Preacher spirals towards its season finale:
https://youtu.be/wgIEHlYD2w4
PREACHER is a dramatic thrill ride that follows West Texas preacher Jesse Custer (Dominic Cooper), his badass girlfriend Tulip (Academy Award nominee Ruth Negga) and an Irish vampire named Cassidy (Joseph Gilgun) as they embark on a road trip to find God and are thrust into a twisted battle spanning Heaven, Hell and everywhere in between.

The 10-episode third season follows Jesse's quest for God which takes him back to the place he's been avoiding his whole life: home. Jesse, Tulip and Cassidy return to Angelville, the Louisiana Plantation where Jesse was raised, and find old grudges and deadly obligations await them. With the help of his friends — and a few enemies — Jesse will need to escape his past…because the future of the world depends on it.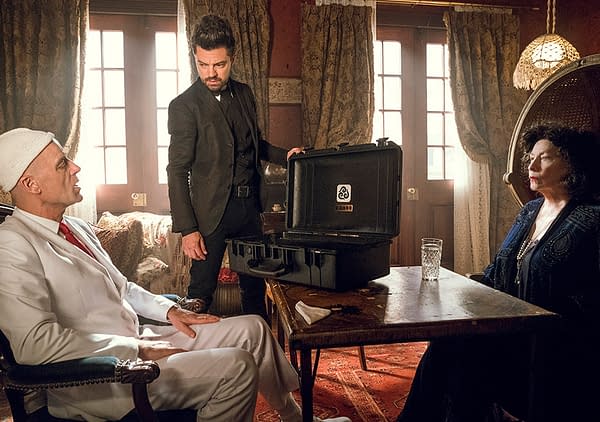 Ian Colletti, Graham McTavish, Pip Torrens, Julie Ann Emery, Malcolm Barrett, and Noah Taylor also return for the third season; joined by new series regulars Betty Buckley (Supergirl, Split); Colin Cunningham (Blood Drive, Falling Skies); Jeremy Childs (The Last Castle, Nashville); Liz McGeever (Star, Nashville); with Jonny Coyne (Turn, Alcatraz); Adam Croasdell (Reign); and Prema Cruz (Mozart in the Jungle).