Aquaman's Yahya Abdul-Mateen II, Sara Vickers Join HBO's Watchmen Series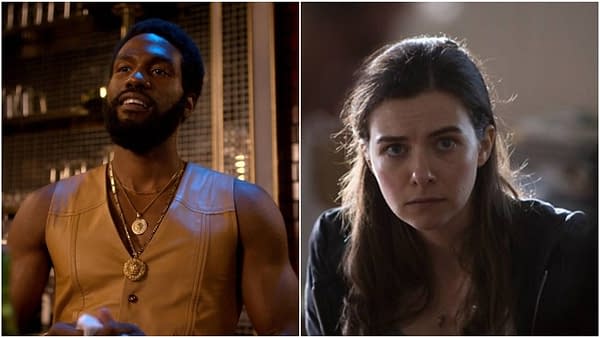 The cast of HBO's Watchmen continues to grow, with Aquaman's Yahya Abdul-Mateen II and Sara Vickers (The Alienist) being the latest additions to Damon Lindelof's "remix" of Alan Moore and Dave Gibbons's comic book series.
Written by Lindelof and directed by Nicole Kassell, the project also stars Jeremy Irons, Regina King, Don Johnson, Tim Blake Nelson, Louis Gossett Jr., Adelaide Clemens, Andrew Howard, Tom Mison, Frances Fisher, and Jacob Ming-Trent.
Executive produced by Lindelof, Kassell, Tom Spezialy, and Joseph Iberti, the HBO pilot is set in an alternate history where "superheroes" are treated as outlaws; and is described as embracing "the nostalgia of the original ground-breaking graphic novel while attempting to break new ground of its own." Watchmen is produced by White Rabbit in conjunction with Warner Bros. Television.
Consistant with previous Watchmen casting announcements, no details about the actors' roles were provided.
Having recently appeared in Netflix's First Match and Hulu's The Handmaid's Tale, Abdul-Mateen can next be seen as villain Black Manta in James Wan's upcoming Aquaman. Along with The Alienist, Vickers has starred or appeared in a number of other projects including Endeavour, Shetland, Lovesick, and The Crown. Though clearly a fan of the original 12-issue series, Lindelof made it known early on that the series would not be a direct adaptation of the famed limited series:
"I've been very vocal about my love for those twelve issues that eventually became a graphic novel; that they were completely and totally inspiring for all the storytelling that I did subsequently, and that I owe a debt to it. So, is that piece of material something that's really interesting to me? Yes, but I do feel like I have to weigh the balance of 'Should it exist?' before I decide to take it on, and I'm sort of in that process now. I hold the source material in such high regard; it would literally be the worst feeling in the world to screw it up."