Wednesday Trending Topics: 1961+50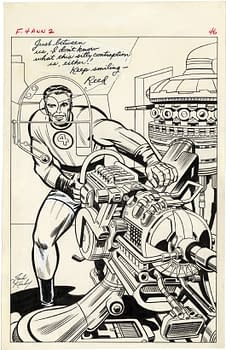 It's shaping up to be a rather gigantic fall for comic releases. Not only do we have The New 52 + subsequent launches, but November brings us the Marvel Universe's 50th Anniversary celebration, anchored by the 96-page, $7.99 Fantastic Four #600. Will the big 2 be able to maintain momentum through the winter months? And what will that mean for the rest of the field?
Most-Read Comic Stories Today:
The Nature Of X-Men Schism, With Generation Hope (SPOILERS)
X-Men Schism #3 by Jason Aaron and Daniel Acuña, and Generation Hope #10 by Kieron Gillen and Tim Seeley are published today.
Fifty-Seven And A Half Marvel Comics Solicited For November 2011
Marvel's November solicitations are a little later than usual. Maybe they're trying to finish up a few. But they have sent a stack of finished solicitations to a number of comic book websites, only giving them a certain amount each. IGN, CBR and Newsarama, neither site seems inclined to link to the other. Not to worry, that's what Bleeding Cool is for. As well as cutting, pasting and schmooshing them all together. Oh amd add on a very strange item at the end from Marvel's website…
What Happened To Scotland In Flashpoint?
Then I read Flashpoint: Wonder Woman And The Furies #3 out today… and it's all in continuity. Here is the page in question
Most-Read TV/Film Stories Today:
Oh My … Trailer For Hysteria, With Maggie Gyllenhaal And … Certain Devices
"We are not going to take a dangerous electrical device and press it against a lady's most gentle areas!"
Olivia Wilde's Star Trek Ambitions And Western Thrills
After Tron: Legacy and Cowboys and Aliens, actress Olivia Wilde has got the taste for science fiction. She told the press conference for Cowboys and Aliens that she even has her eye on the captain's chair.
Slightly Dodgy Third Trailer For Tarsem Singh's Immortals
My initial reaction upon seeing this trailer was to laugh, and laugh heartily, which can sometimes be a good thing but not, I think, in this case. Tarsem Singh's Immortals is an epic(?) 3D action-adventure about a battle between humans and titans, or humans and gods, or gods and titans, or just a general rumble. As the pop-up text reminds us, it's from the producers of 300, and in fact there's a shot in the trailer (10 points to the first person to spot it) that's so closely modelled on a shot from the 300 trailer that it might as well have been lifted straight from it.