When Your Event Gets Too Big For Your Shop – Launching Phat Con
By Michele Brittany It was an usually warm day last Saturday here in Southern California as I headed to Phat Con, being held at Dave & Buster's at The Outlets at Orange. I was feeling excitement because it was my first con of the year – January 18th – and a small con was a great way to ease back into the con circuit. Admission was free, as well as parking, which can sometimes wind up costing more than the con itself!
Hosted by Phat Collectibles, a local comics and collectibles shop, I was shocked to discover a very long line the almost the length of the restaurant, waiting patiently to be let into the ballroom where the con was being held. Although I arrived shortly after the opening time, I waited over an hour until I finally stepped into The Show Room. Upon entering the noisy ballroom, a life size statue of Green Lantern and even larger statue of The Hulk, which was really quite impressive, greeted me. Walking around, I noticed that care had been taken to provide a con-like experience. Several rows of tables filled the floor space and ten-foot banners of all our favorite superheroes hung from the walls around the room. There were even a couple of tables of freebies, and I'm not talking about fliers and postcards. No, I'm talking about free comics from Valiant, Top Cow and IDW, Green Lantern rings, Mind MGMT buttons, promotional posters and packs of trading cards, and figurines. I was more than a little curious about how this con got its start because it felt like it was standing room only, half expecting the Fire Marshall to barge in because the event had surpassed the room occupancy limit. I found Dave Rodriquez, Special Events Coordinator from Phat Collectibles, providing relief coverage at their booth. Under the massive Hulk statue, Rodriquez recounted that he and owner Jason Davis, decided they wanted to organize a bigger event than the guest signing events regularly held at their stores. They even talked about holding quarterly Phat Cons, but settled on a bi-annual schedule because they did not want to saturate the market. The first Phat Con was held at their Anaheim store and the attendance was unprecedented. The one-day con broke their anticipated 500 figure: approximately 1,500 people attended the event. Under the soft glow of ballroom lights, and an ornate wood carved bar at one end of the room was not exactly what I would expect when attending a con. Besides the unusual location of the con, I asked Rodriquez what distinguished Phat Con from other cons in the area. Rodriquez said that it was the goal of Phat Collectibles for their con to "be known for the experience people have." To Rodriquez, that meant creating an event in which people walked away feeling positive about their encounter.
After the first con, one of the lessons learned was that the store was too small to hold subsequent cons. Having held a Walking Dead Season 4 party in same room at Dave & Buster's, Rodriquez secured the room for the January date. That alleviated the issue of space. The con could grow, but still provide the small, intimate show experience.
Location was only one aspect of creating a successful con for attendees and organizer.
Calling on industry relationships, Rodriquez garnered support from leading publishers for freebie merchandise and exclusives, which typically draws collectors. Top Cow provided an Aphrodite IX print and a limited metal print of Marat Mychaels' Walking Deadpool. For $20, a person could purchase a V.I.P. package that included both exclusives as well as early entrance to the show room prior to general admission. I was impressed that the con had exclusives as well as freebies, which appealed to adults and kids alike. There were quite a few kids actually, wide eyed and enthralled by the comics, the art, and probably the cosplayers. In fact, the con had not one, but three professional groups represented: Agents of C.O.S.P.L.A.Y., Smile X Family Cosplay, and Young Justice Abduction! (they also produce a web series) – all were at the ready to pose with their fans and each other. Rodriquez emphasized that Phat Con was about providing the opportunity for attendees to meet their local talent already established in the industry that included Sam Humphries, Tom Hodges, Abe Lopez, Richard Garcia, and Mike Vasquez, but the con also invited artists Rodriquez described as "rising stars." It was a commitment that was validated by several artists I spoke with during the afternoon.
Nicole Sloan, artist/owner of Drawings by Nicole and one of the con's featured artists, said she liked supporting Phat Con because it "gave artists the chance to show their work." Wait lists, or limited to "accomplished" artists and of course, the often prohibitive cost of tables, were all stumbling blocks for new artists trying to break into the artist alley of larger established cons. Freelance illustrator Danny Silva who recently completed illustrations for the DC Comics "Women of Legends" trading cards, appreciated Phat Con's commitment to artists. As a rising star, Silva related that he "was constantly busy with engaging" exchanges with those who stopped by his table.
Penciller Ron Joseph, who was promoting his Kickstarter project, a one-shot comic book titled The Shepherd, was at the con for the first time as well. "This was my first, but certainly not my last Phat Con. I hope to be at many more in the future. The organizers are top-notch, great guys, and they made this artist feel like a VIP", he said. Another featured con guest, D.J. Kirkbride, co-writer of Amelia Cole (IDW) and writer of Do You Believe in Ninjas? could attest the power of free admission and parking. It was his first Phat Con and did not know what to expect, but as the day was winding down, he related with excitement that the "foot traffic has been insane and sales very good."
Kirkbride brought up a good point, so I had to ask Rodriquez about the concept of a free con. He reiterated that the experience and the commitment to the artist were the most important goals of Phat Con and Phat Collectibles. Because of his position, Rodriquez attends a lot of cons and he wanted to offer a free con, so the money saved on admission and parking meant more money could be spent towards commissions, comics and related merchandise the artists had available.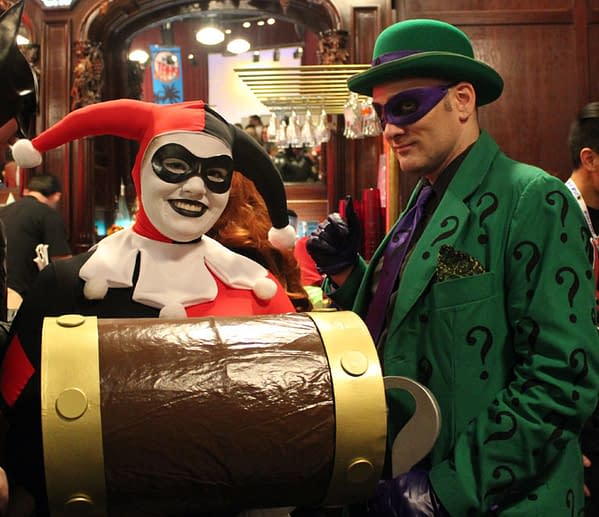 So what's next for Phat Con? Rodriquez was already thinking to the next con, planned for July. He said he was "working on a big, big name to anchor the show." I mentioned about the long line at the beginning of the day and asked if the summertime con would be at Dave & Buster's again and if it would expand to two days. He answered in the affirmative about location, but that it would remain as a one-day event. However, he was already thinking about expanding into additional rooms at the restaurant so he could incorporate panels next time, with one topic on Age of Apocalypse. With confidence and commitment he said his goal for Phat Con was to "become the biggest con in Orange County." I believe him. And, I believe it might just become the con that establishes trends for others to follow.
Oh, and for those who do like exclusives, Rodriquez did impart a juicy tidbit: expect a Deadpool wedding to take place in April at the Phat Collectibles Anaheim store, to coincide with the release of issue Deadpool #27. Michele Brittany is an independent pop culture scholar and semi-professional photographer currently editing an upcoming anthology on the influence of James Bond on popular culture, and she regularly posts reviews and analysis on the spy/espionage genre on her blog, Spyfi & Superspies.