X-Men: Bland Design – The Countdown to a Relaunch Continues in Despicable Deadpool #294
Welcome to X-Men: Bland Design, the weekly column that answers the question: "What if Ed Piskor had no art skills, a juvenile sense of humor, and less classic material to work with?" This week there are five X-Books on the stands, which will cost you a total of $20 to buy and, thanks to modern decompression techniques, take roughly ten minutes to read (if you read slowly). If that seems like a waste of time and money, you can keep your money by reading our recaps for free. We make no promises about the use of your time, however.
On stands this week are Weapon X #14, X-Men Blue #21, Despicable Deadpool #294, Cable #154, and Old Man Logan #35.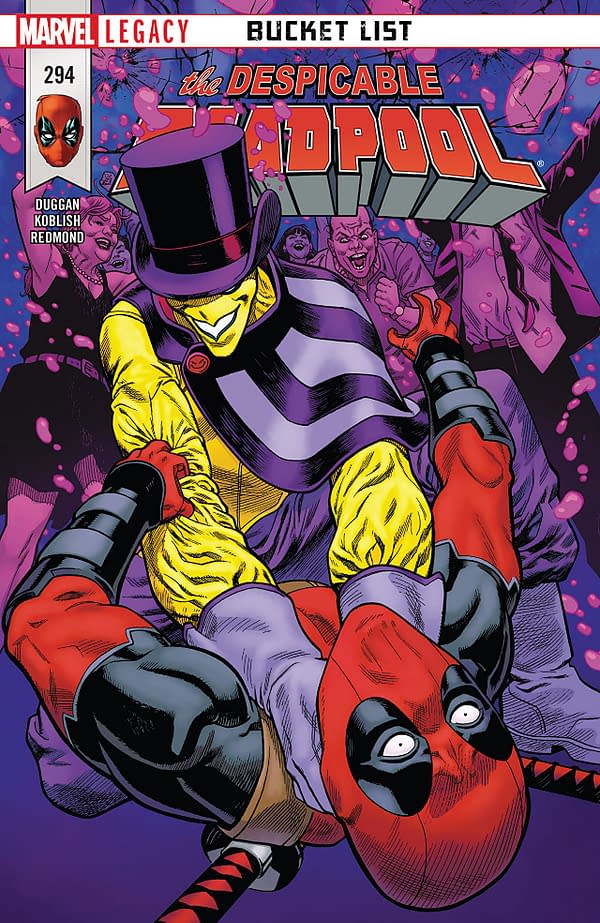 Despicable Deadpool #294
Writer: Gerry Duggan
Artist: Scott Koblish
Colorist: Ruth Redmond
Letterer: Joe Sabino
Cover: Mike Hawthorne and Nathan Fairbairn
Here's what you need to know about Despicable Deadpool. Madcap poisoned Deadpool's family, and to save them, Deadpool had to agree to murder a bunch of people for Stryfe. Deadpool has a lot of guilt over his recent actions.
So the issue opens with Madcap singing a song about wanting to kill Deadpool. Madcap, essentially, is a more annoying version of Deadpool, in case you were wondering. Yeah, that's actually possible. Anyway, Madcap wants to kill Deadpool, but he doesn't know where he is. All of the places he looks for Deadpool have already been destroyed. He reads some spoilers for Secret Empire and learns that Deadpool went full Nazi in support of Hydra Captain America. Turns out Deadpool's life is already ruined. There's almost no fun in killing him now.
But just as he comes to that realization, Deadpool shows up and tramples him with a horse and carriage (that he apparently hijacked while there was a couple still inside of it. Unfortunately, Madcap heals from any injury as soon as it happens, so Deadpool's attacks have no effect. But Deadpool reveals he went to space to find a weapon that could kill Madcap. It's… this thing.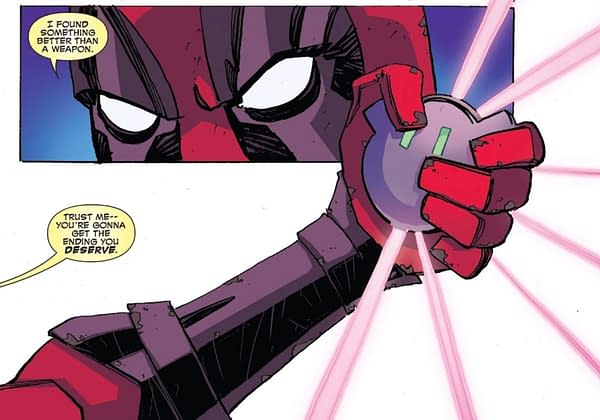 An Amazon Dash button? Okay.
Madcap teases Deadpool about his failed hookup with Rogue (yeah, that happened). That makes Deadpool angry, so he kicks Madcap in the balls. The fight continues, and Madcap tells Deadpool he needs to take responsibility for his own actions. Yeah, that's not gonna happen. Apparently, Deadpool ordered a Collector with his Amazon Dash.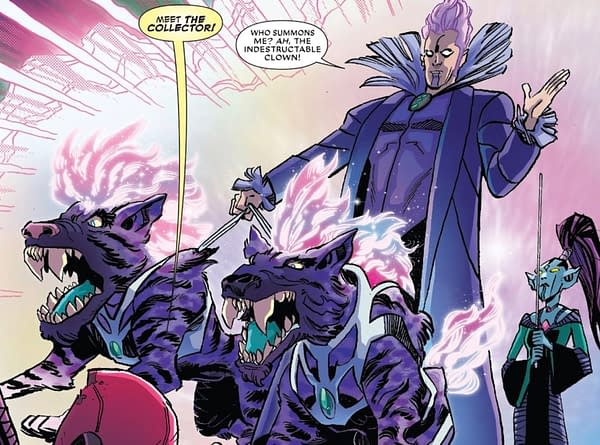 The Collector has his assistant, Rhiannon, test Madcap's abilities by attacking him with various weapons. The Collector is pleased and captures Madcap. Deadpool gloats, but actually, Madcap is excited to visit the Collector's space zoo.
Not only did Deadpool not achieve his goal of punishing Madcap, but Madcap says he feels sorry for Deadpool because Deadpool is such a loser he ruined his own life and the lives of his family. Deadpool tells the Collector not to take Madcap, but the deal is already done. Madcap thanks Deadpool before they zip away into space.
As Deadpool is left standing alone, a phone booth rings. Apparently, the Marvel Universe still has working phone booths. Deadpool answers. It's Stryfe. He has another person for Deadpool to kill. It's Kid Apocalypse. Sad Deadpool is sad.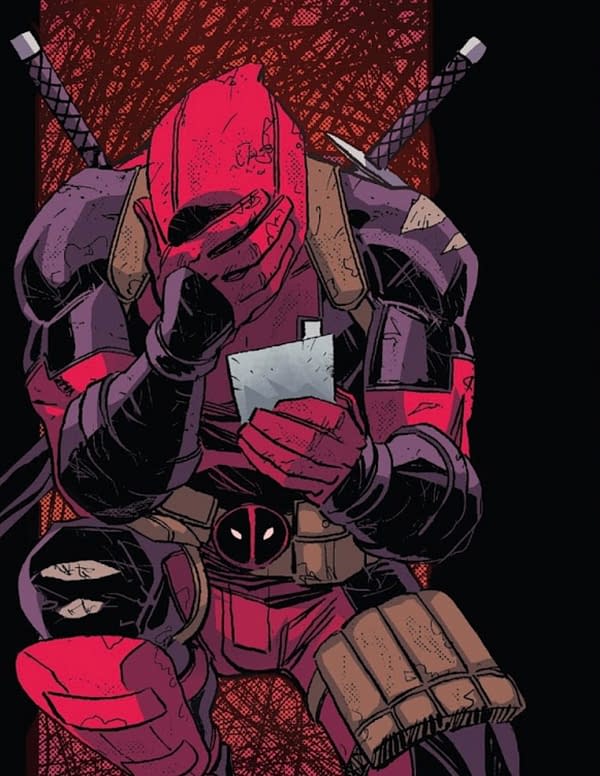 Deadpool is the kind of character that you either find endearing or obnoxious. Even if you do find him endearing, however, he can be a bit overexposed. But depending on your mood and your feelings on Deadpool, Despicable Deadpool is a good enough Deadpool series. But if it's not your cup of tea, no worries! We're just waiting for the book to be canceled and rebooted after issue #700, so we'll have another flavor of Deadpool in a few months anyway to coincide with the movie.
Last, but not least…