Disney Store's YesterEars collection is bringing more attractions back from the dead. This time, we have: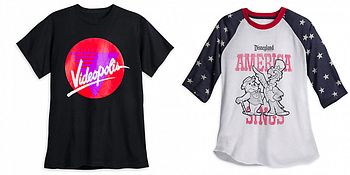 America Sings (June 29, 1974–April 10, 1988)
Rocket Rods (May 22, 1998–September 2, 2000)
Videopolis Nightclub (June 22, 1985–1989)
All of these were in Disneyland, Disney's first park. I never got to experience any of them, but YouTube video's have been helpful in filling me in. The shirts go for $27.99 an are only available until August 24th. I appreciate Disney trying to create a sense of urgency with buying these shirts, but at that price point (even with the current buy one, get one 40% off sale), it's a little much for some attractions that aren't super wildly known, outside of the hardcore park fans (and of that, there are many).
Enjoyed this article? Share it!