Red Hood and the Outlaws #25 Review: Poignant, Intense, and Compelling
[rwp-review-recap id="0"]
The Red Hood evades the GCPD after gunning down the Penguin in the streets. Things complicate when the Outlaws' flying fortress begins to fall out of the sky. This provides a distraction, but the Batman is after Red Hood now too. This leads to a fight between the two former partners. Meanwhile, Bizarro and Artemis are trying to keep the fortress from killing thousands. However, Bizarro's intellect is completely gone, and Artemis doesn't know how its internal mechanisms work.
Red Hood and the Outlaws #25 is another heavy-hitting issue of the series, with Jason and Bruce coming to blows again while Bizarro and Artemis watch their home fall apart around them.
It hits me every time processing what is happening with Bizarro too. It's sad and hits me hard for reasons of which I'm unsure and honestly don't want to poke too hard without professional guidance.
Anyway, the fight between Jason and Bruce is surprisingly brutal. Batman is ready to bring the Red Hood down for good.
The ending is also bittersweet and comes with a nice twist.
There is something of a back-up tale with the "full" Outlaws lineup (Red Hood, Arsenal, Starfire, Bizarro, Artemis, and Creeper), and it turns out to be a storybook being read by Ma Gunn.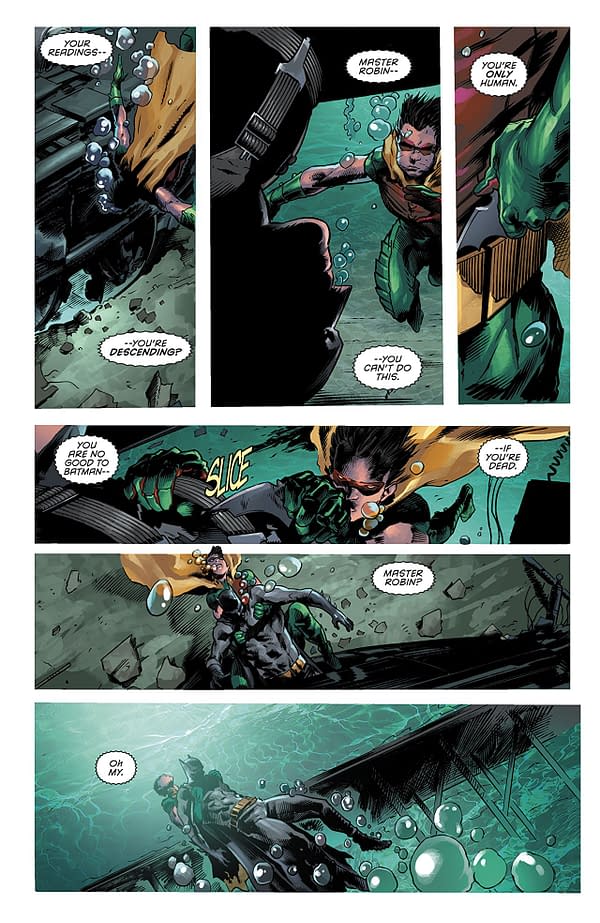 Dexter Soy, Trevor Hairsine, and Phil Hester split the art on this one, with Soy and Hairsine handling the main story and Hester doing the treatment for the story Ma Gunn reads. It's a nice split, and each artist brings their A-game to the table. Veronica Gandini, Rain Beredo, and Madpencil Studio provide the color work, and they keep the book moody throughout too. It's a damn good-looking comic.
Red Hood and the Outlaws continues to surprise me with its emotional resonance and intense stories. This was another great issue, and I look forward to where Scott Lobdell takes the book from here. This one earns a recommendation too. Give it a read.
[rwp-review-ratings id="0"]
[rwp-review-form id="0"]