Relay #2 Review: Compelling Sci-Fi, at Any Level
Sci-fi books are coming pretty hard and fast, and it takes quite a bit to stand alone from the pack. Zac Thompson, Andy Clark and José Villarrubia's second issue of Relay is showing that this series is a strong shout to join the top picks there.
[rwp_box_recap id="0"]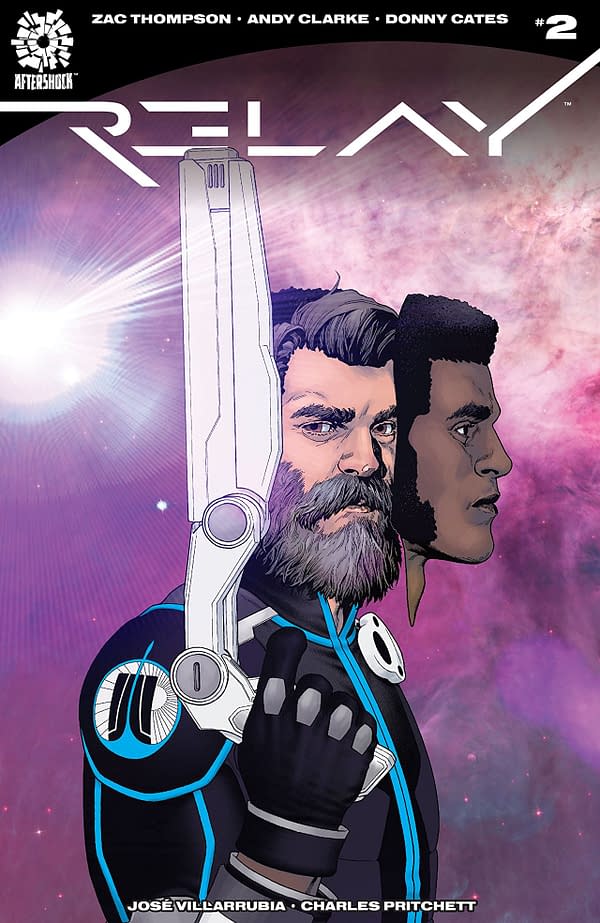 The Relay storyline as a whole currently appears to revolve around Jad Carter's journey; the publisher bumf would appear to confirm that too. Jad's goal (at least initially) is to find Hank Donaldson and his world that has basically informed much of society's religious viewpoints. This said, I think that's a curve ball — this has a lot to do with the above cover but also peels out of the events of this issue, which I'll not reveal.
With Jad, though, issue one introduced his (softly) religiously pious character and his (team's) mission to find the now Jesus-level Donaldson — and if you've read the Free Comic Book Day Relay, you'll know that Hank Donaldson is anything but godlike. Jad's jobsworth (William) and pragmatist (Victoria) colleagues make up the rest of his team, and if I were to be majorly cynical they provide a reasonably well-rounded approach to appeal to everyone. But I'm sure that's not the intent; it all seems pretty organic, especially given how little those two are currently in to their respective developments.
I end up gravitating more toward Victoria, which I'm hoping is purely down to her persona being bitingly sharp. Either way, I'm more drawn to her than I am to Jad, which would worry me more if it weren't for the perceived insta-growth that he's about to go through via the actions of this issue — it's going to get intense.
Donaldson is portrayed with such of depth of character. He felt like we'd been living with the character for years, reminding me somewhat of the Clavain character of Alastair Reynold's Revelation Space universe — not in how he's built, just in how familiar he is, immediately. It strikes me that a lot of character development has gone in there.
That leads me in to Thompson's handling of the characters. I have the feeling that I'm right on the edge of engagement there, with issue three looking to be the transformative edge. However, I will say that thus far I've actually been left relatively cold by everything, and I feel that perhaps I should be more emotionally affected by what's gone down. Again, I'm sure I'm on the cusp of it, but I haven't felt any serious emotional reaction to anything in the book as yet. It could be me, but I simply can't emote with Jad right now, because I don't really feel any connection there. I'm hoping this isn't just a logic/faith-based thing and is something deeper — something more intended by the creative team.
As I said, I really don't understand much of anything that was going on to begin with, mostly around the captions in the FCBD issue — stuff about societal ideals, critiques on modern life, religion, and science. That's alright, though, since it was compelling anyway, as (thankfully) underpinning it all is a ripping sci-fi yarn.
Don't take my dumbness to the complicated stuff here as a distaste, by the way. I don't understand a lot in the world, and that's OK.
But yes, some of what happens in the first two issues (mostly the FCBD issue zero, but slightly issue one, too) was actually quite confusing to me; however, I can assure you that it doesn't affect the read of the story at all. I could liken it to my experience of most music (by and large I think I know the lyrics to two songs) — I get just as much out of the music and the singers' tones as normal folk would from the words that they're saying. So, sure, I may not hear Morrissey being a racist prat*, but hey… pretty sounds!
That's really my only negative point about the book, though. Because the emotional experience is very much the biggest part of my involvement with most art, it's usually hard to get past that. However, Thompson, Clark, and Villarrubia are so adept here at driving a story that should fulfil most folks' desires.
If you've read any grand sci-fi (and I feel like I've read a fair bit — I don't read prose unless it has spaceships or dragons) you'll know that beginnings can often take a little while for scene setting. The same often goes for new comics too, but I feel that there's enough thus far to make me definitely invested in finding out what's coming in issue three. Either way, I had a similar reaction to the beginning of Azzarello and Chiang's seminal Wonder Woman run in 2011, and oh my god(dess) how that flowered into brilliance after a couple of issues.
Andy Clarke's art work is definitely perfectly paired with José Villarrubia's choice of a pastel palette for the colours. It feels like a blended world of old sci-fi covers and the old voxel game Outcast.
It feels like there's a detail to the line work that if one could magnify would never falter, and that only furthers the voxel thing. Clarke doesn't re-use imagery either, showing good restraint where others lean into it quite regularly in ongoings.
Also, something that I initially thought was a variety is a full-on different layout per page. Each page's panelling really does cross the gamut (and with only one double-page spread), doing the conventional stuff like dragging one around (as they should) but also bringing you closer or further from the subject matter as and when required. They're also well used for some key pacing moments, the nine-panel page being a standout of that.
I've picked out a few of these, but there's much, much more on show in the book.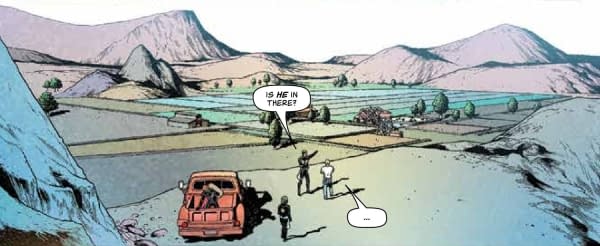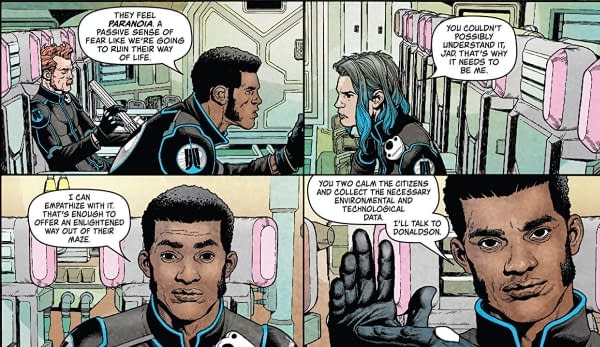 (Having these talky panels closer together allows larger panels with more incidental detail, but still that feeling of person-to-person contact.)
A short mention to Charles Pritchett's lettering, which is crucial to the TV panels and suitably reserved elsewhere with some flourishes that are REAL effective.
So if you thought this was just going to be a treatise on the state of the world, or a super long setup, believe me: issue two delivers the hit. I don't wish to heighten or lessen your experience of the book, but if you were somehow not going to pick up issue two, then override that personal firewall and invest at least to this issue. This is good comics.
*I really don't like The Smiths/Morrissey.