MTA 7 Subway Outage Havoc For NYCC And BTS Events
The MTA have suspended the 7 subway line in the city this weekend for "signal modernization". If you are attending New York Comic Con or the BTS concert at Citi Field, make sure that you are aware in advance and have an alternate route. The nearest alternative (wheelchair accessible) station to the con is the 34th A C E station, but it will be rammed. The BTS concert is still affected, but not so much since services are running further out on the line.

This is obviously ridiculous scheduling for one of the city's biggest conventions each year, not to mention that it's technically the most attended in the country (apparently). They'll be expecting attendees of all ages and physical abilities, many in costume, meaning that the travel commotion is not going to coalesce well with this, at the very least. At worst there could be some rather frustrated travellers, so where you can, please keep your cool.
At the very least you'd think that they could run limited services between some locations, but no. The MTA have tweeted about it making no mention of the A and C service that's also running to 34th. You can also take a number of ferry routes (which is by far the least stressful way to travel in NYC) to the w39th terminal just behind the centre.
This is on top of the small matter of the biggest boy band in the world swinging by to play Citi Field (official Mets link) it's not a good look.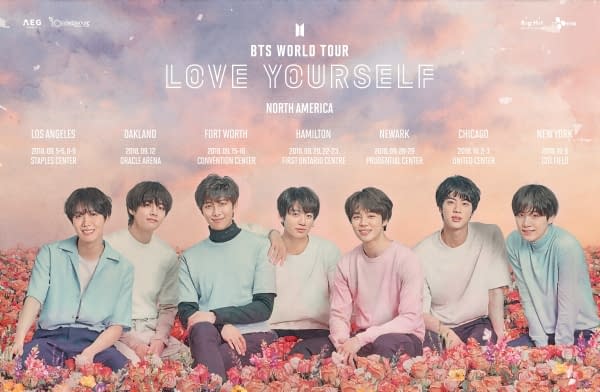 BTS are K-Pop's current standard bearers across the globe and have been all over your late night television in the US, so expect a ridiculous amount of foot traffic in the city on Saturday for both of these events, and I'm pretty sure that the MTA can expect a small amount of blowback for this. The MTA *is* actually running the 7 further out on the line, strangely, which means that you will either need to make a change or two, or go to the nearest alternative station, Mets-Willets Point LIRR station (Google Maps/LIRR) again, brace for human traffic.
The side-bar text of The Weekender information reads: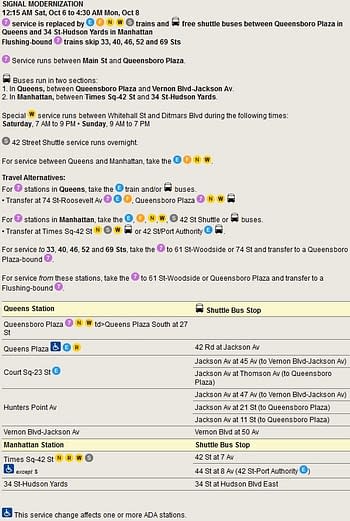 SIGNAL MODERNIZATION 12:15 AM Sat, Oct 6 to 4:30 AM Mon, Oct 8 service is replaced by trains and free shuttle buses between Queensboro Plaza in Queens and 34 St-Hudson Yards in Manhattan Flushing-bound trains skip 33, 40, 46, 52 and 69 Sts

7 Service runs between Main St and Queensboro Plaza.

Buses run in two sections:

In Queens, between Queensboro Plaza and Vernon Blvd-Jackson Av.
In Manhattan, between Times Sq-42 St and 34 St-Hudson Yards.

Special W service runs between Whitehall St and Ditmars Blvd during the following times:
Saturday, 7 AM to 9 PM • Sunday, 9 AM to 7 PM

S 42 Street Shuttle service runs overnight.

For service between Queens and Manhattan, take the E, F, N, W.

Travel Alternatives:
For 7 stations in Queens, take the E train and/or buses.
• Transfer at 74 St-Roosevelt Av 7, E, F, Queensboro Plaza 7, N, W.

For 7 stations in Manhattan, take the E, F, N, W, S, 42 St Shuttle or buses.
• Transfer at Times Sq-42 St N, S, W, or 42 St/Port Authority E, bus.

For service to 33, 40, 46, 52 and 69 Sts, take the 7 to 61 St-Woodside or 74 St and transfer to a Queensboro Plaza-bound 7.

For service from these stations, take the 7 to 61 St-Woodside or Queensboro Plaza and transfer to a Flushing-bound 7.
I've been Eliot Cole with your eye in sky traffic report, here's BTS' latest IDOL (with some added Nicki Minaj) to soothe/increase your frustrations.
EDIT – The M34 bus is also going to be crucial for the con.