Review: The Dead Rabbit #1 by Gerry Duggan, John McCrea and Mike Spicer
The Dead Rabbit Ashcan was published by Image Comics and sold at C2E2 for a promised-but-as-yet-unsolicited new series from Image, called Dead Rabbit.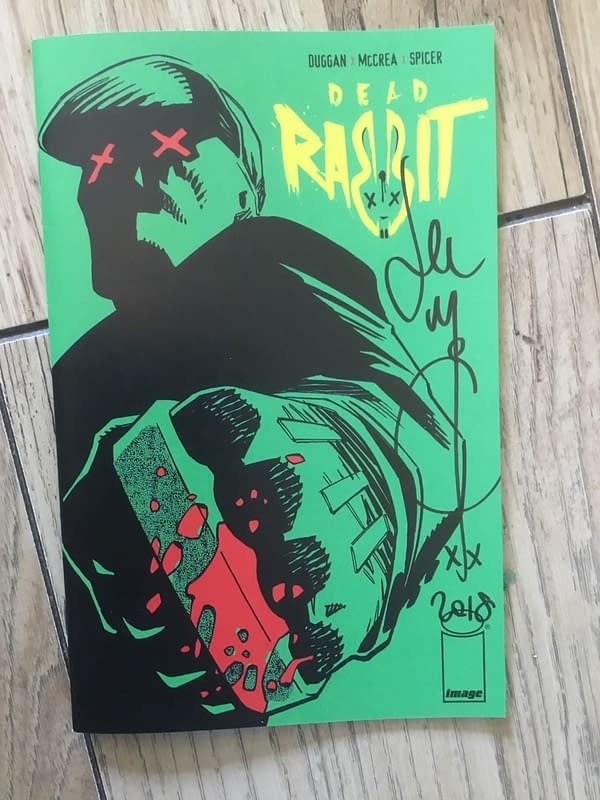 By Gerry Duggan, John McCrea and Mike Spicer, it will be an ongoing series from September (probably) and is described as a raucous series about a hot-tempered, foul-mouthed former mercenary and gun-for-hire Martin Dobbs, forced out of retirement with predictably funny and violent results. With shades of Unforgiven, The Equalizer and Robin Hood.
There's the strong visual symbology that set The Punisher and Rorschach apart, a masked man with red crosses of dead eyes, the double X, suggesting danger, naughtiness and things that should be avoided. And a childish attitude to death.
And just as John McCrea is best known in US comics for his five year run with Garth Ennis on Hitman which ran from the mid-nneties on, so this is a flashback to that era in part, a vigilante thief who has been retired since, and brought back into the game by circumstances. It seems to reek of, hey, you remember Hitman, well how about one more time? And that's a very welcome feeling to have. McCrea's art is far more detailed here though, despite the book's imagery, creating somethng less cartoony, more specific to its location and space, and adding a level of seriousness that's more in keeping with the tone of this comic.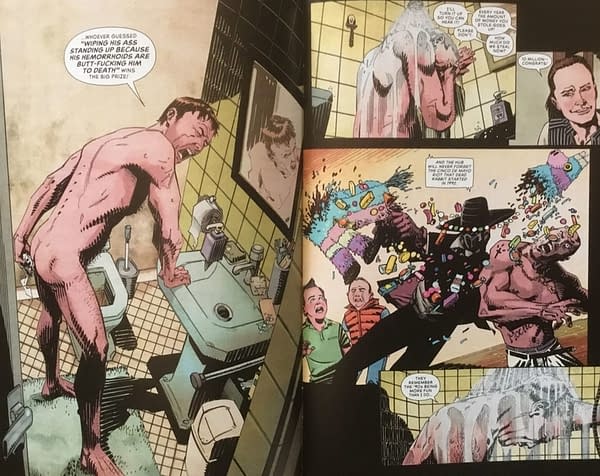 Even the scatalogical gags get brought down and grounded.
But this is a different world now. A world of CCTV, of social media, or a far greater connectivity, can Dead Rabbit step back into that role. He is older, he is slower, he is tired of all that, he has responsibilities, and really bad haemorrhoids. Is Dead Rabbit the character he portrays or the admission that there is nothing more to him than a scrawled face, something that is refusing to move on?
Anyone who loved Hitman, should like this. It might even grab a few Deathwish/Punisher/Rorschach fans along the way, though they may find som of the details of this story troubling…
Expect the ongoing series in September. But if you want a peek and can't make that long, you can pick up signed copies of the ashcan on eBay from $5 to $10 or try your luck at any of their convention appearances until then. It looks like it's basically the entire issue…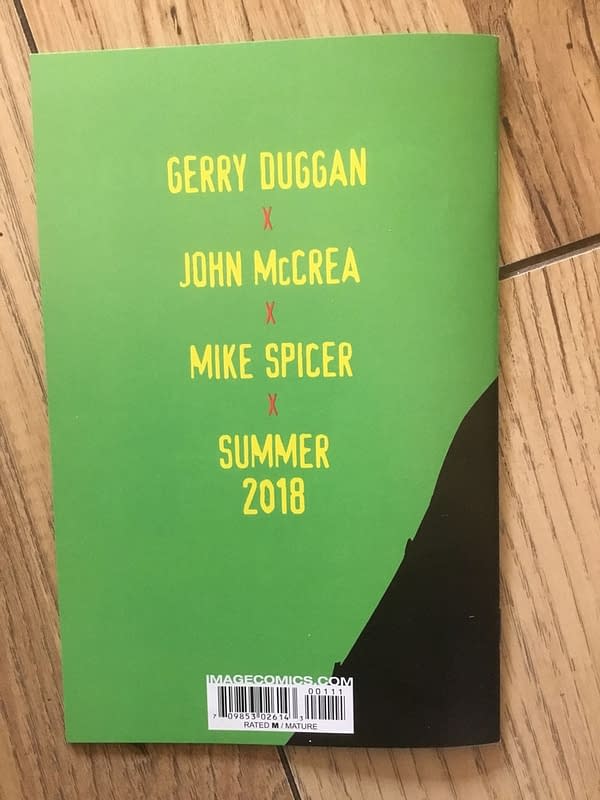 ---
---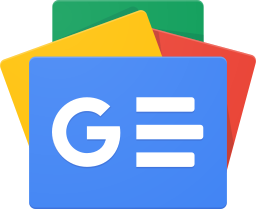 Stay up-to-date and support the site by following Bleeding Cool on Google News today!