No, Oni Press is not making variant covers out of human flesh. That's definitely more of a Valiant Entertainment kind of thing. Instead, Oni revealed today that Julieta Colás will produce two variant covers for Rick and Morty #50 in the style of the headshot variants Colás has done for the Rick & Morty trade paperback collections. These covers, however, will dissect Rick and Morty creators Dan Harmon and Justin Roiland.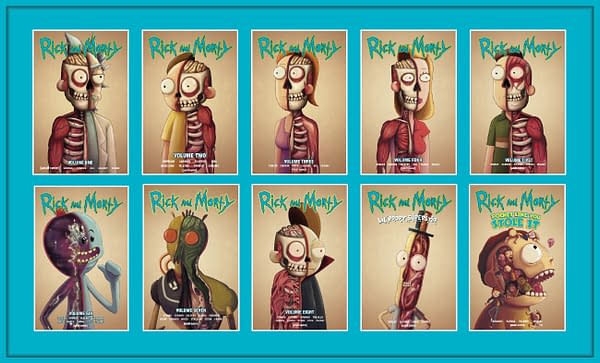 Oni didn't reveal the covers themselves, and they don't plan to until they're released. So you'll have to look at the trade paperback covers above, and the description below, google Harmon and Roiland, and use your imagination.
PORTLAND, OR., April 8, 2019 — Oni Press is [uncontrollably excited] to announce two very special variant covers by Julieta Colás for the release of Rick and Morty™ #50, featuring series creators and executive producers, Dan Harmon and Justin Roiland.

Artist Julieta Colás has been illustrating the trade paperback variant covers for Oni Press's Rick and Morty™ collections, Rick and Morty™: Lil' Poopy Superstar, and Rick and Morty™: Pocket Like You Stole It, which are exclusively sold at conventions as well as the Oni Press Shopify storefront. Placed over a simplistic tan backdrop, Julieta's headshot portraits carefully and playfully craft the biology of different Rick and Morty™ characters, exposing them from the inside out.
Rick and Morty #50 is set to hit stores on May 29th.
Rick and Morty #50
(W) Kyle Starks, Tini Howard, Marc Ellerby, Benjamin Dewey, Sarah Graley, Josh Trujillo (A) Marc Ellerby, Kyle Starks, Andrew MacLean, Benjamin Dewey, Rii Abrego, Sarah Graley, Jarrett Williams (CA) Sarah Stern
It's just Rick and Morty. Rick and Morty and their adventures, Morty… Rick and Morty, forever and forever, FIFTY ISSUES Rick and MortyTM! Join us as we celebrate this milestone with a special, super oversized MORTY'S MINDBLOWER issue! Featuring creators from the previous 49 issues!
In Shops: May 29, 2019
Final Orders Due: May 06, 2019
SRP: $6.99
Enjoyed this article? Share it!