Rick Remender Tops Advance Reorder List With Deadly Class And Black Science – Dead Body Road Follows Close Behind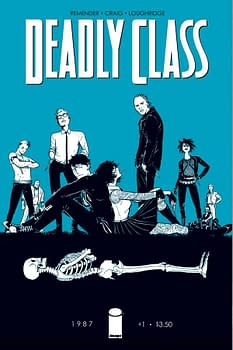 Greetings from the coal face of the direct comics market. Where retailers try to increase their orders of certain comics ahead of sale. Where supply and demand and most accurately reflected, where you can see which books are hot, where new orders are coming in and how retailers are reacting to new, unanticipated desire!
We've seen that Black Science #2 has become a rather hot property of late. And it seems to have affected advance reorders as retailers up their numbers on issue 3 and the second print of issue 2, though issue 3 is fully returnable if retailers order enough.
This is topped however by advance reorders on Deadly Class #1, also returnable if retailers order enough (based on orders of Black Science #1).
Dead Body Road is also returnable if retailers order enough of #2, but its an indication than issue 1 did rather well.
And yes, they're all Image comics. But Boom's Hacktivist launch may be the surprise as retailers suddenly begin to up their numbers.
TOP 25 ADVANCE REORDER COMICS/GRAPHIC NOVELS/TPs

Description
SRP
Supplier
DEADLY CLASS #1 CVR B (MR)
$3.50
IMA
BLACK SCIENCE #3 (MR)
$3.50
IMA
BLACK SCIENCE #2 2ND PTG (MR)
$3.50
IMA
DEAD BODY ROAD #2 (OF 6) (MR)
$2.99
IMA
LOCKE & KEY HC VOL 06 ALPHA & OMEGA
$29.99
IDW
DEAD BODY ROAD #1 (OF 6) 2ND PTG (MR)
$2.99
IMA
HACKTIVIST #1
$3.99
BOO
LOST AT SEA HC
$24.99
ONI
LOCKE & KEY HC VOL 06 ALPHA & OMEGA SERIES SLIPCASE ED
$39.99
IDW
ELFQUEST FINAL QUEST #1
$3.50
DAR
DAY MEN #2 (2ND PTG)
$3.99
BOO
TMNT UTROM EMPIRE #1 (OF 3)
$3.99
IDW
IRON PATRIOT #1 YOUNG VAR ANMN
$3.99
MAR
CAPTAIN MARVEL #1 (OF 6) YU VAR ANMN
$3.99
MAR
SUPERMAN GOLDEN AGE SUNDAYS 1943-1946 HC
$49.99
IDW
SUPERMAN UNCHAINED #6
$3.99
DC
ETERNAL WARRIOR TP VOL 01 SWORD O/T WILD
$9.99
VAL
BATMAN SUPERMAN ANNUAL #1
$5.99
DC
BATMAN SUPERMAN ANNUAL #1 VAR ED
$5.99
DC
X-FILES CONSPIRACY GHOSTBUSTERS #1
$3.99
IDW
INHUMANITY #2
$3.99
MAR
SERENITY LEAVES ON THE WIND #1 (OF 6)
$3.50
DAR
AVENGERS #27 WEAVER VAR
$3.99
MAR
LIL SONJA #1
$3.99
DYN
ETERNAL WARRIOR #5 REG CRAIN
$3.99
VAL
And for books that have already been published…

TOP 25 REORDER COMICS/GRAPHIC NOVELS/TPs (RETAIL)
Description
SRP
Supplier
TARZAN RUSS MANNING NEWSPAPER STRIPS HC VOL 02 1969-1971
$49.99
IDW
REVIVAL DLX COLL HC VOL 01 (MR)
$34.99
IMA
GRENDEL OMNIBUS TP VOL 04 PRIME
$24.99
DAR
ABSOLUTE BATMAN & ROBIN HC BATMAN REBORN
$99.99
DC
FIFTH BEATLE THE BRIAN EPSTEIN STORY HC
$19.99
DAR
UNCANNY X-MEN OMNIBUS HC VOL 01 NEW PTG
$99.99
MAR
PETER PANZERFAUST DLX HC
$39.99
IMA
ABSOLUTE TOP TEN HC
$99.99
DC
REVIVAL TP VOL 02 LIVE LIKE YOU MEAN IT
$14.99
IMA
FANTASTIC FOUR BY JOHN BYRNE OMNIBUS HC VOL 02
$125.00
MAR
ABSOLUTE SANDMAN HC VOL 02 (MR)
$99.99
DC
BATMAN INCORPORATED HC VOL 02 GOTHAMS MOST WANTED (N52)
$24.99
DC
ABSOLUTE SANDMAN HC VOL 03
$99.99
DC
VAMPIRELLA ARCHIVES HC VOL 08 (MR)
$49.99
DYN
ROY THOMAS PRESENTS CLASSIC PHANTOM LADY TP BOXED SET
$79.99
DIA
SANDMAN OMNIBUS HC VOL 01 (MR)
$150.00
DC
NEW TEEN TITANS OMNIBUS HC VOL 03
$75.00
DC
MMW ATLAS ERA STRANGE TALES HC VOL 06 DM VAR ED 201
$74.99
MAR
FANTASTIC FOUR BY JOHN BYRNE OMNIBUS HC VOL 02 DM VAR ED
$125.00
MAR
MANHATTAN PROJECTS TP VOL 01 SCIENCE BAD
$14.99
IMA
FEAR AGENT HC VOL 01
$49.99
DAR
ASTONISHING X-MEN WHEDON CASSADAY ULT COLL TP BOOK 02
$29.99
MAR
NEW TEEN TITANS OMNIBUS HC VOL 02
$75.00
DC
LOEG THE ABSOLUTE ED OVERSIZED HC VOL 02
$75.00
DC
SILVER AGE TEEN TITANS ARCHIVES HC VOL 02
$75.00
DC
COMICS
TOP 25 REORDER COMICS/GRAPHIC NOVELS/TPs (RETAIL)
Item Code
Description
SRP
Supplier
SEP130460
TARZAN RUSS MANNING NEWSPAPER STRIPS HC VOL 02 1969-1971
$49.99
IDW
AUG130635
REVIVAL DLX COLL HC VOL 01 (MR)
$34.99
IMA
AUG130110
GRENDEL OMNIBUS TP VOL 04 PRIME (C: 0-1-2)
$24.99
DAR
OCT120264
ABSOLUTE BATMAN & ROBIN HC BATMAN REBORN
$99.99
DC
JUL130016
FIFTH BEATLE THE BRIAN EPSTEIN STORY HC (C: 0-1-2)
$19.99
DAR
APR130741
UNCANNY X-MEN OMNIBUS HC VOL 01 NEW PTG
$99.99
MAR
SEP130549
PETER PANZERFAUST DLX HC (C: 0-0-1)
$39.99
IMA
SEP120255
ABSOLUTE TOP TEN HC
$99.99
DC
MAY130431
REVIVAL TP VOL 02 LIVE LIKE YOU MEAN IT
$14.99
IMA
JUL130701
FANTASTIC FOUR BY JOHN BYRNE OMNIBUS HC VOL 02
$125.00
MAR
JUL118168
ABSOLUTE SANDMAN HC VOL 02 (MR)
$99.99
DC
JUL130233
BATMAN INCORPORATED HC VOL 02 GOTHAMS MOST WANTED (N52)
$24.99
DC
MAR128124
ABSOLUTE SANDMAN HC VOL 03
$99.99
DC
SEP131135
VAMPIRELLA ARCHIVES HC VOL 08 (MR) (C: 0-1-2)
$49.99
DYN
JUL131248
ROY THOMAS PRESENTS CLASSIC PHANTOM LADY TP BOXED SET
$79.99
DIA
APR130263
SANDMAN OMNIBUS HC VOL 01 (MR)
$150.00
DC
JAN130313
NEW TEEN TITANS OMNIBUS HC VOL 03
$75.00
DC
JUL130697
MMW ATLAS ERA STRANGE TALES HC VOL 06 DM VAR ED 201
$74.99
MAR
JUL130702
FANTASTIC FOUR BY JOHN BYRNE OMNIBUS HC VOL 02 DM VAR ED
$125.00
MAR
JUN120470
MANHATTAN PROJECTS TP VOL 01 SCIENCE BAD
$14.99
IMA
JUN120037
FEAR AGENT HC VOL 01 (C: 0-1-2)
$49.99
DAR
JAN120719
ASTONISHING X-MEN WHEDON CASSADAY ULT COLL TP BOOK 02
$29.99
MAR
DEC110292
NEW TEEN TITANS OMNIBUS HC VOL 02
$75.00
DC
FEB050346
LOEG THE ABSOLUTE ED OVERSIZED HC VOL 02
$75.00
DC
APR130220
SILVER AGE TEEN TITANS ARCHIVES HC VOL 02
$75.00
DC