Rob Liefeld Reveals Why Image United is Really, Truly Dead
After nearly a decade of hopelessness, fans of Image United, the 2009 series that united the Image Founders and Robert Kirkman for a super-mega-crossover event epic which fizzled after its third issue hit stores in 2010, were finally given a tiny sliver of hope back in May when superstar artist Rob Liefeld revealed he was still working on the project and was willing to put in extra effort to complete it.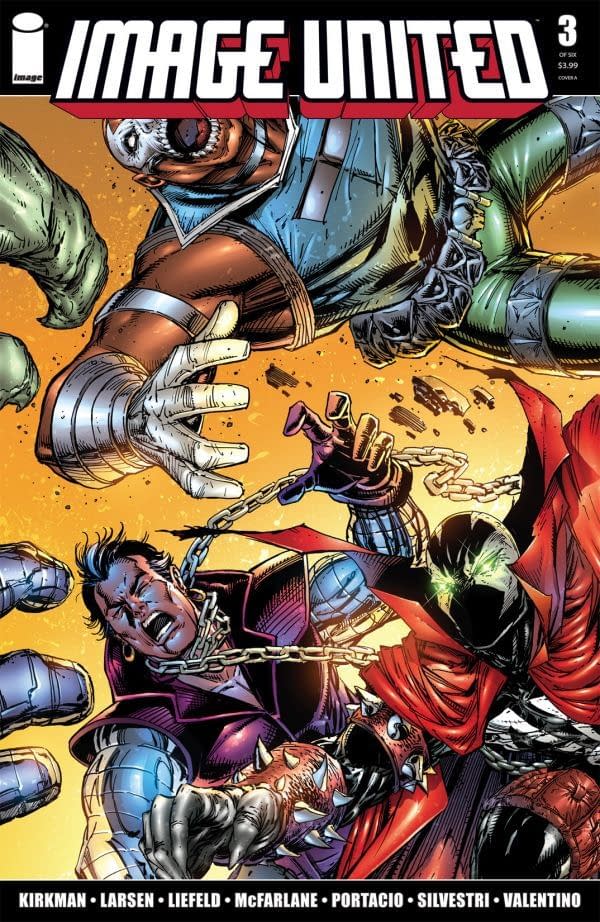 From an interview that originally appeared on fried chicken website ComicBook.com:
I have a lot of pages. Image United will be completed. I don't want to give a date but I haven't given up. I got messages today on my Twitter feed, asking me to finish it up. Look, some things just take more time and this one got caught up in some people who got less enthused with it quickly. I'm not one of them. What it's going to require is for me to do about 10-15 pages, finish everything that I have from one of the issues, maybe lightly pencil and help out what else is on the page, and then go and make a mass presentation. It's something I've discussed with Robert Kirkman but nobody's going to take it seriously until the work is done.
But just last month, Todd McFarlane said that he wasn't entirely sold on finishing Image United, though he was open to something new with a similar concept.
You could do that book and finish it, but it would have been such a huge gap you've got to educate a whole generation to get you there. Or do you do something new, relevant, current, that somehow gets the vibe of everything. We're actually having some of those conversations right now.
But now, Liefeld has taken to Twitter to reveal that there's "no chance whatsoever" of Image United ever being completed. But first, Liefeld shared details on why the project faded in the first place. Apparently, McFarlane stopped working on it and "informed the rest of us he wasn't going to contribute further." Even so, we know that Liefeld was recently trying to revive the project, but thanks to Terrific Production LLC taking control of Youngblood and embarking on a surreal Twitter PR campaign that has been chronicled here on Bleeding Cool, the project is finally truly dead.
R.I.P. Image United. We'll always wonder what might have been.
Now, can we get Liefeld and Kirkman to finish The Infinite instead?! That would actually be better than Image United would have been.