When superstar comic book artist Rob Liefeld teased a major X-Men crossover for 2019, one which was only possible after Marvel upped their X-Men budget to be able to hire bad ass artists such as Rob Liefeld, fans knew they were in for a treat. And when Marvel finally revealed that Liefeld's big crossover would be a new series called Major X featuring a titular character Liefeld created back in the 90s, coming back to the past from the future to tangle with all the X-characters from those patch-infused, bulging glory days, it was of course more than we could have ever hoped for.
The moment when we finally get to see the debut of Major X is almost upon us, but Liefeld has taken to Instagram to show a tease from the comic and reveal a major spoiler about Major X: he's got an adamantium sword, dude!
And just to hammer home how bad ass Major X is with his bad ass adamatium sword and his bad ass Judge Dredd helmet, the art Liefeld shared shows the Major totally kicking Wolverine's butt! Take that, Wolverine!
We've taken the liberty of lettering this for Rob since he forgot: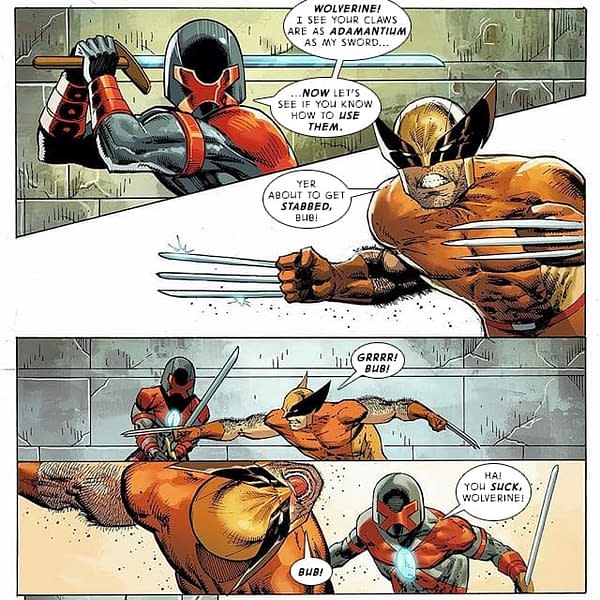 Major X #1 hits stores in April, dude!
MAJOR X #1 (of 6)
ROB LIEFELD (W) • ROB LIEFELD (A)
COVERS BY ROB LIEFELD
VARIANT COVER BY WHILCE PORTACIO
WHO IS MAJOR X?
• A mysterious new player enters the Marvel Universe and the X-Men are in his crosshairs!
• What is his mission and how can the man known as Cable hope to stop him?
• Writer/artist Rob Liefeld introduces a new wrinkle in the saga of Marvel's Mightiest Mutants!
• The Mystery of MAJOR X continues in issue #2 as he forges a union with Cable – and races against time to save mutantkind from certain devastation!
40 PGS./Rated T+ …$4.99
Enjoyed this article? Share it!