Robert Kirkman on The Walking Dead, Outcast, and Invincible Series at NYCC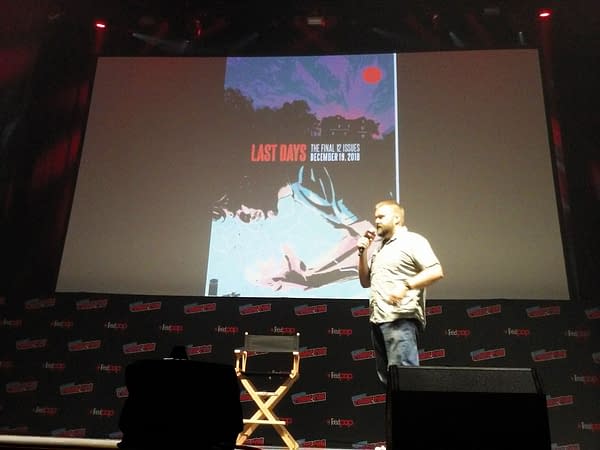 At the New York Comic Con panel "Robert Kirkman in Conversation," the prolific comic creator, writer, and producer shared his thoughts on some of his most iconic works including The Walking Dead, Outcast, and the status of Amazon's Invincible series.
According to Kirkman, The Walking Dead #187 is the start of "The biggest arc" the comics have seen so far. Which probably means it will be as great as it is heartwrenching.
Outcast #37 will start the final 12 issue arc which shows Kyle get his lightning powers. So if you've been wondering how that happened, you will have an answer soon.
As for Kirman's other projects, he shared to the audience at NYCC that the Invincible tv series from Amazon is "coming along very well." He's also "hopeful" that he'll have something to roll out in regards to the series at the next comic-con. When asked if the Invincible series will have the same level of blood and brains as the comic, Kirkman replied "Yeah. Oh yeah. Possibly more than you've seen in the comic." So you have that to look forward to.
And if you were wondering, when asked about Telltale games and telling the rest of Clementine's story, Kirkman replied that he was very "hopeful" her story will be finished and we should "stay tuned" before indicating that he might have said too much.