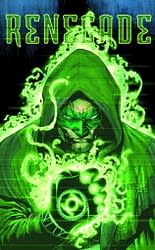 Green Lantern writer Robert Venditti has taken Hal Jordan on a new journey, one that has him no longer wearing a ring and the galaxy believing him to be a bad guy. Now an outcast, Jordan wields Krona's gauntlet, an early prototype for the modern day rings the corps wear… except the corps has disappeared and Jordan wants to know why.
Oh, and entire civilizations are being turned to stone. He'll also have to deal with old foes like Relic and Black Hand.
Venditti talked to DC All-Access about the changes to the series and what is in store.
Cover art by Billy Tan
[youtube]https://youtu.be/LAKgStIeSrQ[/youtube]
Enjoyed this article? Share it!