Savage Dragon #249 First Superhero Comic to Address COVID-19 Directly
Today sees the publication of Savage Dragon #249, the first issue in quite some time after the global pandemic set in. Also, because of the length of publication process, the shutdown of the industry and the reticence of superhero comic books to address topical events directly, these days, it's the first to reflect the shutdown, the lockdown, the social distancing and even when people take to the streets and ignore it.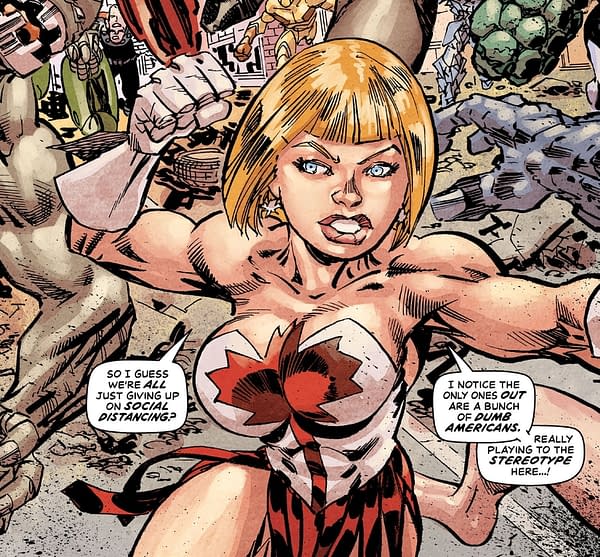 And as Amerian super-villains invade Canada to escape their own anti-superpower 'plague', so Canadian superheroes have to go out onto the streets in close contact, against the recommendation and instruction if the Canadian government. A country which is still enforcing a two-metre or six-foot distancing strategy. Also anyone entering Canada by air, sea or land has to stay home for 14 days in order to limit the spread of COVID-19. The 14-day period begins on the day you enter Canada. Not that the Vicious Circle have any time for that.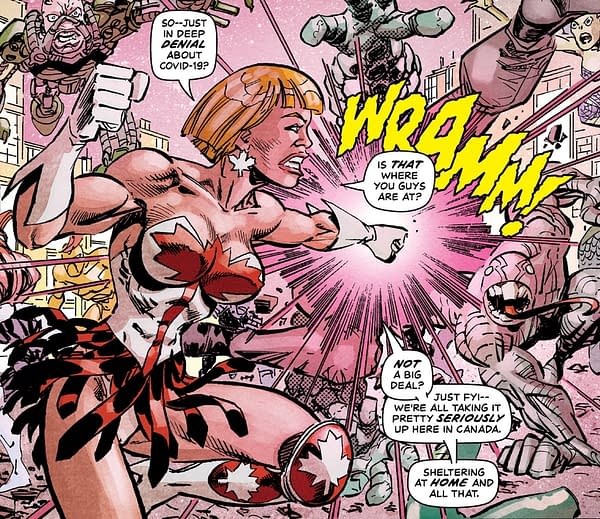 Talking of whom, while Malcolm Dragon gets to go out and about, in preparation for the big #250 anniversary next issue, his family are still in lockdown. Which is tricky with young kids and no garden, even trickier if they have strength and electricity powers. And are bored with watching their dad beat up strangers on the TV.

We even get a latest news report interrupting the proceedings.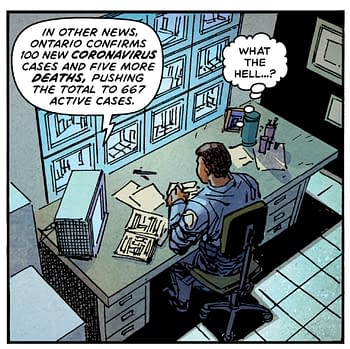 Just goes to show you things can get busy. At the back of the issue, Erik Larsen writes;
As I write this the world is in the midst of the COVID-19 pandemic. The book, being what the book is, a title taking place in real time in a fictionalized version of our real world, needed to address this crisis and I thought it best to do that as soon as I could. Again, as I write this, Savage Dragon #248 is sitting on a loading dock and comic book stores across the country are closed. Our printer isn't printing. Our distributer isn't distributing. We're all sheltered in our homes and things are very, very different than they were just a few short months ago. There's real concern that there won't be a comic book market when the dust settles and that stores won't be able to weather the storm. But if you're reading this, something's happened, so maybe we made it through the worst of it and life goes on for those of us who managed to hang in there. I can't begin to imagine what the world looks like at the time you are reading this but I certainly hope you're doing well and that I can continue to do what I have been doing for the better part of my life.
This is how it originally was planned…
SAVAGE DRAGON #249 (MR)
IMAGE COMICS
NOV190167
(W) Erik Larsen (A/CA) Erik Larsen
"THE CALM BEFORE THE STORM"
The countdown to SAVAGE DRAGON #250 continues as, unbeknownst to Malcolm Dragon, his greatest foes have gathered in an effort to eliminate him once and for all and take over the city of Toronto! A great jumping-on point for new readers from award-winning writer/artist ERIK LARSEN.In Shops: Jun 17, 2020 SRP: $3.99