Scott Snyder, DC Comics and the Dangers Of Populism
Populism is the political word du jour. Even more than 'du jour' is. Credited with the election of Trump, the election of Jeremy Corbyn, the vote for Brexit, the vote for all manner of European and South American politicians, the likes of whom would normally be running second hand car dealerships and with Boris Johnson looking set to be Britain's prime minister in w week, giving Brit the real possibility of a populist face-off with Bozza Vs Jezza in the next British General Election.
Populism emphasises the idea of "the people" juxtaposed against "the elite" who are out of touch with what really matters. It often involves throwing someone off, kicking someone out of hanging someone high. And it does seem to be something Scott Snyder has been thinking about.
In Batman: Last Knight On Earth, we have seen what happened to the Earth in the very near future.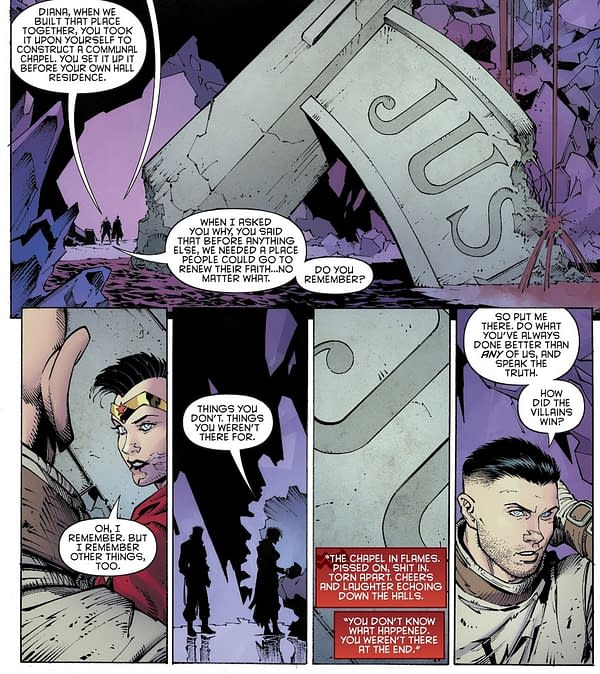 And how it all went to flames.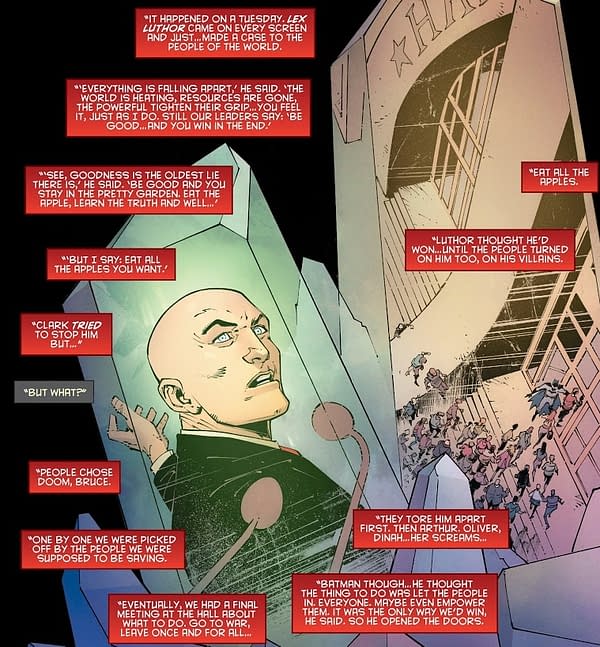 Luthor making a case to the people of the world to overthrow the elite of the Justice League and seize power, destroying everything and everyone in their path. To choose Doom. And very much tying into the ideas of populism, a a ground-up swell of a redistribution of power whether or not it makes any sense or is even true. And thanks to Batman, a billionaire playboy blind optimism, dooming everyone. And Luthor himself.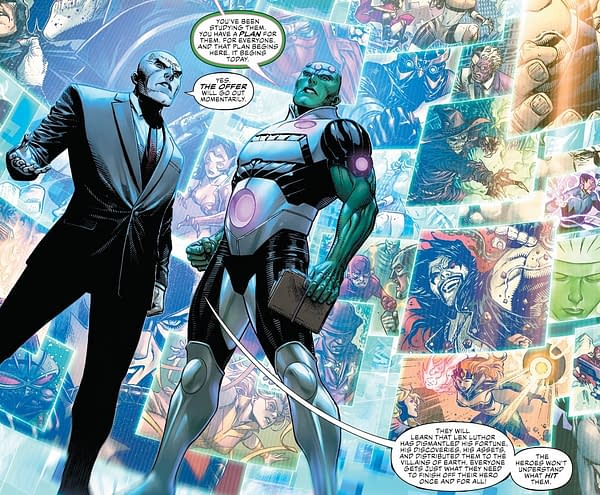 In DC's Year Of The Villain, we get to see Luthor making his plans, and planning his address to the world, even as he sees to his own doom.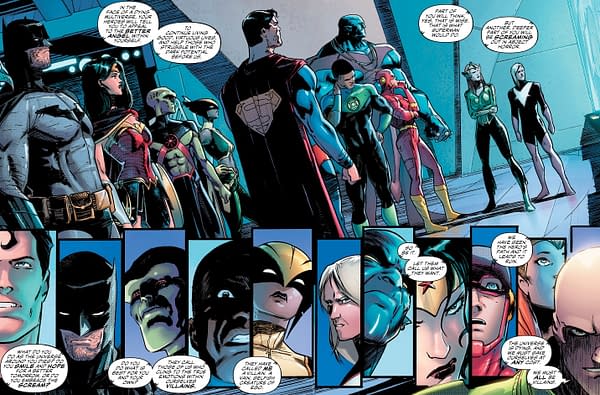 In Justice League #25, we get to hear that address, deliberately reflected what we learn in Last Knight On Earth, as something very similar happens. Luthor makes such a populist case to the people of the world again – though notably a different one, even though similar language is used.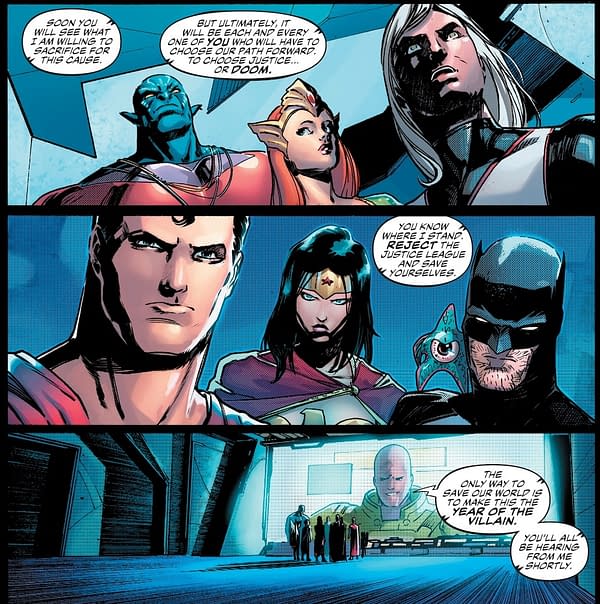 With a similar response.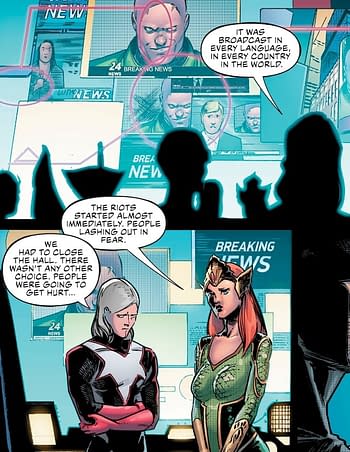 They closed the hall. And Batman hasn't (yet) told them to open the doors. And rather than being ripped to pieces by the people, Luthor blows himself up and is reformed as a White Martian/human hybrid by Perpetua.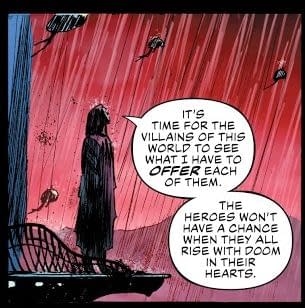 In Last Man On Earth, a new power is raised, Omega, using the imagery of Darkseid at least.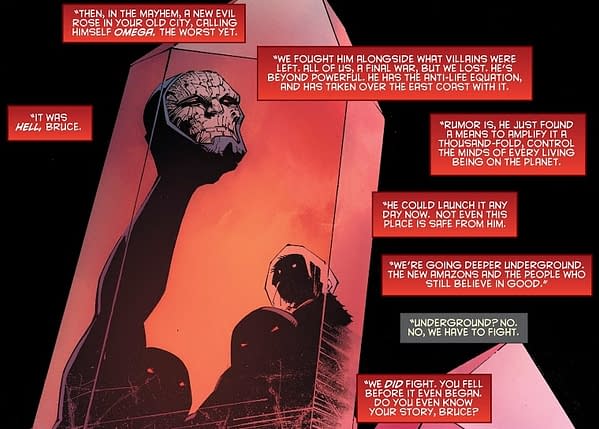 But it could be someone a lot closer to home.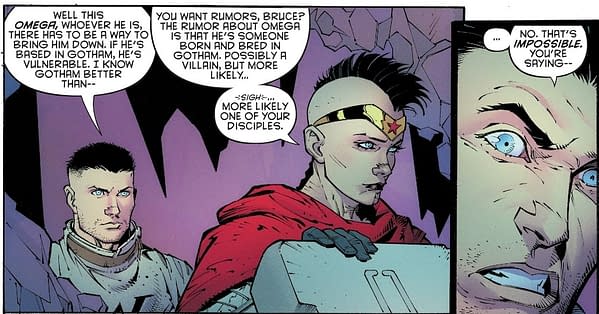 Over in DC's Year Of The Villain there is a similar possibility regarding Leviathan…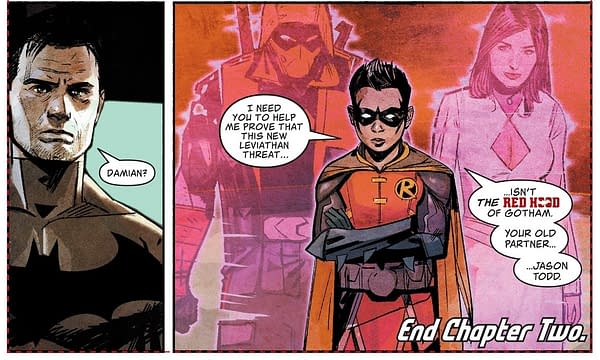 Justice League #25 also saw Batman tackling his pessimism with the lesson of Superman. Could, in the Last Knight On Earth sceanrio, Batman have been on a similar high, trusting in the people and opening the doors?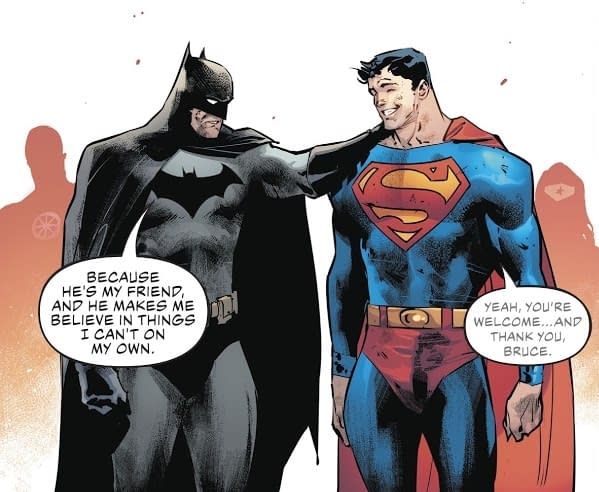 Yeah, Wonder Woman blames Batman? I think she's just not wanting to blame Clark… what happened to Superman on the Last Knight has not yet been revealed.
But the people have spoken, damn them. And Luthor seems to just be a means to an end. How will DC's Year Of The Villain manage to put this all back together again? How will Last Knight On Earth find a way to fix the world? Some people get annoyed now they are adults and can see political arguments in the superhero stories they are now reading, whereas superheroes are meant to be the fantasy. Well, fixing the issues with populism in a year seems like the ultimate power fantasy around these days.