Batman: Last Knight on Earth may be the final Batman story by superstar writer Scott Snyder and superstar artist Greg Capullo, but DC probably wishes they would make more. Snyder took to Twitter today to begin teasing the comic, which hits stores on May 29th, and he casually let slip that the book has already surpassed 100,000 copies sold to comic book retailers, which means it could end up being a sell-out even before it hits comic stores.
Going to start teasing Batman: Last Knight really soon. All kinds of feelings about this one. It tells the last big Batman story from me and brother @GregCapullo.

BOOK 1 (of 3) Comes out MAY 29th from DC Black Label. Order now – it's up at 100k+ now so it might sell out. pic.twitter.com/raVZ3Bn8KO

— Scott Snyder (@Ssnyder1835) April 9, 2019
Unfortunately for DC, and for fans who wish Snyder and Capullo would continue telling Batman stories forever, Snyder has had this ending planned since the beginning… and we all have Grant Morrison to blame.
Not at all! We have too many things we want to do together after. Capes, creator owned…

But when I started on Batman Grant Morrison told (terrified) me the only way to stave off the fear is to have an origin & an ending for your version.

ZY was the birth. This is the end https://t.co/FHSrq5dnhp

— Scott Snyder (@Ssnyder1835) April 9, 2019
It's no surprise that Snyder would be terrified of Morrison, considering the famous comic book writer is known for having magical powers and frequently communicates via astral projection of his disembodied head, which would terrify anyone if we're being honest. And now, here were are, less than two months away from the beginning of the end of Snyder and Capullo on Batman… but at least they'll be going out in bestselling style.
Batman: Last Knight on Earth #1 (of 3)
(W) Scott Snyder (A) Jonathan Glapion (A/CA) Greg Capullo
Bruce Wayne wakes up in Arkham Asylum. Young. Sane.
And…he was never Batman.
So begins this sprawling tale of the Dark Knight as he embarks on a quest through a devastated DC landscape featuring a massive cast of familiar faces from the DC Universe. As he tries to piece together the mystery of his past, he must unravel the cause of this terrible future and track down the unspeakable force that destroyed the world as he knew it…
From the powerhouse creative team of writer Scott Snyder and artist Greg Capullo, the team that reinvented Batman from the emotional depths of "Court of Owls" to the bombastic power of DARK NIGHTS: METAL, DC Black Label is proud to present the bimonthly, three-issue miniseries BATMAN: LAST KNIGHT ON EARTH, published at DC's standard comic trim size.
This could be the last Batman story ever told…
In Shops: May 29, 2019
Final Orders Due: Apr 29, 2019
SRP: $5.99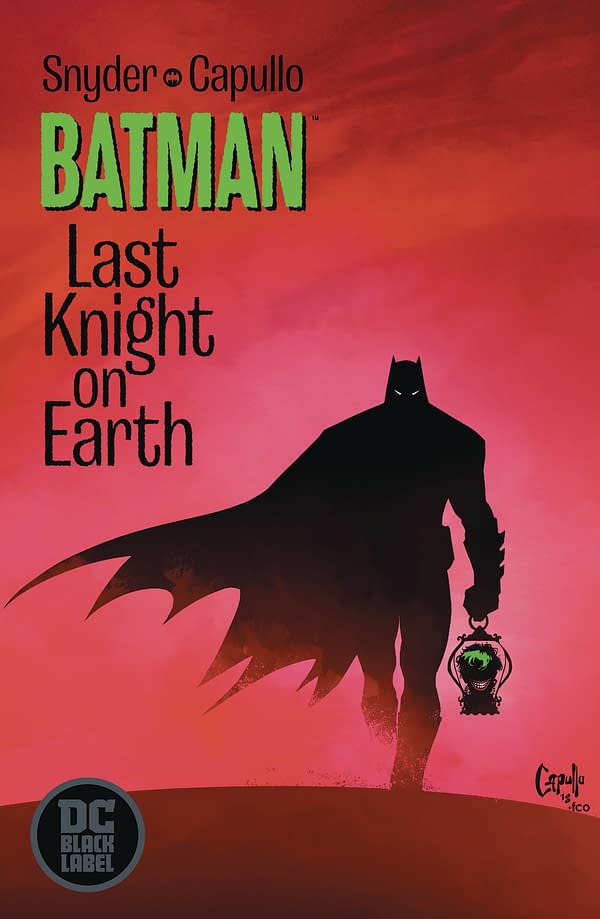 Enjoyed this article? Share it!