Special Edition: New York City has been pretty crowded on its opening day to all accounts, with lines forming early, and especially a frenzy for lining up to get NYCC tickets on site. Inside was pretty damn lively; Artists Alley has been nearly elbow-pushing crowded all day so far, and let's hope that means some profit for artists and writers here selling their work.
Two sets of panels have been running throughout most of the day set apart with curtains on the warehouse floor. Sound is an issue they must have known would be challenging setting up the con with no way to contain the noise from the floor or from the alternate panels situated next to each other.
But there has been enthusiasm for the panels, with people hovering nearby waiting to get in to each one, and with rather large attendance. The Bat Panel promised to be very popular one given the panelists and the raging fandom for Batgirl, Gotham Academy, Gotham by Midnight and more.
Ray Fawkes, Brenden Fletcher,  James Tynion IV, and Karl Kerschl, and Genevieve Valentine appeared on the panel, pending Becky Cloonan. Fletcher was hosting a panel for the first time. Kerschl got some laughs introducing himself as Cloonan.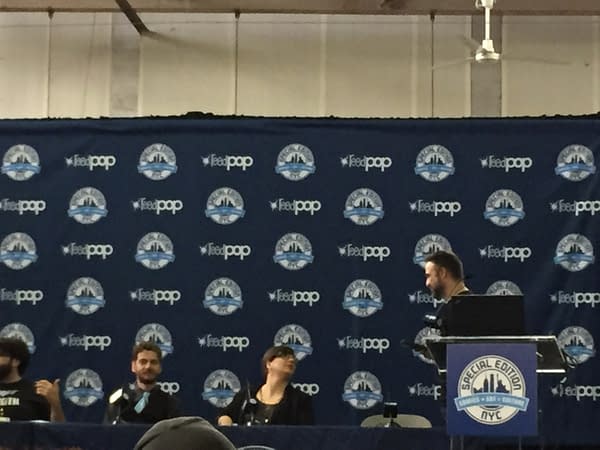 Fletcher spoke about Gotham Academy #7 coming up this week, featuring Maps as a main character and a new artist. Kerschl's cover for #8 was "pretty glum", Fletcher said, and Kerschl commented that after Convergence it was the best way to "convey the mood of Gotham without actually showing Gotham". Fletcher said that there's a "crazy" issue following Convergence, and then there's a dark and serious return to the story thereafter following Olive. Kerschl said we'll see other characters highlighted as well and we'll see what happens when Olive is not around before we return to her story. Other characters who might turn up in that issue include a new Science Teacher and a new Guidance Counsellor.
Fletcher teased his Black Canary showing a panel where Black Canary is stretching a microphone cord between her fists. Fletcher talked about the origin of Black Canary in Batgirl, so rather than just put her in a Batgirl book, they chose to put her in a borough of Gotham "very much like Williamsburg in Brooklyn", and the obvious thing was to put her in a rock band. Coming up on July 15th, and again on August 19th, the covers, as shown in the panel, are pretty damn interesting
Batgirl #41 coming up is "pure Babs Tarr" without Cameron Stewart doing layouts. Kerschl asked if Batman is going to "eliminate" Batgirl given the cover and Fletcher jokingly said yes (meaning no). Tynion IV said we're "walking into a world with Jim Gordon in Batman post-Convergence" which "changes everything". In this "very new, very different Gotham", there's an excitement that "changes the whole line". Fletcher said at the Bat-summit in January, Scott Snyder hit them with the events of Batman, which changed the direction of Batgirl, because Barbara Gordon "needs to feel the ramifications of that". They are "taking their time with that", but they will return to their supporting characters etc. For the next couple of issues, they'll be focusing on the impact of Barbara's father becoming Batman. Tynion said that's bound to change the Batman/Batgirl dynamic since she actually has more experience in the role!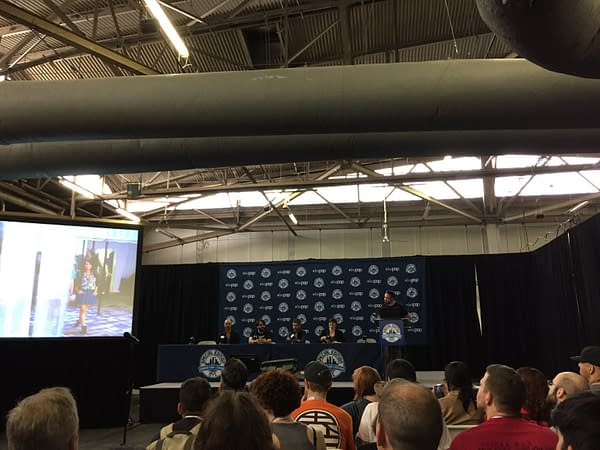 Becky Cloonan arrived, to applause, to join the panel.
Fletcher said Babs will be "re-integrated in the Batfamily" soon. Fletcher spoke about issue #42 and #43, and the introduction of classic villains.
Circling back to Gotham Academy #7, and the arrival of the "punk" Damian Wayne, Cloonan said his arrival as the son of Batman proves he does not fit in at all. The story in #7 is about Damian being Maps' "sidekick", Cloonan joked and realizing his place.
Moving into Genevieve Valentine's work on Catwoman #41, and the fact that she "takes it really hard" that Batman disappears and Gordon takes over. There's "no love lost" between she and Gordon. Issues # 42 and # 43, out in July and August. New artist David Messina appears on the cover of #41 and shows plenty of design sense and a taste for deco architecture. Catwoman's very "fashionable", Valentine said, and now she gets to wear expensive clothes and shoes.
Gotham by Midnight #6 coming up toward the end of June, wasn't "freaky and scary enough" so they decided to make it freakier, Fawkes said, and they'll have Bill Siekiewicz on some covers with art by Juan Ferreyra in the new arc. They're going from the "insanity" of Ben Templesmith to the "Euro style insanity of Ferreyra", Fawkes said. Batman's death causes a shift in Gotham by Midnight, he said, and as they handle supernatural elements and are an "on the fly" police force for Batman, his death means they are no longer "legit". Covers for #7 and #8 show Fawkes' desire to "continue to ask people why they would ever live in Gotham City", he joked. Fawkes asked in arc one "why the city of Gotham deserves to exist at all", and now with a brief reprieve the "midnight shift" is trying to "purge" the sin of Gotham.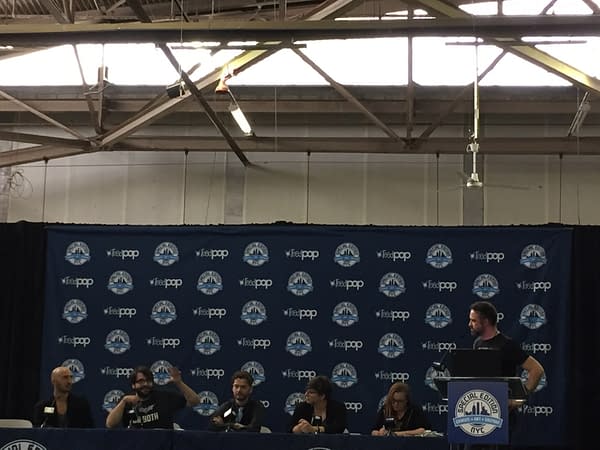 Constantine: Hellblazer #1 is coming this week written by Tynion IV and Ming Doyle, with art by Riley Rossmo. The first page of the first issue is John, naked, covered in blood, walking into a story, Tynion IV said. That's the "tone" of the book he wants, he said, making it "sexy and dangerous". Asked if this is a "new take" on Constantine, Tynion IV said we can expect a "different energy" in this book, and wanted to avoid what you'd "expect". Asked how long it'll be before Constantine is back in a band, and Tynion said actually he's very interested in John's history in his band. Tynion IV said he loves the trenchcoat look but this is a "younger man" who is going to be "the sharpest dressed, the most dangerous man in the room", which Rossmo gets right. Tynion IV said he's like "the guy you see in a bar and want to talk to him, but you know it could destroy your life. Still you have to do it". He described John as a "very lonely man" who's going to face a "lot of horror".
Batman Eternal Vol. 2 is coming out July 14th, they reminded.
Well, the subtitle for the panel was "Are you ready for dynamic action?" and that was quite fitting. These books are practically burning off the shelves and they have some very promising stuff coming up from the look of it.
In closing, Fletcher teased that one of the characters in Gotham Academy shifts to Black Canary, but wouldn't say who.
Fawkes said that the Bat books have shown since last October that "when the creative takes the lead, the editorial can make it work" and create great success. Fawkes said the main way to keep it rolling is to keep buying the books, because they'll be re-evaluating at the one year mark (Autumn) on whether these books keep going.
Enjoyed this article? Share it!