Disney's TV station ABC has run advertorials for Disney's comic publisher Marvel through the Secret Empire run. Michael Rothman, Axel Alonso, Nick Spencer and Walt Hickey discussed the final issue of Secret Empire.
Durig which they talked about the Hydra collaborators of Secret Empire, naming Odinson and The Punisher. The former relented and his turning changed the direction of the final issue but of The Punisher, there was no sign. During the series, the Punisher had gone full Hydra under the leadership of Captain America. Seeing him as the only person who could deal with crime the way he always wantd it dealt with.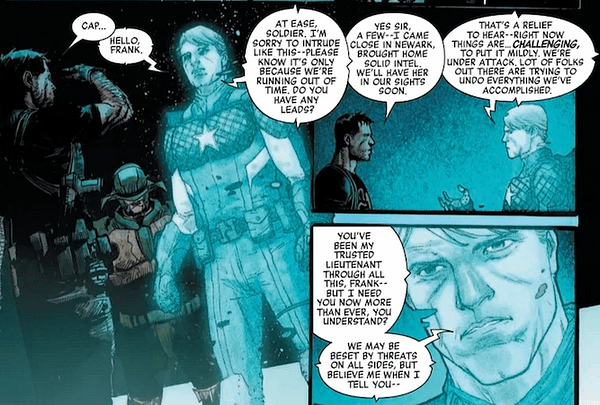 Following him like a loyal soldier, rather than weeding out the power at the top. Focusing on the micro, never the macro. Even as his own Punisher skull was Hydra-ised. While chugging the Hydra-flavoured Kool Aid… without any of the contradictions making their way to the fore. But after all this… nothing? Well no, not quite.
Apparently this isn't a plotline that has been dropped – after all, there's an ongoing Punisher comic that might not quite be able to brush off its serial killer vigilante being a Nazi quite as easily, especially considering the nihilist any-authoritarian approach the character has taken, no more so than in The Punisher: The End.
So look for this to be addressed in the upcoming Secret Empire: Omega next week No fancy fairy dust for Frank…
>
SECRET EMPIRE OMEGA #1 SE
(W) Nick Spencer (A) Andrea Sorrentino (CA) Mark Brooks
SECRET EMPIRE AFTERMATH!
• Hydra has fallen, but the world is still not secure! As the heroes of the Marvel Universe stir from the wreckage of the battlefield, the inevitable rebuilding must begin.
• However, one question hangs in the air over the proceedings: What redemption can there be for Captain America?
Rated T+
In Shops: Sep 13, 2017
SRP: $4.99
Enjoyed this article? Share it!