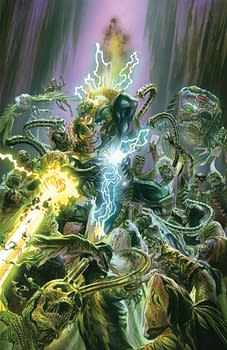 Remember when the final issue of Secret Wars was meant to come out the first week of October, the 7th?
Well now that's when the sixth issue is coming out, originally solicited for August.
Issue seven has slipped to the 28th October
Issue eight is now the 25th November
And the final issue is now in late December….
Other major slippages include Infinity Gauntlet #4, Star Wars #9, 1872 #3, Hail Hydra #3, Weirdworld #4, and Star Wars Lando #4 which all slipped from August to September,
Darth Vader #10 and Silver Surfer #15 have slipped from August into October, and Star Wars #10, Lando #5, Shattered Empire #2, A-Force #5, Darth Vader #11 and Old Man Logan #5 from September into October.
And Ultimate End #5 slipped from September 9th to November 11th.
Throw in the mad continuing lateness of United States Of Murder, Powers, Scarlet and Brilliant and you may wonder what's up with one common factor amongst a couple of these other titles…
But I don't think anyone can pin the extreme lateness of Uncanny X-Men #600, now also into November, on that…
Enjoyed this article? Share it!